This is incredibly late, but I wanted to share some of my favorite products from 2013! I'm gonna try to be brief…I know, not likely, right! I'm not going to pick an item from each "category" because I don't necessarily have a favorite for everything, and some categories deserve more than one mention. To start with, I'm going to share my favorite Skincare Items for Face and Body. So, without further ado, let's get into it!

J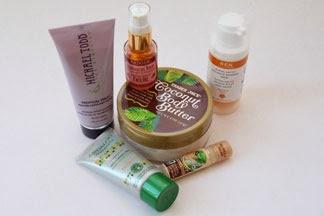 I don't know how I could do an annual favorites without mentioning the Trader Joe's Coconut Body Butter! I am seriously obsessed with this stuff! I have never tried a better hydrating body butter that didn't feel greasy. It is so amazing and every time I grab one, someone else at checkout comments on how wonderful it is. It smells delicious…like warm, toasted coconut…and it's just the best body butter EVER!

J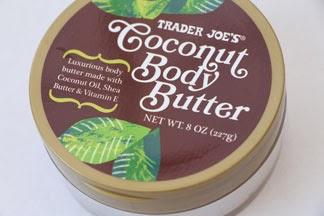 For face moisturizers, I have found the Badger Damascus Rose Antioxidant Face Oil this year and it is incredible! I have a review of it here, so I won't go into too much detail. It's just a beautiful and simple oil that seems to keep my skin well hydrated without making it overly oily. Absolutely adore this moisturizer at bedtime (I use a different moisturizer with an SPF during the day)!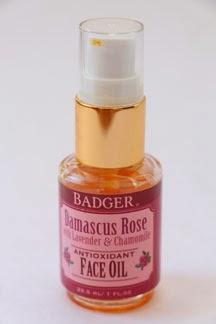 This has been a year of amazing face masks for me. The first one I will mention is from REN and it is their Glycol Lactic Radiance Renewal Mask. Oh my goodness. This is like revealing a brand new face! It leaves your skin so soft and removes dead, dry flaky skin like a dream. It has kind of a marmalade-like consistency, which is kind of weird, but not unpleasant. A little bit goes pretty far and it is comfortable on the skin. The first time I used it, it tingled a bit for maybe 30 seconds. Since then, I haven't noticed the same sensation. It doesn't dry, so it doesn't leave your skin feeling tight and uncomfortable like many other masks, and when you remove it, your skin feels like brand new baby skin! Hands down, this has become my favorite face mask of 2013!

J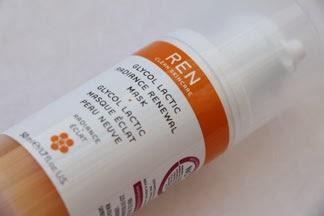 Sticking to face masks, another one that is similar to the REN mask that I also like a lot is the Andalou Naturals Kombucha Enzyme Exfoliating Peel. This also reveals fresh skin and banishes dryness, but it doesn't seem quite as strong, which means my face isn't quite as soft afterwards. It might be better for those with sensitive skin, however I'm not sure that either mask is really good for sensitive skin. For my combination acne-prone skin, this is just a great radiance boosting mask that helps balance my skin, while eliminating flakiness.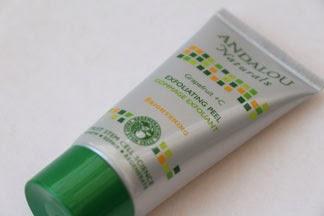 On days that I don't use a face mask, I will often use a scrub in the shower. No question about it, my favorite is the Michael Todd True Organics Tropical Fruit Enzyme Exfoliant Scrub. I stinking adore this scrub! It uses fruit enzymes to "chemically" remove dead skin and jojoba beads to manually exfoliate the skin. The jojoba beads are important because you really don't want to use anything with rough edges to scrub your face – like ground walnuts or apricot pits. These can tear the skin, while jojoba beads are soft and spherical to avoid this problem. The other great thing about this scrub that I find so unusual is that, though it is a nice gentle scrub, it still feels like it's actually scrubbing! Most facial scrubs that I've tried are either quite rough or so soft that you barely feel them. The Michael Todd scrub is the perfect balance of gentle scrubbiness! It doesn't hurt that it smells like a pineapple paradise either!

J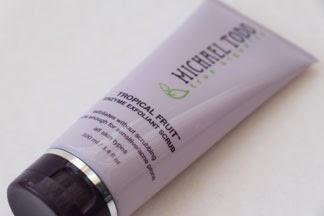 Finally, I'm going to include a lip balm. It is the Badger Cocoa Butter Lip Balm. I used this, and only this, for a good portion of the year, which says a lot!

J

Usually I jump from lip balm to lip balm, but this has been an amazing staple in my daily routine. I won't go into too much detail because I have an entire review devoted to it here. I definitely have discovered a love for Badger products this past year!

J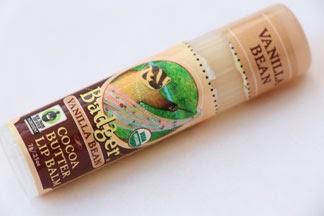 I think that's going to do it for my favorite Face and Body Products for 2013. There are so many others I could mention, but these were the true standouts of the year…that are still available and still cruelty-free! I hope you enjoyed this and I'd love to know what some of your stand-out products were in 2013! Stay tuned because there are more categories to come!!!

J