Let the games begin! As of last night, Awards Season is under way. It's basically the most wonderful time of the year for Blind Gossip, drinking games based on Jessica Lange's facial expressions (side-eye from her AND B. Coops last night means you finish your glass of champagne rightthisinstant). But beyond the navel-gazing and shade throwing that makes celebrities so fun to watch, it's their beauty and inherent shininess that makes them so fun to ogle. I mean, when else are you going to see $8 million worth of fashion on like 5 feet of human? The insane couture gowns that are so fun to fawn over during fashion week look so much better on actresses (imho) because they are a) standing near or next to guys like Liev Schreiber and b) wearing oodles of JEWELS. Well, hopefully. Of course Julia Roberts has to show up in a button down and forever 21 rhinestone belt Dolce & Gabbana wearing studzZz…but at least they were Harry Winston. However other leading ladies didn't disappoint, and gave me plenty of sugarplum dreams to dance around in my head after I drifted off to sleep replaying Tina's George Clooney and Leonardo DiCaprio jokes over and over on my eyelids.
In Which J. Law Takes The Jewelry World's Breath Away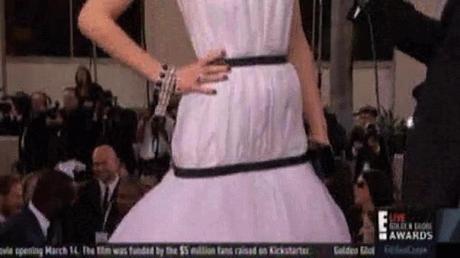 Really, there is no 2014 Golden Globes jewelry moment that tops this so I should probably save it but I can't stop thinking about it. Here comes my girl Jennifer Lawrence, creeping up behind Taylor Swift like a flawless weirdo, wearing Dior's interpretation of a diaper cake. Then, she goes ahead and stuns the #globejewelry Twitter jewelers with her amazing Neil Lane Art Deco style jewels. Then she makes us all gasp/yell/try to reach through the tv to save one of her white diamond/black diamond onyx and platinum bracelets as it comes unclasped and thuds to the red carpet. Every lender's worst nightmare, but luckily she noticed as it fell off and she and Ryan simultaneously bent down to pick it up. Jennifer proved once more she would win the real life Hunger Games by defying physics and reaching it first because he is MUCH closer to the ground. Then, the love of my life mimes tossing it bouquet-style to the crowd behind her. Note to everyone lending to J. Law this season – add extra safety clasps.
In Which Elisabeth Moss Wins the Mani Cam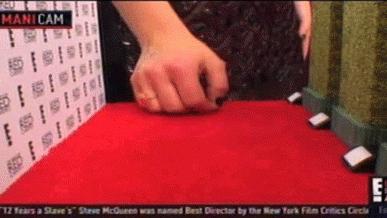 Giuliana is all "Do whatever you'd like!" So Elisabeth Moss reaches her bejeweled fingers (Jennifer Meyer yellow gold – ditto for her earrings and bracelet) into the mani cam and flips us all the bird. "Take that oglers! I had to get gels because of this invention and my nailbeds won't recover for weeks! Also, Fireball is the absolute best thing to pre-game with in the limo on the way to awards shows!" Duly noted, Elisabeth.
In Which I Am Now Convinced Heidi Klum Reads This Blog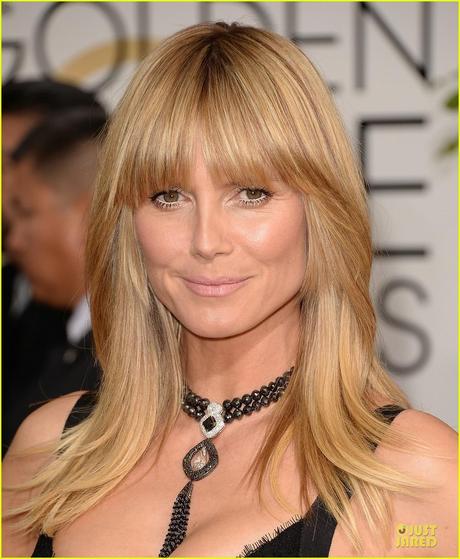 via Just Jared (so hard to tell, I know)
Like the People's Choice Awards last week, the Golden Globes proved an ideal way for Heidi to try to balance out her beauty and excellent jewelry with a truly atrocious gown. So, she knew she really needed to deliver again tonight to ensure I'd feel the same way about her – and deliver she did. Watch this whole awards season just be some sort of guerilla promo for Project Runway and she made a bet with Tim Gunn she had to wear the dress that got eliminated each week to every red carpet. Anyways, the ethereally beautiful Heidi borrowed this dress from an Anna Sui ad I saw in Cosmo in 2005 and then to confuse the hell out of me wore an amazing, bonkers, saloon girl lariat necklace that I would like to wear everywhere for eternity. It's Lorraine Schwartz, as it should be, and isn't jet or onyx as I initially thought but is 200 carats of black diamonds with a 10 carat center stone drop. She paired it with black diamond earrings and a black diamond ring.
In Which The Good Wife and Olivia Pope Share a Mommy moment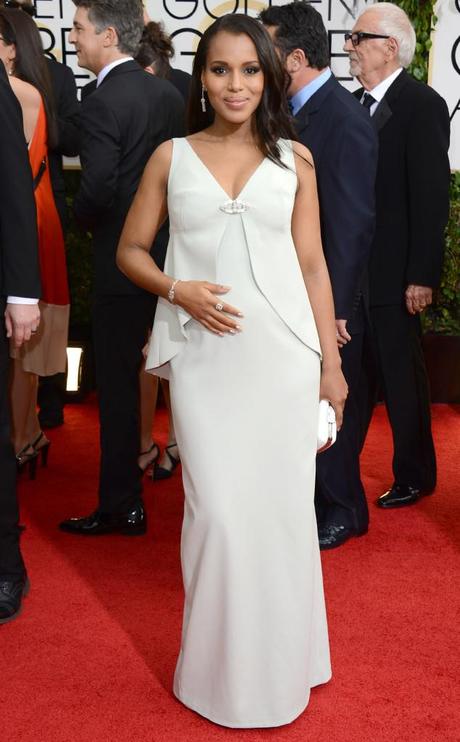 via E!
There was a decent amount of pregnancy last night at the Globes, Olivia Wilde and Olivia Pope showing the world how its done in Balenciaga and Gucci, respectively, and Drew Barrymore…glowing beautifully. Anyways, Kerry Washington was chatting with Ryan while I admired her mini-cape and gorgeous gorgeous Leighton jewels (the crystal brooch was sheer perfection and I loved that she wore an antique dress watch!) Then when her interview wrapped up I was all jazzed about seeing the waiting-in-the-wings Julianna Margulies' beautiful Van Cleef and Arpels pieces, but she paused first to wish Kerry congratulations and some warm wishes on Mommyhood. I melted.
In Which Cate Blanchett Proves I have Horrendous Hearing Comprehension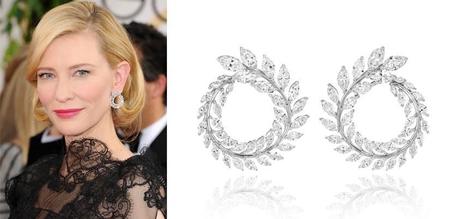 It's not a secret. I have to ask my friends and family to repeat themselves multiple times in each conversation. Even if I should be able to fill in the blanks I'll ask things like "Why would you ever want leeks in your suit?!" as I'm stirring a pot of soup on the stove. Cate Blanchett helped me broadcast this to the world during red carpet live tweeting in which I insisted her gorgeous Chopard earrings were green diamonds. I have 20/10 vision by the way, that's just how hard mine ears deceive me. So, contrary to my Twitter account, Cate Blanchett wore a pair of white diamond Chopard earrings from their Green Carpet collection – maybe she meant green like eco? I'm out of excuses and I apologize.