Shorts are inherently casual. Some fashion experts would recommend against wearing them as they would make you look adolescent and sloppy. Others claim that gentlemen shouldn't wear shorts at all, but we respectfully disagree. Grown men can still look good in shorts, as long as you choose the best men's shorts and fit them into an outfit.
This year's summer will be harsher than usual. The summer heat is expected to intensify in the coming weeks. With the heat on, many of you are probably considering wearing shorts throughout the summer. We won't judge you.
Whether you want to bare some thigh and let your legs enjoy the outdoors or you're just looking for lightweight bottoms to beat the summer heat, there are a wide array of shorts you can choose from. Here are out top picks of the best men's shorts to wear this summer.
Chino shorts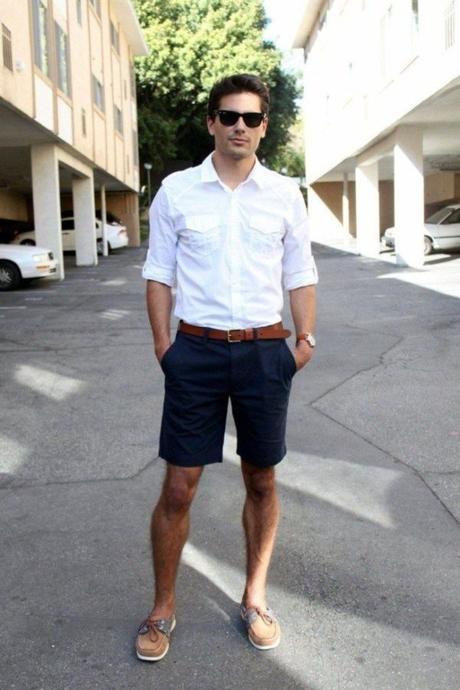 Image Source: www.outfittrends.com
Everything you love about the chino pants found its way into these best men's shorts. They're comfortable to wear and will standout without being too in-your-face. Plus, they'll look great with everything -from a simple crew neck shirt to a button down shirt.
Chinos usually come in a single block color. Because of their simplicity, they can be styled in numerous different ways. They can also be worn in wider range of situations - from going to the pub, running errands, night outs or even a formal working lunch.
If you're looking to up your shorts game this summer, try pairing it with linen or cotton shirt and a pair of loafers. The best thing about this outfit is that it will help you stay cool despite the summer heat. The fits are relaxed and the fabrics are breathable. Plus, you'll look smarter than you would than when you're wearing a t-shirt. You'll look fine no matter where you day takes you.
Denim shorts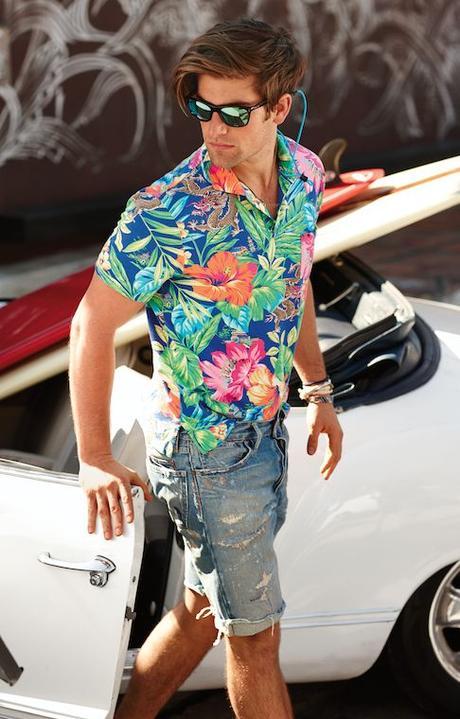 Image Source: www.lookastic.com
Denim shorts are one of the best men's shorts and are a staple in any man's wardrobe. They are practical, comfortable and available in a wide range of styles and colors. They can also be styled in numerous ways. And let's face it. Who doesn't look good in denim?
Denim may seem a little less comfortable than the others on the list, but it does keep you cool in summer and provide you with freedom of movement. To look great in denim shorts, it should be slim fit with a little room for your thighs to breathe. It should sit just above the knee. Also, keep it simple and stick with classic blue or black denim.
Just because denim shorts have cemented themselves as the epitome of street wear, that doesn't mean that you can't dress it up. If you want to differentiate your look this summer, try pairing them with smart casual pieces. Start with a pair of blue denim shorts with minimal fading or distressing. Pair it with a patterned short sleeve shirt and then top it off with an unstructured blazer. Finish the look with a pair of suede bucks.
If you are looking for a casual look that can be worn on a daily basis, simply pair denim shorts with a basic tee, and boat shoes. Bring the outfit up a notch by incorporating floral shirts into your outfit. Florals have been a major print trend this season, and can be a great way to inject some summer vibes into your outfit. Finish off the look with a pair of loafers.
Pleated shorts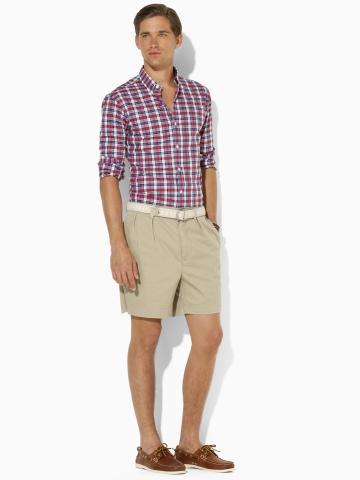 Image Source: www.theidleman.com
In the past few years, the overall direction of men's fashion has been slim and cropped. After a decade of wearing tight-fitting clothing, relaxed-fit clothing is on the rise. Dad style is cool right now. Everything in men's wear today is freer and looser, and pleated shorts fit right in there. Believe it or not, it is dominating the market. In fact, fashion designers and trend-driven retailers are slipping double-pleated shorts into their "New Arrival" section. Why? Because it's selling and it's making them money.
Pleated shorts look a bit dressier than the other types of shorts because of the pleats. They give the shorts a freshly-ironed sort of look. You can wear this on casual days like a family barbecue or a casual day at the office (provided that you're allowed to wear shorts). If you are to wear shorts in the office, choose dark colors and steer clear of prints. Make sure that you pair it with a collared shirt to give it a more professional look. Leave the polo shirts for your casual days. Also, go for something tailored that feel more like short pants.
Since pleated shorts are a bit loose, make sure that they are well balance for your body type and for you height. Proportion is the key.
Flat front shorts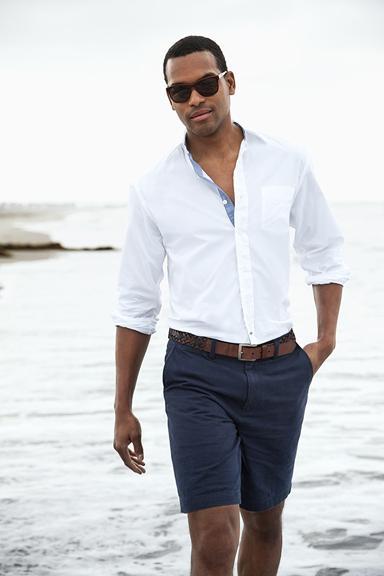 Image Source: www.pinterest.com
People have strong opinions about cargo shorts. They think they're hideous. But still, there are many diehards who think they look great. Good news for those who can't stand the sight of cargo shorts, men are finally catching on to how ugly these shorts are. In fact the sales of this type of shorts have decreased significantly over the past year.
Flat front shorts provide a great alternative to the cargo shorts. These shorts for men provide a nice balance between sporty and cleaned up. Plus, they deliver the same utilitarian level without the added bulk. The flat front shorts are simple and straightforward. They tend to be modern and athletic. You can wear them on casual occasions like daytime barbecues, block parties, river boat tours or a trip to the beach.
Flat front shorts may look casual, but they're quite easy to smarten up. When it's hot and you're not sure of your plans, try pairing it with a button up shirt and a pair of canvas sneakers. Just roll up the sleeves to help you stay cool in the summer heat. This outfit looks a bit dressed up without looking too formal. You can go from the beach to the bar with ease.
Comments
comments