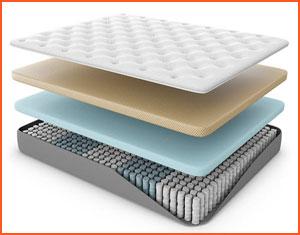 Our best hybrid mattress reviews, 2018, presents our opinion of the best hybrid mattresses available today. Our purpose here is to provide you with a selection of the top 6 hybrid mattresses to enable you to make the ideal choice for your needs.
Table of Contents
What is a Hybrid Mattress
First, what is a hybrid mattress? Many have heard the term but are unsure what it really means. The term simply refers to a mattress that combines the benefits of two or more different types of the mattress or different constructions. The original, and more commonly used example, is a mattress with a top layer of memory foam or latex and a supporting innerspring layer beneath it.
Their function is to provide the benefits of each different layer and combine the comfort and support offered by different technologies. Most hybrids involve two systems, but others can use several - three or more.
While presented in order of our own ratings, our #1 choice need not necessarily be yours. While some might prefer our #1 or #2 choices, you may feel that the #6 choice might be more appropriate for you. So read them carefully and make your choice.
Note: Each mattress is constructed with foam layers over a base of pocketed or interlocked springs and sometimes a dense foam layer.
All six mattresses are available in the following sizes: Sizes: Twin, Twin XL, Full, Queen, King, California King.
1. Alexander Signature Hybrid Mattress - Best for overall comfort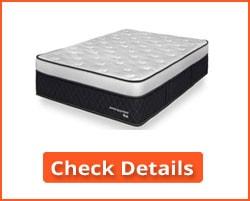 The Alexander Signature Hybrid mattress comprises five different layers. These are, from the top down:
1.5" of Gel infused memory foam topped with a super soft quilted Thermic phase change fabric.
1.5" of TitanChil Endurance Foam® - a cooing polyurethane foam.
1.5" of 2.5 lb Copper infused foam which conducts heat away from your body and distributes throughout the foam layer.*
1" of 3 lb Smartflow poly support foam that helps air flow through the mattress.
8" of pocketed steel coils that provide the base support.
* This 3rd layer is for the plush option with a firmness rating of 3 on a 1 - 10 scale, where 10 is firmest

There are two alternative firmness settings:
Medium:
This option has a firmness rating of 5. This consists of 3.5 lb copper infused foam.
Luxury Firm:
The hardest option with a rating of 8, consisting of 4.5 lb slow recovery memory foam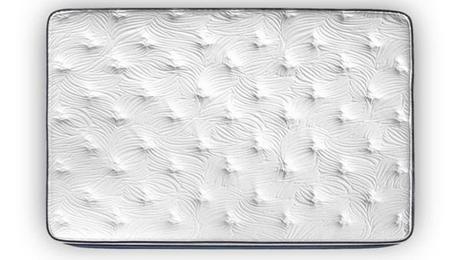 The slow recovery memory foam takes more time than normal for the foam to revert to its original shape after use.
The Smartflow poly support has an open structure that increases the flow of air through the mattress. It helps to reduce heat retention and keeps you cooler at night than without it. This is a good type of foam to lie directly over the innerspring layer.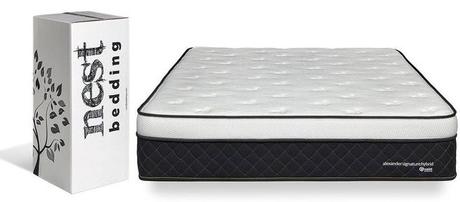 The springs are individually pocketed, not only to help isolate the movement of each partner but also to help provide support to the major pressure points: shoulders and hips, while also supporting the lower back (lumbar) region. This is one reason why we rate the Alexander Signature Hybrid Mattress as the best we have tested.
Editor's Notes: The construction of this mattress has been carefully designed to provide support and comfort for most people. The three comfort levels mean that you can choose the best option for your sleeping position and body weight. Each layer has been designed for maximum comfort and its cooling ability.
Purchase This Mattress
2. DreamCloud Luxury Hybrid Mattress - Great for all sleeping positions
The DreamCloud Luxury hybrid mattress is 15 inches thick with 8 layers that combine to produce a comfortable mattress that keeps you cool during the night and cradles your body regardless of your sleeping position. It combines 5 types of memory foam with natural latex and encased pocketed micro-coils.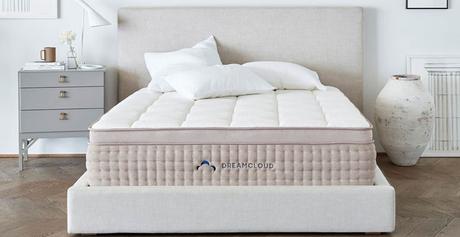 Here is a breakdown of each of the 8 layers from the top down:
The top is a tufted cashmere Euro top, offering a comfortably soft top layer with maximum airflow for superb cooling.
The next layer is a gel memory foam. The gel absorbs heat and spreads it throughout the layer to prevent 'hot pockets' while perfectly cradling your body shape.
The third layer comprises a soft quilted memory foam, which provides an extremely comfortable sleeping surface when the top three layers are combined.
The fourth layer is natural latex that provides the bounce that is needed in a premium mattress that not only helps support you but also has a level of resilience.
The next layer is the 'Dream Plush' high density memory foam that provides support to the layers above it - and to you. As your body moves about in the bed, this layer ensures that the mattress moves its support along with it. Your body will be properly supported throughout the night.
The sixth layer is a 'super-dense' memory foam. This makes sure that your body is properly supported throughout the night, no matter what position you sleep in.
Then we come to the seventh layer of foam encased spring micro coils. This works with the memory foams above to provide a high level of support and comfort and also isolates the movement of you and your partner throughout the night.
The bottom, eighth, layer is a high density memory foam that absorbs your weight and helps reduce any motion transfer that gets down through the upper layers of foam and coils.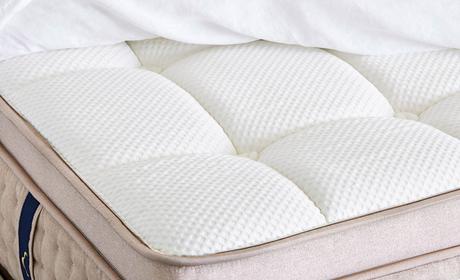 Editor's Notes: The overall result is a very comfortable mattress that absorbs the pressure of your body, and isolates your movement in bed from your partner - and vice versa. There is little to find wrong with this, other than that if you do not like the idea of memory foams, then it may not be for you. That said, it is worth trying, at least for the sleep test period, and get your money back if you don't like it. Very few people do this because they generally find it to be a superbly comfortable and supportive mattress.
Purchase This Mattress
3. Helix Sleep Hybrid Mattresses - Best for choice options
Helix offers a choice of nine hybrid mattresses, each designed for specific sleeping positions, comfort levels and body type. The Helix website starts with asking you certain questions, and then providing you with recommended mattresses that best match your needs. You can then find the best hybrid mattress from the company's range that is suitable for you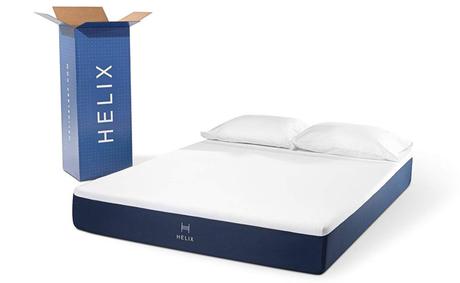 Helix offers Plush (Sunset and Moonlight), Medium (Midnight and Dusk) and Firm (Twilight and Dawn) feel mattresses for each of two types of sleepers: side sleepers, who are in the majority, and front and back sleepers - making six options in all. The company also offers a mattress suitable for Plus size people in weight and height (Helix Nightfall) and the Helix Dual Balanced and Dual Extra, all three of which are double sided. Each has a plush feel on one side and a firm feel on the other. The Dual Balanced mattress is for side sleepers and the Dual Extra for all positions of a sleeper.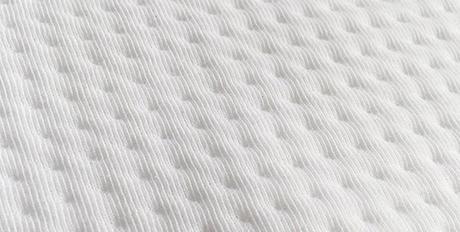 This adds up to a very comprehensive nine mattress types, suitable for all sleeping positions in plush, medium and hard options. Each is of a hybrid foam-innerspring construction with an optional Luxe version with lumbar support to help prevent or ease the lower back pain, a quilted top, and a cooling cover. This does not apply to the three double-sided mattresses.
Editor's Notes: Helix offers the widest range of mattresses available from all the companies included in our best hybrid mattress reviews 2018. It has not been easy to choose the top three best hybrid mattresses due to the high quality of those available. Perhaps Helix offers too much of a choice, making it difficult to choose the best hybrid mattress for your needs. However, if you choose wrongly, then you get to return the mattress within 100 days or get a free comfort layer (softer or harder) to meet your needs.
Purchase This Mattress
4. Bear Hybrid Mattress
The Bear Hybrid Mattress deserves its place in our top 6 best hybrid mattress reviews 2018 because of its selection of foams and coils. It provides good motion separation, so you can sleep without disturbing your partner - or being disturbed by him or her. It has two layers of foam over a layer of pocketed coils. One layer is a gel-infused memory foam that helps with both motion isolation and cooling you when you are sleeping.

The support layers comprise 2.5-inch Microcoils and 5 inches of high density polyfoam. The top layers comprise 3 inches of polyfoam and 2 inches of gel memory foam. The top is of a 2-inch quilted Celliant fabric. The result is a 14.5 inch thick mattress. The Quantum edge-support system used helps improve edge support with this mattress.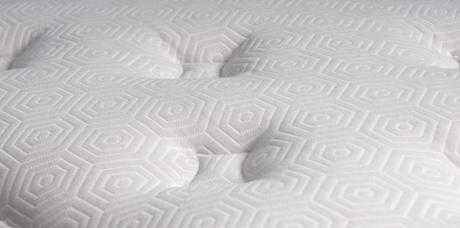 Editor's Notes: While not strictly a hybrid mattress due to the innerspring component being only the smaller part of the support, the Bear mattress is still regarded as such. It is an excellent mattress with the good isolation of the movement of one partner from the other. The edge coil system provides reasonable edge support. Choose this if edge support is important.
Purchase This Mattress
5. Brooklyn Aurora Luxury Hybrid Mattress
The Brooklyn Aurora luxury hybrid mattress is available in a choice of three firmness levels. It is constructed with five layers. From top to bottom these are: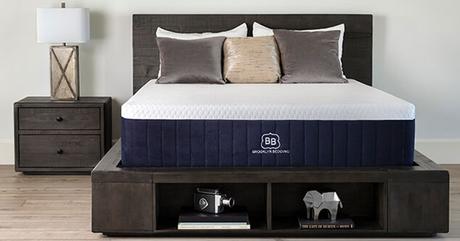 Layer 1: A 1.5-inch layer of patented Copper Gel EnergexTM viscoelastic foam. This is not the same as traditional memory foam. It has more bounce for couples and dissipates heat more quickly than memory foam. The surface is infused with TitanCoolTM phase change cooling beads that keep you cool while sleeping.
Layer 2: A 2-inch layer of TitanFlex foam. This possesses what are described as 'hyper-elastic properties' which acts just like memory foam is changing shape to mold to your body when you move in bed. This results in a superb level of comfort when you are in bed.
Layer 3: A 1-inch layer of what is described as 'Swirl' visco-elastic memory foam. This enhances the contouring of the mattress to your body.
Layer 4: 8 inches of encased coils, up to 1,189 of them, that are referred to as Quantum EdgeTM coils that provide support and a quick reaction to your movement on the mattress that together result in excellent motion separation.
Layer 5: A 1-inch base layer of high density foam to help support the coil layer.

The Brooklyn Aurora luxury hybrid mattress is available in a choice of three comfort levels. On a scale of 1 (softest) to 10 (firmest) these are Soft (2 - 4), medium (4 - 6) and Firm (6 - 8). The Soft option is good for side sleepers and those that prefer their pressure points to sink into their mattress. The Medium option is best for those that sleep on their side, back and stomach that prefer some contouring but more support. The Firm option is best for stomach and back sleepers who prefer a firmer base to sleep on and prefer not to sink into the mattress too much.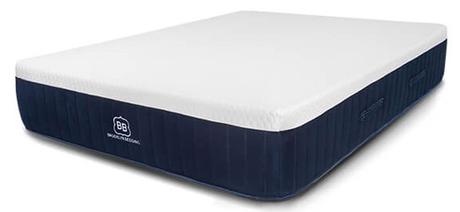 Editor's Notes: The Brooklyn Aurora hybrid mattress is well constructed with five layers that complement each other. The result is a mattress that helps prevent you overheating at night, and that helps support those parts of your body that need support: shoulders, hips, buttocks, lower back (lumbar region) and knees. The smooth finish of the mattress cover helps to dissipate heat quickly and provides a luxury feel to this mattress. The company also appears to respond rapidly to any issues raised by customers.
Purchase This Mattress
6. Linenspa 10-Inch Hybrid Mattress
The Linenspa 10-Inch hybrid mattress is a simple construction of quilted memory foam over a comfort foam layer and then a 6-inch innerspring layer of interlocked steel coils. This all sits on a layer of high density support foam.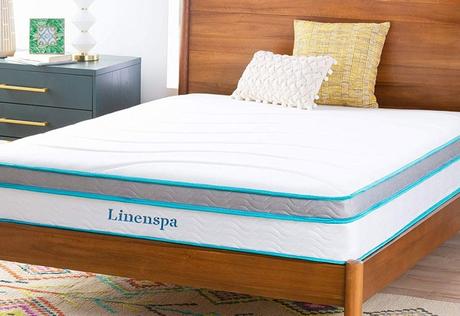 The 10-Inch mattress has a medium feel to it, at a level of 7 on a 1 - 10 scale with 10 the firmest. You can also choose the 8-inch (firmness rating 8) and the 12-inch which also comes with edge support, gel memory foam and individually pocketed coils (plush rating of 5-6).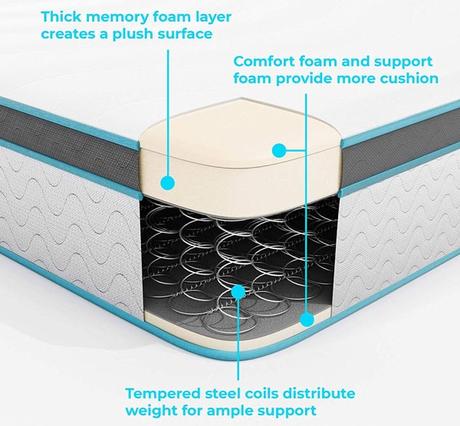 Editor's Notes: The Linenspa 10-inch hybrid mattress is rated at #6 because the spring unit does not comprise individually pocketed springs but a regular innerspring unit with the springs interconnected. However, that aside, it is still an excellent hybrid mattress offering alternative levels of firmness: plusher and firmer than the 10-inch version we reviewed.
Purchase This Mattress on Amazon
Hybrid Mattress Buyer's Guide
The generally accepted definition of the hybrid mattress is one with an innerspring support base and foam comfort layer(s). The spring layer can take the form of regular coils attached together or as individually pocketed springs that provide better separation of movement between partners sharing the mattress. The comfort layer is generally low-density memory or latex foam.
You may read that some firms refer to a hybrid mattress as also being one with foam layers of different density. For example, a high density poly foam support layer with memory foam on top. This is also a legitimate definition for 'hybrid'.
For our purposes, we are referring to a combination of comfort and supporting foam and innersprings. These springs can be interconnected or held within their own individual fabric pockets to separate them from each other. The former can often provide a firmer base, while the latter are best to separate the movement of partners from each other.
So how do you choose the best hybrid mattress to meet your needs? Here are some tips on how to buy the most suitable hybrid mattress for you.
1. Stay Cool
When you fall asleep your body begins to cool down. This is natural and is when your body and brain repair themselves from all the work they have to do during your waking hours. That's why you fall asleep every night - or on whatever work-sleep cycle you use. Unless you can prevent your bedding from heating you up, you may have a disturbed sleep - waking up during the night feeling hot and sweaty.
If you often wake up during the night feeling too hot, then look for a hybrid mattress with a top layer that helps conduct your body heat away while you sleep. Latex is a good choice if the latex you choose has aeration holes designed to achieve this.
Memory foams tend to conform to your body shape and heat you up during the night. However, gel memory foams contain a gel that absorbs heat and disperses it throughout the mattress - not just where you are sleeping. Many use gel beads that change phase when they absorb heat, while others have the gel infused into the foam. Beads can absorb only so much heat, while the infused gel spreads the head rapidly throughout the body of the foam - thus keeping you cool more efficiently.
2. Sleep Undisturbed
A problem with many couples is that when one moves on the mattress their movement is transferred through the mattress to disturb their partner. There are two ways to avoid this with a hybrid mattress.
a) Purchase a hybrid mattress with the support and bounce of a good spring base with a memory foam top layer. Memory foam tends to absorb the pressure of each partner and separate their movement from each other.
b) Purchase a hybrid mattress with individually pocketed or encased coils. Since the springs are not connected to each other, the movement of one partner should not transfer to the other.
The ultimate solution is to use a hybrid mattress with a pocketed spring base and memory foam comfort layer. Multiple layers are fine, but for an undisturbed sleep a couple should purchase a mattress with those two features: memory foam and pocketed/encased coils.
3. What to be Aware of
Hybrid mattresses, particularly the best hybrid mattresses, can offer immense benefits to those who need a good, strong support layer but also a comfortable soft sleeping surface. Because of this, some firms are offering inexpensive mattresses that seem to be hybrids but really aren't.
You need to check out whatever hybrid mattress you decide to purchase. Shop around and find the hybrid that meets all your needs - or as many as possible. Comfort, support, motion separation, keeping you cool - these are all properties that are possessed by those products that are included in our hybrid mattress reviews, 2018.
Seeking out the best hybrid mattress for you, and making the decision to purchase it, will be easy if you follow our Buyer's Guide and consider our top 6. If you don't like your mattress, each offers a good warranty and a sleep trial. The sleep trial enables you to use the mattress for a period of time: from 100 days to 120 days depending on the product. During that period you can return your mattress free of charge. You will usually have to give it 30 days before you decide to return it at no cost to yourself.
There is not a lot to be said about hybrid mattresses. If you follow this Buyer's Guide, you should be able to purchase the best hybrid mattress for your specific needs. If you don't like it then return it within the Sleep Trial period and try another one! You cannot lose!
Best Hybrid Mattress Reviews: Frequently Asked Questions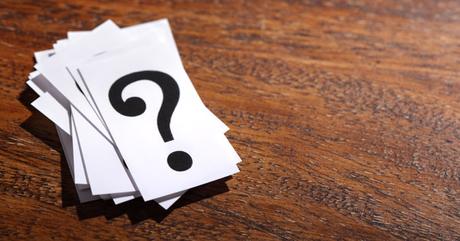 Summary
We trust that our best hybrid mattress reviews, 2018, are of help if you are looking for information on the best hybrid mattress to suit your needs. If you require further information then contact us using the Contact form on our website.