Home embroidery machines allow you to make a garment even more personalized and special by adding a beautifully embroidered design. Like sewing machines, embroidery machines come in many different styles and price ranges. Today, many sewing machines come with an embroidery component, so you won't have to buy two machines to do sewing and embroidery. Machines that are capable of doing embroidery can range in price from around $80 to well over $500. The price will depend on the quality of the machine and the number of stitches that you can do with the machine. Below are a few great examples of embroidery machines that are easy to use, have received good customer reviews have the capability of embroidering many stitches.
Brother PE770 Embroidery Machine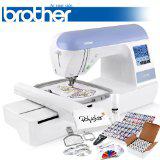 The Brother PE770 Embroidery Machine is a computerized embroidery machine with USD memory stick compatibility so that patterns can be pulled off the web and put onto your machine. This embroidery machine is one of the best on the market, with the capability to produce up to 650 embroidery stitches per minute. You can also do lettering and decorative patterns easily with this quick machine. This machine is one of the most user-friendly machines on the market with a memory function that saves designs and a touch-screen control panel. It has all the components you'll need to create amazing looking patterns, borders and frame shapes. Take your embroidery into the 21st century with this machine.
Singer CE-150 Futura Sewing-and-Embroidery Machine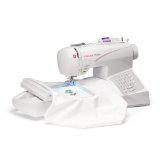 The Singer CE-150 Futura Sewing-and-Embroidery Machine is all you'll need for your sewing and embroidery needs. This machine has 24 built-in stitches, 120 built-in embroidery designs and 5 built-in font for monogramming. This machine is also compatible with embroidery design file formats for downloading thousands of embroidery designs from the web. Connect the computer directly to your machine via USB cable to have access to any design you need. This Singer machine is great for anyone who sews and embroiders regularly and needs an easy-to-use, updated machine.
Brother XL2610 Free-Arm Sewing Machine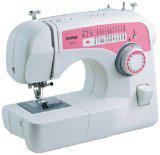 The Brother XL2610 Free-Arm Sewing Machine is an affordable option for those not wanting to spend a lot on a machine specifically for embroidery. This Brother model is technically a sewing machine, but has many of the key components of an embroidery machine and can be used to do 25 built-in stitches and over 50 stitch functions.
This machine is lightweight, portable and easy to use, making it a great option for someone just beginning to experiment with sewing and embroidery.
Brother SE350 Computerized Embroidery-and-Sewing Machine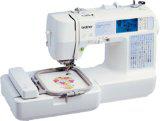 The Brother SE350 Computerized Embroidery-and-Sewing Machine has 67 built-in stitches and 70 built-in embroidery designs with 5 fonts for monogramming and 120 frame combination options. This machine is suitable for someone who already has basic sewing and embroidery skills. Outstanding features include a back-lit LCD touch screen, Quick-Set bobbin and built-in memory for saving designs. This Brother machine is a great investment for those who love sewing and embroidery.