So you've already seen my Best Holiday Gifts for Tennis Players - 2016 Women's Edition and my Best Holiday Gifts for Tennis Players - 2016 Fitness Edition. Now here are my stocking stuffers (probably my favorite one to do). In this guide, I'll give you tons of ideas for stocking stuffers - little gifts that make a huge impact. These are all pretty cheap, many less than $25, and would be perfect for your favorite partner, captain or pro. And what the heck - they're so cheap, pick up a few of these for yourself!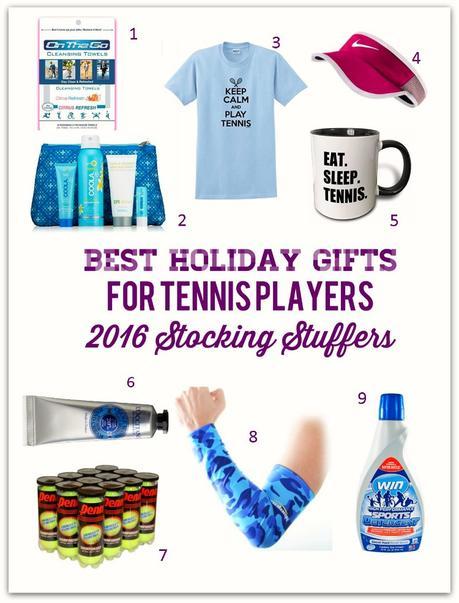 On The Go Towels Citrus Refresh Large Cleansing Wipes - This might be my favorite stocking stuffer of 2016. These On The Go Towels smell great, work great and are now an absolute necessity in my tennis bag. Sure, I may look like a sweaty mess after my tennis match, but I smell fabulous. And this Citrus Refresh scent is my fav.

COOLA Organic Suncare, 4 Piece Organic Suncare Travel Set in TSA Approved Sizes - I became a convert to COOLA this summer because their sunscreens smell so dang good. I love this travel kit because it gives you four of this luxury brands most popular organic and natural suncare must-haves in trial sizes that are just right for travel, all in a pretty blue tote. These products will protect and nourish your skin with vitamins and age-defying antioxidants, all while remaining free yucky parabens, paba, petroleum and phthalates (which is what?). The contents are Classic Face Cucumber SPF 30 Moisturizer, Sport SPF 30 Pina Colada Spray (yum), Liplux SPF 30 Balm, and Radical Recovery AFter-Sun Lotion.

Keep Calm and Play Tennis T-Shirt - I not only need to wear this t-shirt, I need to follow its words of wisdom every single day. I love this tee because it comes in all kinds of colors and is right for tennis players of all ages, shapes, sizes and skill levels.

Nike Women's Featherlight Visor - You can never go wrong with a good visor and this one is not only perfect in purple, but also features Nike's patented comfort bill design for reduced pressure against the forehead. Because it is made with Dri-Fit technology, it will wick sweat away from your eyes and keep you nice and dry on court.

Eat. Sleep. Tennis. Coffee Mug - This mug speaks my truth. I think this mug speaks the truth for a lot of us. I helped with a tennis tournament this summer and these were handed out as prizes and the ladies absolutely loved them. So cute and not too expensive so these are the perfect gift for a partner or captain who is completely obsessed with the game.

L'Occitane Shea Butter Hand Cream - After a long match, my hands often feel grimy, sweaty and just plain nasty. Cleaning up and applying a creamy hand cream, like this one from L'Occitane, is the cure for "tennis hands." This fantasic-smelling balm with has 20 percent shea butter, honey, almond extracts and coconut oil. Its rich texture leaves your hands soft and smooth. The tube is just the right size for your tennis bag and the little metal tube and cap ensure no messy explosions while its in there (not good - I speak from experience).

Penn Championship Extra Duty Tennis Balls Value Bulk Pack of 12 Cans - One can of tennis balls in your stocking would be nice. Twelve cans would be phenomenal! I buy my tennis balls in bulk because you always need a new can of tennis balls. So this is the perfect gift for all of your favorite tennis players. Or at least for 12 of them.

CoolOMG Compression Sleeves - Remember how Serena wore compression sleeves during this year's US Open and we were all like "what are those and why is she wearing them"? Well, I myself have several sets of compression sleeves that I had used for running but now I'm thinking I need to bring these cuties out to the tennis courts. Because that's what me and Serena do. I like them because they provide protection from the sun and help keep your muscles warm and loose. The compression can also help relieve muscle and joint pain, stiffness and soreness. Supposedly. But mostly I like them because they look uber cute.

WIN Laundry Detergent - Laundry detergent? In my stocking? It may not sound exciting but if you are washing a lot of athletic apparel and noticing it's just not smelling as nice as you'd like, you may need to upgrade your detergent. The fact is that athletic apparel is often made of synthetic fabric that repels water and retains oils. As a result, bacteria builds over time and causes odors that cannot be washed away. But a detergent like Win (which I myself have used) is formulated to release the oils trapped within synthetic fibers and leave only a fresh, clean scent behind. Win also restores the wicking ability of performance fabric, which extends the life of the garment. This may be the ticket you need to extend the life of your favorite tennis outfits.

If you're looking for more holiday gift ideas, I've got plenty! Check out these Tennis Fixation Gift Guides:

Full disclosure - Many of the links in this post and in all of my Holiday Gift Guides are affiliate links. I make a very small commission if you purchase any item using my affiliate links. Your cost is the same for these items whether or not you use these links. My opinion on these items is not influenced by this and I always tell the absolute truth about every item that I review. I usually do not review items and I never recommend items that I don't like.