Another holiday gift guide for tennis players is here! Happy Tennis Holidays!
So you've already seen my Best Holiday Gifts for Tennis Players - 2015 Women's Edition and my Best Holiday Gifts for Tennis Players - 2015 Fitness Edition. Now here are my stocking stuffers (probably my favorite one to do). In this guide, I'll give you tons of ideas for stocking stuffers - little gifts that make a huge impact. These are all less than $20 and would be perfect for your favorite partner, captain or pro. And what the heck - they're so cheap, pick up a few of these for yourself!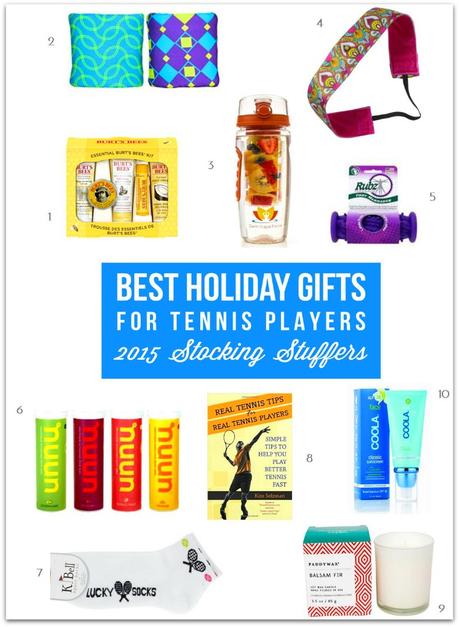 Burt's Bees Everyday Essential Beauty Kit

- Pamper yourself (or your tennis pal) with these popular Burt's Bees skin care products in trial sizes. This kit includes Soap Bark Deep Cleansing Cream, Hand Salve, Milk and Honey Body Lotion (yum! but please don't eat it), Beeswax Lip Balm and Coconut Foot Cream. All of the nourishment and creamy goodness your body is craving after a long match!

Wristpect Wristbands - Fluid and Grace Set - No one does wristbands like Wristspect does wristbands. This "Fluid and Grace" set features one band with ripply waves of teal and yellow and another with a jewel tone geometric pattern of purple, teal and yellow. Now, this is how the fashionable tennis player keeps sweat out of her eyes. Love these wristbands and love this company.

Fruit Infuser Water Bottle By Zentrifugal Force

- This is a thing. Not just a water bottle. Not just a BPA-free water bottle. But a 32 ounce BPA-free water bottle with a built-in fruit infuser! I have long advocated the deliciousness of fruit-infused waters (just see my post How and Why to Make Fruit-Infused Waters) but this bottle makes it super simple to whip these up with its built-in fruit compartment where you can add your own favorite fruits. And don't just limit yourself to fruits - cucumbers, mint leaves, basil - whatever sounds tasty to you.
If you're looking for more holiday gift ideas, check out these Tennis Fixation Gift Guides from past years: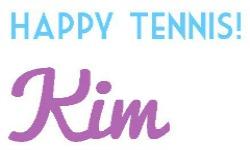 © Kim Selzman 2015 All Rights Reserved
Full disclosure - Some of the links in this post are Amazon affiliate links. I make a very small commission if you purchase any item using my Amazon affiliate links. Your cost is the same for these items whether or not you use these links. This does not influence my opinion of these items and I always tell the absolute truth about every item that I review. I usually do not review items that I don't like.