Happy Holidays! It's time for even more of the Best Holiday Gifts for Tennis Players! Each year, I put together a list of my favorite tennis gifts to give (and to get). We've already looked at the Best Holiday Gifts for Tennis Players – Women's Edition, a great collection of gifts just for the ladies. Now, here's a collection of holiday presents to whip your favorite tennis partner, pal or special someone into tennis-fit-shape (or just go ahead and buy one or two of these for yourself – you deserve it!).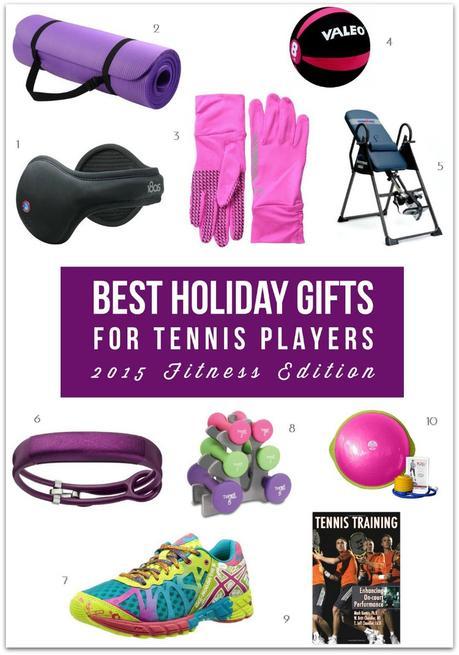 180s Unisex Bluetooth Ear Warmer Headphones

– I have got to be listening to something – music, podcasts, books, something – when I'm working out. And these are the headphones I need to get me through the winter. They're earwarmers. They're headphones. They're Bluetooth earwarmer headphones! Perfect for working out in the outdoors no matter how chilly it gets.

BalanceFrom GoYoga Extra Thick Yoga Mat with Carrying Strap (Purple)

– Yoga for tennis? Yes. Yoga for fitness? Yes. Yoga for health, wellness and relaxation? Yes, yes and yes. And, speaking from personal experience, having a nice, thick yoga mat helps quite a bit. This one even comes with a carrying strap. And while it comes in lots of colors, I'm loving the purple.

Under Armour Women's Layered Up! Gloves

– These are actually liner gloves for skiing but, because they have some kind of touch tech fabric on the fingers, they might be perfect for tennis since your racket wouldn't be slipping around. And they're lined with "Cold Gear Infrared," whatever that is, to keep your finders toasty warm no matter what sport you take on. Oh, and did I mention, they're pink. So, yes to pink!

– Last year it was kettlebells. This year it's medicine balls. There are so many ways to use a medicine ball to build up your fitness. Looking for stronger arms to level up your tennis serve? Yeah, you need a medicine ball.

Ironman Gravity Inversion Table

– I WANT this! An inversion table! We have all kinds of fitness equipment laying around this house but we are lacking an inversion table. And I think it could help with my back pain (which isn't really too bad) and my circulation (which is only going to get worse). And what I like about this one – it's pretty much idiot-proof. I do not want to spend my day trapped on an inversion table.

UP2 by Jawbone Activity + Sleep Tracker

– If you're looking for a fitness tracker, this may be the one. It not only keeps track of your activities, it also monitors your sleep cycles AND can wake you up at the optimal time in your cycle. And, while it comes in lots of colors, this Orchid one would go with almost all of my tennis outfits so that's the one I need.

ASICS Women's GEL-Noosa Tri 9 Running Shoe

– Well, I'm sorry. If this shoe doesn't make you want to get out and start running, I don't know what will. Just like it has done with tennis shoes, Asics has scored in its brightly-colored and happy-inducing running shoes. The Noosa Tri 9 Running Shoe comes in all sorts of splashy colors but I adore this Capri Blue, Raspberry and Lime combo.

Tone Fitness 20-Pound Hourglass Shaped Dumbbell Set

– When I workout, I workout with pretty light weights. That's my gig. I don't lift heavy. So this set of dumbbell weights is just what I need. I can do lots of reps with these light weights and keep them all stacked and organized when I'm done.

Tennis Training: Enhancing On-court Performance

– I have this book. I love this book. It is absolutely packed with information and exercises specifically designed for tennis players looking to up their fitness and on-court performance. If you're serious about being a physically fit tennis player, get this book.

– If you're looking to improve your footwork and balance, try a Bosu balance trainer. You can exercise on this just like you do on a plain old floor but exercising on this Bosu trainer makes every move that much more sweat-inducing and calorie-busting.
If you're looking for more holiday gift ideas, check out these other Tennis Fixation Gift Guides:
Best Holiday Gifts for Tennis Players – 2015 Women's Edition
Best Holiday Gifts for Tennis Players – 2014 Stocking Stuffers
Best Gifts For Tennis Players – Tennis Fixation 2013 Holiday Gift Guide
Best Last Minute Gifts And Stocking Stuffers For Tennis Players
Tennis Fixation 2012 Holiday Gift Guide – Best Gifts For Tennis Players!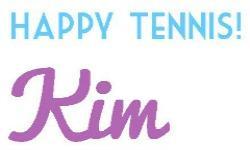 © Kim Selzman 2015 All Rights Reserved
Full disclosure – Some of the links in this post are Amazon affiliate links. I make a very small commission if you purchase any item using my Amazon affiliate links. Your cost is the same for these items whether or not you use these links. This does not influence my opinion of these items and I always tell the absolute truth about every item that I review. I usually do not review items that I don't like.