It's time, once again, for my annual gift guide – Best Holiday Gifts for Tennis Players! I love putting together lists of my favorite tennis gifts to give (and to get). This year I've decided to do several editions of my gift guide – to cover every possible player at every possible price point. So this first one is my "Women's Edition" – just for the ladies. If you're looking for the perfect present for your favorite female tennis partner, pal or special someone or if you just want something to reward yourself for a season well-played, this list has everything you could possibly want for looking ultra cute on the court.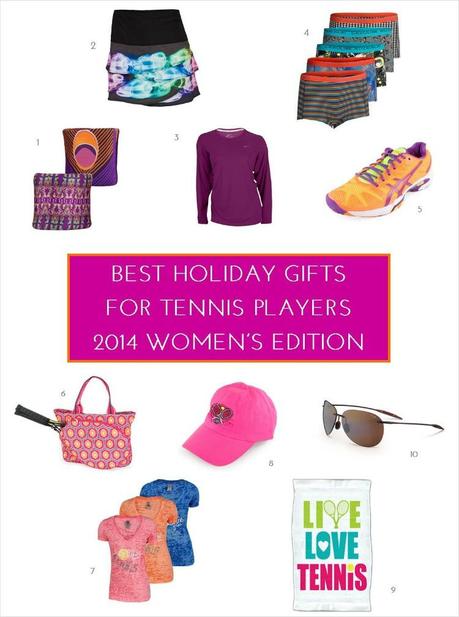 Wristpect Sport Hippie/Peacock Tennis Wristband Set: Looking for a fashionable way to wipe away the sweat on court? These wristbands from Wristpect Sport are just the thing. Made from 80% cotton and 20% spandex, they're soft, comfy and sure to mop up whatever moisture you're putting out. I love these in the purple and orange hippie look – so boho.

Lucky In Love Women`s Smokin' Ball Tennis Skirt Print
: Sometimes, you just want to wear something different. Not the same white tennis skirt you wear every. single. week. And, please, not that same black skirt! Well, this Smokin' Ball tennis skirt is the answer to that problem! I promise you – neither you nor most of the people you play have a skirt like this. Lucky In Love is a pretty recent entrant to tennis wear and, if they keep putting out stuff like this, I think they'll be around for a good, long while.

Nike Women`s Extended Long Sleeve Miler Running Tee: I'm wearing long sleeves pretty much year-round now. To keep me warm in the winter and to keep the sun away in the summer. And Nike continues to make my favorite long-sleeved tees. They fit well and they come in every color imaginable. This purple one is perfect. I think there's a purple-ish theme going on here.

Caroline Wozniacki Women`s Cotton and Lycra Hipster: Did you know Caroline Wozniacki was in the underwear game? Well, she is and these hipster briefs are very "hip" looking as well as comfortable in 96% cotton and 4% lycra. Plus, with "Caroline Wozniacki" emblazoned on the waistband, maybe they're lucky to wear while playing!

Asics Women`s Gel Solution Speed 2 Tennis Shoes Bright Orange and Lavender: Okay. True confession. This is my fourth pair of this model of shoe. And if Asics continues to come up with these super sweet color combos, I'll continue to buy them. This orange and lavender model is so bright and happy. I think I play better when my shoes are this fun!

All For Color Moroccan Tile Tennis Tote: I love tennis bags and I'm always looking for the next cute bag that becomes my must-have. This one by All For Color may fit the bill. In a pink and orange "moroccan tile" print, it holds two racquets and is plenty roomy on the inside. But really, pink and orange. That's all I need to know.

LoveAll Womens Feel The Love Acid Wash Tee: When I'm not wearing tennis stuff, I'm wearing tennis-themed stuff. And that's why I love all of my LoveAll tennis t-shirts. They fit nicely, come in a fashion-forward burn-out fabric, and always have a cute tennis message. This one says "It's a Love Game," which it is, right?

LoveAll Women`s Crossed Racquets Tennis Cap: I have long been a fan of LoveAll's t-shirts. So, naturally, this neon pink tennis cap is an easy pick for me as a great tennis gift. Accented with a tennis ball and a little heart, this cap is made from chino cotton and is adjustable. If pink isn't your signature color, you can also get this in neon green and neon orange. Because you can never have enough neon in your tennis wardrobe.

4 Wooden Shoes Live Love Tennis Towel: In my opinion, you can never have enough tennis towels. And while any towel is better than no towel, an adorable towel like this is best of all. Live Love Tennis – a mantra we can all live by.

Maui Jim Sugar Beach Sunglasses Rootbeer and HCL Bronze: I have been wearing Maui Jim sunglasses for my matches for about a year now and I can tell you, these are the best sunglasses I've ever had for playing tennis. They are light, clear, and really attractive. I absolutely do not take care of mine – I throw them in my tennis bag, in my purse, in the console of my car. And they somehow remain unscratched and in perfect shape.
Okay, what's on your holiday gift list? Let me know in the comments below. And keep checking back as I've got several more Holiday Gift Guides coming for the 2014 season!  Happy Holiday Tennis!

© Kim Selzman 2014 All Rights Reserved
Full disclosure – The links in this post are Tennis Express affiliate links. If you use these links to purchase items, your cost is the same as if you don't use these links. I don't get paid anything if you purchase from Tennis Express but they are nice enough to give me a small discount when I shop with them. This does not influence my opinion of any of their products and I always tell the absolute truth about every product that I review. I usually do not review products that I don't like.
650 ? 650: true);" class="ois_box_14 container-fluid"> If you enjoyed this article . . . There's plenty more! Sign up for FREE Tennis Fixation Weekly Updates and you'll receive my FREE eBook "10 Quick Fixes To Improve Your Serve: No Lessons Required!"