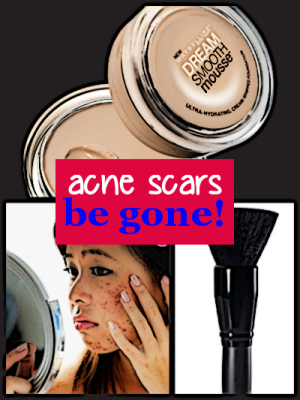 This drugstore foundation is golden! I've reviewed Maybelline Dream Smooth Mousse foundation in the past. But I just had to give it another shout out.
I can't believe just how well this drugstore foundation covers…
I broke out really, really bad recently. Not sure if it's the remnants of the holiday stress or just an old-fashioned skin jinx. Lots of huge dark scarring and hyperpigmentation plagues my skin. Although it's beginning to clear up slowly, I can't believe just how well this drugstore foundation covers.
huge coverage = small price
Maybelline Dream Smooth foundation is the best foundation for people with moderate to severe acne scars. It goes on flawlessly: no caking, no patchy messes. A little goes a long way and, compared to most high-end, full-coverage foundations, the price is a mere fraction. But don't let that fool you;  this foundation packs serious coverage and it does it gracefully.
…a circus of pimples and scarring plagued my face
I've suffered with oily, acne-prone skin my entire life so I can appreciate a foundation that works overtime to cover up the circus of pimples and scarring that maybe taking place on my face. During these last few weeks of acne hell, I've had to reach over several of my higher end foundations by MAC, Make Up For Ever, Lancome and NARS for Dream Smooth. The others could not give me the coverage I needed without me applying a lot of product.
It's never failed me yet!
I recommend this foundation wholeheartedly. I hope Maybelline never EVER changes the formula. It's a well-accepted and well-rounded foundation. I've seen reviews from oily gals, normal gals, combo gals and others like me with heavy acne scarring; all seem to have nothing but great things to say about how this foundation performs. Although I am an admitted foundation floozy, I always come back to Dream Smooth when I have those not-so-good skin days. It's never failed me yet!