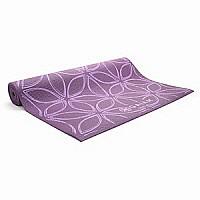 Many popular workouts today require you to have a fitness mat for optimum comfort when performing exercises. Workouts like pilates and yoga use fitness mats to increase comfort and traction when doing floor exercises. While you can absolutely do any exercise without a fitness mat, the fitness mat makes exercises a little bit more comfortable and safe. Fitness mats can help you to get the most out of your workout. Read below about the different types of fitness mats and best fitness mats to buy before making your purchasing decision.
General Exercise Mats
There are a lot of exercise mats that are used for basic exercises such as sit-ups, push ups and stretching on the ground. These mats come in a variety of different sizes, thicknesses and colors. Foam mats are most common for comfort and durability. These mats are also easy to clean and wipe down after exercising. General exercise mats either fold up or roll up to be easily stored. They are also easily portable and sometimes come with a strap or can be put in a bag for added convenience.
Yoga Mats
Yoga mats are generally thin foam mats that come in a variety of colors and designs. When doing yoga exercises, you want to feel the ground beneath you and have a very stable surface. For this reason, yoga mats should not have much cushion. A yoga mat should also be somewhat tacky so that they adhere to the floor and don't slide around when you move. You should be able to feel the traction between your feet and the mat so that you can obtain optimum balance and stability. Yoga mats may come in different sizes, but are normally around 5-5.5 feet long to accommodate the average person. Many yoga mats also come with a strap or a bag with a strap for easy transportation and storage.
Pilates Mats
Pilates mats are normally a little thicker than yoga mats because pilates involves a lot more floor exercises than yoga generally does. A nice pilates mat will have a bit of cushion to protect your spine during floor exercises. Unlike yoga, you do not need to feel rooted to the ground with pilates exercises, so a mat with a thickness of about half an inch that is still a little tacky to avoid sliding on the floor will serve you well. Pilates mats come in a variety of colors and designs so that you can personalize your pilates mat. Some people also will simply purchase an additional plain, padded mat to place under their yoga mat to use as a pilates mat.
In addition to exercise mats, there are also a number of floor exercise accessories that can help you achieve an excellent workout. These accessories include core balls or stability balls, resistance bands, yoga blocks, pilates box and pilates poles. These accessories provide extra ways to stretch and tone muscle outside of normal exercises. You can easily expand your home gym by purchasing a fitness mat and fitness accessories.