Facial oils are becoming a rage not only in skincare world but also in makeup world. This skincare star on the block has a lot to offer. A good facial oil gets absorbed by the skin easily and hydrates the skin insanely. Facial oils lock in the moisturise and prevent dryness or dehydration thus preventing the need, to use moisturisers often. Facial oils are light weight in their purest forms, thus easy to absorb. If you are already using a moisturiser, you can still use a facial oil on top of it provided you are aware of Skincare Layering. Dermatologists say you can apply oil either before or after your daytime moisturiser or night cream. Moreover you can even blend them into your moisturiser and use. They are that easy and flexible to use.
Facial oils also offer antioxidants, which provide repairing and corrective measures. Specific plant oils like Rosehip, Grapeseed are high in anti oxidants thereby neutralising the free radicals responsible for skin damage. They perform a dual job of moisturising as well as anti aging.
Makeup gurus often use few drops of oils before setting their makeup to give a dewy look and finish to the makeup. Applying oil before setting your makeup makes your skin plump and even toned skin thus acting as a primer. Some makeup addicts even add a few drops of oil, to their mattifying foundation to achieve a dewy look without having to reach out to many products.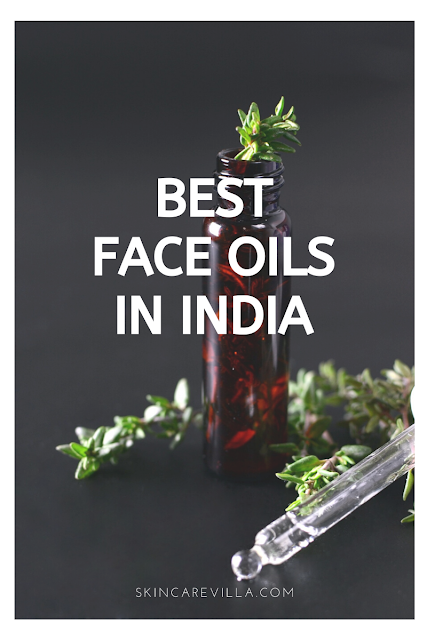 So now after giving you a heads up of how facial oils are good for you skin, let us check the list of Best Face oils in India. I have personally tried each of the below mentioned face oil and have also reviewed a few of them.
Prakrta Serum Of Youth Face Serum
Moolit Beauty Sunshine Drops
Ilana Organics Clarifying Serum
Vilvah Store Moringa Beautifying Serum
Imiana House Rosehip And Argan Serum
Biobloom Facial Oil
Kama Ayurveda Jwalini Retexturising Skin Treatment Oil
Kama Ayurveda Nalpamaradi Thailam
Prakrta Serum Of Youth Face Serum
Prakrta Serum Of Youth Face Serum can help prevent fine lines, wrinkles while giving a smooth and evenly toned skin. It is a potent blend of cold-pressed oils naturally high in Vitamin E, A and anti-oxidants for a nourished skin. It is a light weight, quick absorbing and non greasy oil for face with natural herbal smell of the cold pressed oils used (no added perfume).
Ingredients - Cold pressed Avocado oil, Cold Pressed Almond oil, Cold pressed Apricot oil, Cold Pressed Pomegranate oil, Cold Pressed Evening Primrose oil, Cold Pressed extra virgin coconut oil, Cold Pressed black seed oil, Caprylic Capric Triglyceride, Natural Anti-oxidant blend of Vitamin E and CoQ10Price - 380 INR for 30 mlMoolit Beauty Sunshine Drops
Moolit Beauty Sunshine Drops is a glow boosting serum for scarred & damaged skin. It is made with simple ingredients and is perfect for daily use. It gets absorbed easily into the skin without a greasy feeling.
Ingredients - Organic rosehip seed oil, organic seabuckthorn berry pulp CO2 extract, organic sunflower seed oil, organic rosemary antioxidant CO2 extract.
Price - 550 INR for 10 ml
Ilana Organics Clarifying Serum
Ilana Organics Clarifying Face Serum is a good option to tackle acne and keep it acne free with regular usage. The light texture of the serum makes it suitable for daily usage. The serum could have been housed in an amber coloured glass bottle. So I would suggest to keep the serum away from sunlight.
Ingredients - Argania spinosa (argan oil), Melaleuca alternifolia (tea tree), Rosmarinus officinalis (rosemary), Lavandula angustifolia (lavender), Citrus limon (lemon)
Price - 770 INR for 15 ml
Vilvah Store Moringa Beautifying Serum
Vilvah Store Moringa Beautifying Serum targets pigmentation, uneven skintone and dark spots. Here is our magic elixir for younger looking flawless skin which enhances natural skin glow. Our beautifying serum is rich in anti-oxidants and contains powerful ingredients which delay aging and repair damaged skin.
Ingredients - *Moringa oleifera (Moringa oil), *Argania spinosa (Argan oil), *Rosa moschata (Rosehip seed oil), *Daucus carota(carrot seed oil), **Lavandula (Lavender essential oil), *Boswellia sacra (Frankincense essential oil), *Citrus aurantium(Neroli essential oil), **Pelargonium(Geranium), Natural Vitamin E oil, **Saffron strands (*Certified Organic **Organically grown, but not certified)
Price - 850 INR for 30 ml
Imiana House Rosehip And Argan Serum
Imiana House Rosehip & Argan Serum – face elixir is a special formulation for treating pigmentation, scars from breakouts, uneven skin tone and dullness. Apart from Rosehip, Argan, this oil contains Prickly Pear seed oil. Prickly Pear seed oil is rich in Vitamins E and K, essential fatty acids and antioxidants. It balances oily and combination skin, restore elasticity, neutralize free radicals that cause signs of aging.
Ingredients -  Rosehip Oil, Argan oil, Prickly pear seed oil, carrot seed oil, Geranium, Calendula, Lavender, Myrhh, juniper berry, Vitamin E (All USDA Certified organic ingredients)Price - 1450 INR for 15 mlBiobloom Facial Oil
BioBloom Facial oil enhances the skin's radiance and aids in skin tightening, skin lightening, and skin rejuvenation. This oil diminishes fine lines, wrinkles and is recommended for damaged, dull or aging skin. I have used and reviewed this oil and have seen the tightening effecy it gives to the skin as I could see the acne pits being shrunk in size due to tightening effect. The fragrance of this face oil is amazing and spa like
Ingredients - Apricot kernel oil, carrot seed oil, rosehip oil, geranium oil, lemon oil, frankincense oil, myrrh, rosemary, vitamin E, evening primrose
Price - 1499 INR for 15 ml
Kama Ayurveda Jwalini Retexturising Skin Treatment Oil
This is a classic Ayurvedic treatment that re-texturises dry, irritated and sun damaged skin. It is formulated from natural herbs processed in pure Coconut milk and Sesame oil and it helps clear up skin irritation and itching. It also contains Costus and Cardamom which are known for their ability to enhance skin texture and treat irritation. Regular use results in healthier, softer skin that is visibly smoother and radiant. Kama Ayurveda Jwalini Retexturising Skin Treatment Oil can be used on both face and body.
Ingredients -Green Caradamom, Cinnamom, Costus, Pine, Nutmeg, Indian frankincense, Mentha, Seasame oil, Coconut milk, coconut oilPrice - 695 INR for 100 mlKama Ayurveda Nalpamaradi Thailam
Kama Ayurveda Nalpamaradi Thailam is a potent skin brightening and detanning treatment that can be used on both the face and body. It contains potent turmeric which has antioxidant action, repairs pigmentation, uneven skin tone and marks. Moisturising Sesame Oil forms the hydrating and nourishing base of this oil. Cooling Vetiver, repairing Indian Gooseberry and antibacetrial Madder extracts heal and relieve environmental damage. This oil stains so due care is to be taken while using this face oil.
Ingredients- Vetiveria zizanoides, Terminalia bellerica, Terminalia chebula, Sesamum Indicum Oil, Rubia cordifolia, Fumeria parviflora, Ficus religiosa, Ficus bengalensis, Emblica officinalis, Curcuma Longa, Aquilaria agallocha.
Price - 950 INR for 100 ml
So this was my list of Best Face oils in India, I hope you find it useful.