Entrance door mats are essential to every home. These practical décor items are the first thing guests see before entering a residence. The right type of doormat is not just meant to compliment the general appearance of your house, but also protects the flooring and your loved ones from unhealthy dirt and germs. These gorgeously-looking door mats will surely make your guests feel well-received. Let's check them out.
Let's check them out.
Coir doormat with stripes and shades of green
This beautifully-stripped doormat works wonderfully with the surrounding plants. You can immediately notice that the homeowner is fond of nature and that he or she puts a lot of effort into making the entranceway to their house feel fresh and lively. As for the mat's material, coir is your best bet. The material is weatherproof, durable and extremely efficient at scrapping off dirt and grime. It's always nice to see a door mat that looks interesting. If you want to keep your guests intrigued, a stripped mat for your entryway is exactly what your home needs.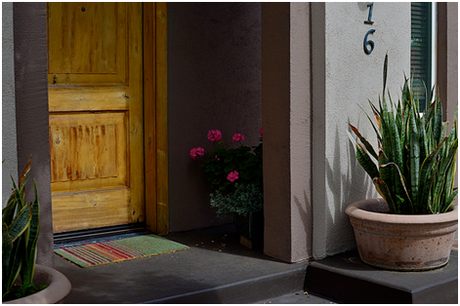 Water Trapper Door Mat
We're currently dealing with the rainy season, so an entrance mat to trap water is perfect for the front entrance. The most common material for this type of mat is rubber, which is incredibly resistant, easy to clean and waterproof. Go for an interesting design to wow your guests and stay away from simple, boring designs. Interesting patterns are also a great idea to consider because they might indicate that your home has a graphic, unusual appeal.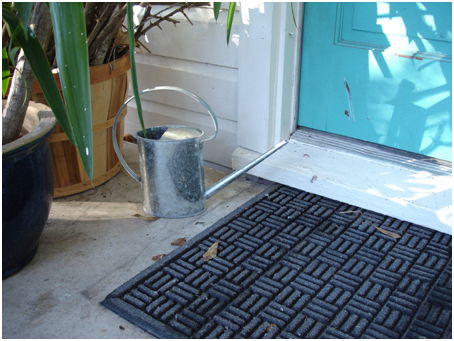 Pop of color
Sometimes the simplest word sends out the most significant message. This doormat with birds and a 'welcome' message brings a lot of intrigue thanks to its baby blue shade. It's not every day we get to see such brightly colored entrance mats. Manufactured from woven polypropylene, it is extremely easy to clean, durable and practical. You can either shake it every couple of days or vacuum it.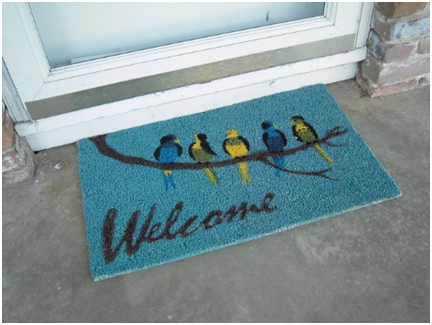 Doormat with a funny message
You can instantly tell that these owners are funny people. The mat they've chosen for their entryway is hilarious, and sometimes a sense of humor is needed to brighten someone's day. You can always try showing up with an actual beer, and who knows what can happen? There are lots of funny doormats with interesting messages on the market, so it's definitely a good idea to explore before buying. Don't overlook quality – a nice mat is great, but it must also be able to keep dirt out of your home and off your precious flooring.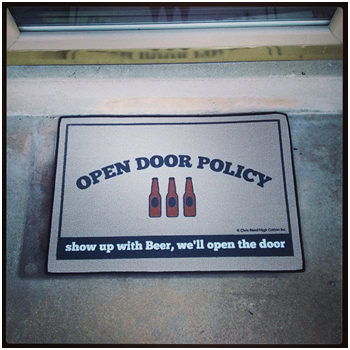 "Wipe your Paws" Fiber Doormat
We can safely assume that this owner has a cat or that he's a cat lover. The doormat placed outside his house is snooping and funny at the same time. Also, from what we can see from the photo, the material is some sort of durable fabric, probably coir or jute. This means its high-quality, too. As guests enter this person's home, they'll surely be amused by the message displayed. Mats made of different types of fabric are the best. Apart from coir and rubber, you can always go for something softer like cotton and nylon, or for something sturdier such as bamboo and acrylic.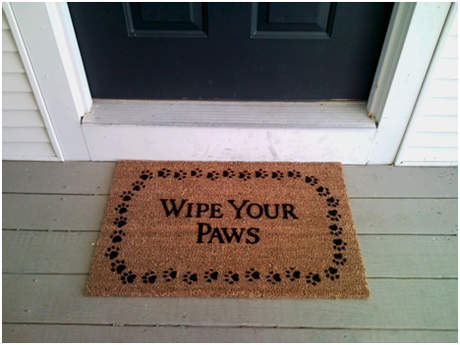 Placing a doormat outside the entrance of a home is a clear sign that the place is occupied. Doormats have a friendly purpose, too, not just a decorative one. Runners with cordial messages displayed are excellent because they highlight that the people behind the door are nice and hospitable. However, a doormat's main purpose is to trap moisture, dirt and debris. That's why it is important to consider quality not just design.
The market is packed with door mats in different designs, so before making a purchase, you should assess the material. Entrance matting keeps a residence clean and refreshed. It can also put a smile on the face of the person knocking at the door, so it's always a good idea to invest in colorful, cheeky doormats. Think outside the box, buy a mat that reflects your personality and goes well with the overall décor of your residence.
For more doormat designs, do not forget to visit our Piterest board.
Follow HomeSpirations's board Doormats on Pinterest.