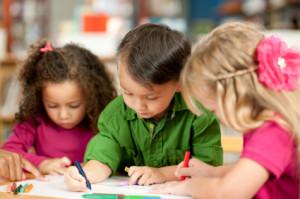 There are many different types of arts and crafts projects out there these days and most of them are more creative than the next. While these activities can be fun and entertaining, they can also turn into a messy, sloppy time. Here are some art projects that lack mess and are full of imagination.
We all know how much fun it is to finger paint. Even as adults we wish we could finger paint, but as the parents or babysitters, we miss out on the fun and just get stuck with the awful clean up. A fun idea for mess-free finger painting is to take Ziploc bags and put the paper inside of them. Then add the paint inside the bag, tape it down, and let them play! The paint stays in the bag and you avoid the clean-up. It's fun and you can try new colors each time to keep them intrigued. Another ides that involves paint, which we all know is the messiest art material but of course the most fun. Take an empty liter bottle of soda and clean off the bottom. If your child has smaller hands, just cut it in half so they have better control of the bottle. Set up a few different colors and make sure the paint is shallow, then they can dip the bottom of the bottle into the paint and then onto their paper. The shape looks like a flower! This is fun and creative. Make it even more fantastic by using a long amount of paper and you can tape the picture to their wall as a new accent.
There will always be a new version from an old classic available for arts and crafts. Puffy Paint, which is a mixture of white glue and shaving cream, is more on the messy side, but the clean-up isn't as bad as one would think. The mixture creates a 3D effect of the paint on the surface. You can also add food coloring to the mix for a diverse craft. The paint will not deflate and it stays puffy and even has air bubbles in it which is a nice change from plain color paint.
The last craft idea doesn't involve paint or any crazy materials. It can be easily made at home and is so different from the normal arts and craft experiments. This craft is called "Oobleck" and it has been referenced in one of Dr. Seuss' many classic books for children. The ingredients are water, cornstarch and some food coloring. Once ready, it will turn into a liquid when you try to hold it, but then it becomes a solid when you put pressure on to it. It is truly extraordinary and will have adults and kids asking "how" and "why"?
Are you feeling crafting this weekend? Head down to San Pedro craft market for arts and crafts that will blow your mind!