9 Flares
9 Flares
×
New to little Indiana? Subscribe for free to my RSS feed. Thanks for stopping by!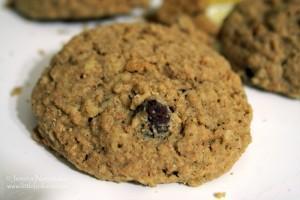 Best Cookie Recipes: Chocolate Chip Oatmeal Cookies
Meet my new favorite cookie recipe: Oatmeal Chocolate Chip Cookies! I know, you've had them before and you think you have your favorite recipe for them, too. Until now!
After I saw this recipe, I made them mere hours later. Now? I can't stay out of them.
They are soft. They are chewy. And in my opinion? Nothing can top them! I found this copycat recipe for Great Harvest Chocolate Chip Cookies (whatever those are) on the Cooking It Easy blog.
Best Cookie Recipes: Oatmeal Chocolate Chip Cookies
Print Best Cookie Recipes: Soft and Chewy Oatmeal Chocolate Chip Cookies
Rating: 51
Prep Time: 10 minutes
Cook Time: 12 minutes
Total Time: 22 minutes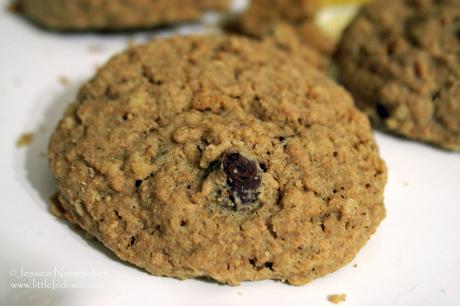 I used 1/2 package of Chocolate Chips. I generally prefer less chips in my cookies.
From Cooking it Easy Blog.
Ingredients
2 Cups Whole Wheat Flour
1 teaspoon Baking Powder
1/2 teaspoon Baking Soda
1/4 teaspoon Salt
2 Cups Brown Sugar, Packed
1 Cup Butter, Softened
2 Cups Rolled Oats
2 Eggs
2 Tablespoons Molasses
1 Tablespoon Milk
1 (12 ounce) package Semisweet Chocolate Chips
Instructions
350* oven. Ungreased cookie sheets.
In bowl, combine Flour, Baking Powder, Baking Soda, and Salt. Set aside.
In bowl of stand mixer, cream Brown Sugar and Butter.
Add Oats, Eggs, Molasses, and Milk. Beat well.
Add Dry Ingredients to the creamed mixture and blend well.
Stir in Chocolate Chips. I used a Tablespoon Cookie Dough School. Drop 3" aapart.
Bake 12 - 14 minutes or until lightly browned around the edges.
Cool two minutes and then move to racks.
Schema/Recipe SEO Data Markup by ZipList Recipe Plugin2.0
http://littleindiana.com/2012/10/best-cookie-recipes-soft-and-chewy-oatmeal-chocolate-chip-cookies/
Photos are the Property of little Indiana. Do Not Use Without Permission.
Find pictures in Indiana on my Flickr photostream or on the new little Indiana Tumblr blog.
Just don't forget to tell 'em that  little Indiana sent you!
Don't miss a moment. Subscribe to little Indiana and receive instant updates to stay on top of everything "little."
little Indiana: Where to Stay, Play, and Eat in Small Towns in Indiana. Discovering Indiana's best small towns! Now get little Indiana on your Kindle.
Targeted. Relevant. Affordable! little Indiana advertising.