14 Flares
14 Flares
×
New to little Indiana? Subscribe for free to my RSS feed. Thanks for stopping by!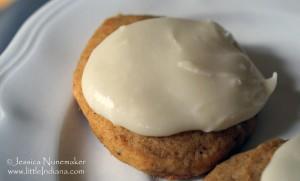 Soft Pumpkin Cookies with Frosting Recipe
These Soft Pumpkin Cookies with Frosting are my new favorite thing! Don't let the word "Penuche" throw you. It's just a brown sugar frosting that perfectly complements these delicious pumpkin beauties!
Hubs and I can't stop eating them. They are so soft and have just enough pumpkin flavor to make me almost ready to welcome in Fall. Almost.
The only change I made to this awesome recipe from  Pillsbury Best Cookies Cookbook (which you absolutely must track down and buy!) is to use Pumpkin Pie Spice in place of the Cinnamon only because I was out of Cinnamon. I think I'll keep the substitution though!
Soft Pumpkin Cookies with Penuche Frosting
Print Best Cookie Recipes: Pumpkin Cookies with Penuche Frosting
Rating: 51
Prep Time: 1 hour
Cook Time: 12 minutes
Total Time: 1 hour, 12 minutes
Yield: 5 Dozen Cookies
Serving Size: 1 Cookie
100
45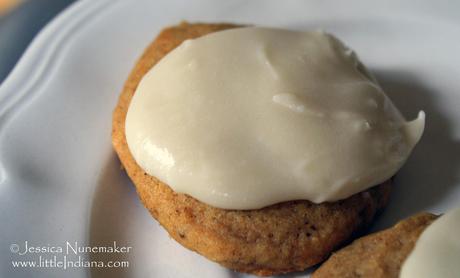 From PIllsbury's Best Cookies Cookbook. A wonderful, WONDERFUL cookbook! Add it to your "must get" list!
Ingredients
Cookies:
1/2 Cup Sugar
1/2 Cup Brown Sugar
1 Cup Butter or Margarine, Softened
1 Cup Canned Pumpkin
1 teaspoon Vanilla Extract
1 Egg
2 Cups Flour
1 teaspoon Baking Powder
1 teaspoon Baking Soda
1 teaspoon Cinnamon (I subbed in Pumpkin Pie Spice)
1/4 teaspoon Salt
3/4 Cups Chopped Nuts (optional, I omit)
Frosting:
3 Tablespoons Margarine or Butter
1/2 Cup Brown Sugar
1/4 Cup Milk
1 1/2 to 2 Cups Powdered Sugar
Instructions
350* oven.
Cream Sugars and Butter.
Add Pumpkin, Egg, and Vanilla Extract. Mix well.
Throw in Flour, Baking Powder, Baking Soda, Cinnamon, and Salt. Mix well.
Stir in Nuts, if using.
Drop by teaspoonfuls (I used 1 1/2 t. cookie scoop size) onto ungreased cookie sheets.
Bake 350* for 10-12 minutes or until edges are light golden brown.
Remove from sheets and cool.
In medium saucepan, combine Brown Sugar and 3 Tablespoons Butter.
Bring to a boil.
Cook over medium heat for 1 minute or until it has thickened slightly. Stir constantly.
Cool 10 minutes.
Add Milk and beat until smooth.
Beat in Powdered Sugar until frosting has reached a suitable spreading consistency. Frost on cooled cookies.
Notes
I subbed in Pumpkin Pie Spice for the Cinnamon with great results! I do not use the nuts, either.
Schema/Recipe SEO Data Markup by ZipList Recipe Plugin2.0
http://littleindiana.com/2012/09/best-cookie-recipes-pumpkin-cookies-with-penuche-frosting/
Photos are the Property of little Indiana. Do Not Use Without Permission.
Find pictures in Indiana on my Flickr photostream or on the new little Indiana Tumblr blog.
Just don't forget to tell 'em that  little Indiana sent you!
Don't miss a moment. Subscribe to little Indiana and receive instant updates to stay on top of everything "little."
little Indiana: Where to Stay, Play, and Eat in Small Towns in Indiana. Discovering Indiana's best small towns! Now get little Indiana on your Kindle.
Targeted. Relevant. Affordable! little Indiana advertising.