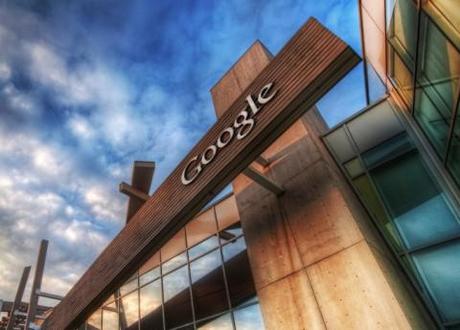 Storm clouds over Google HQ. Photo credit: Stuck in Customs
Search engine giant Google may have earned record revenues in the last year, gaining 29 percent on last year, but that wasn't enough to satisfy investors. Stock in the company plummeted at least 10 percent on Thursday in after-hours trading after those record earnings failed to match analysts' predictions.
The company's fourth quarter revenues, released on Thursday, climbed to $10.58 billion (£6.83 billion), including $1.06 billion from the UK, reported The Telegraph, but analysts and investors were expecting more. Much more – a report by Reuters on Wednesday, ahead of the company's results, noted that investors' optimism was running so high, the stage was set for shares to reach an all-time peak. Instead, shares tumbled, fueled not only by the company's failure to live up to expectations, but also by reports that the fee paid by marketers for search ads – the cost-per-click, or CPC – decreased for the first time, and that growth slowed for the first in four quarters (to 25 percent, so don't cry for Google just yet). The plummet in share price knocked billions of dollars off the company's value.
What happened? Google execs claim that the decline search ad money was the fault of "forex fluctuations and ad format changes", Reuters reported, but analysts didn't entirely believe them and "wondered whether mobile advertising – which has lower rates – played a more important role than the company admitted."
Shares are down, but what about outlook? Though shares tumbled, there was only one downgrade the morning after the results were announced, Tiernan Ray at Barron's Tech Trader Daily blog noted: BGC Capital Partners's Colin Gillis cut his rating to Hold from Buy, claiming that the results were "solid but not stellar" during Google's seasonally strongest quarter of the year, and that the stock is "dead money till summer." Everyone else, Ray said, "seems inclined to accept Google management's view, at least in part, namely that changes are happening in the business model, but that they'll all work out."
What do they know? Investors are working 'blind'. Part of the problem with Google, the Financial Times's Lex blog claimed, is that it "is a hard company to understand" – it doesn't disclose much to its investors about how its business model works. "The shortage of information give Google's results a tendency to surprise, and on Thursday the surprise was, unusually, negative." Said the Lex blog, reaction to Google's news was unsurprising: "Investors working blind are flighty."
It's not all bad news for Google. Google's very bad day came just as the company was celebrating some good news. Fortune just put out its list of 100 best companies to work for and the search engine giant took the top spot – in part, the magazine said, because of its continually rising revenues. The magazine interviewed co-founder and CEO Larry Page, who said the secret to Google's success isn't just the free lunches and on-site bowling alleys, but the fact that Google tries to encourage a "family" environment (some might say cult). Then there's the fact that users of Google's social networking thing, Google+, more than doubled in the last quarter to 90 million; and 50 million Android-based handsets were sold in the same period, meaning, as CultofAndroid crowed, that the operating system "continues to grow at an insurmountable rate". That brings the total of Android-running mobile devices up to 250 million, a significant marketplace for mobile ads. Whether Google is taking full advantage of that, however, is unclear.