I struggle with actually "critiquing". I have noticed most of everything I review ends up getting a high score. That is because I tend to only want to post reviews on books I really like and then just let the ones I didn't like as much fade away. I would much rather focus on the positives than the negatives. So with that said I'm going to start picking out my favorite comics of the week and just post reviews of the must reads of the week! So in no particular order here is my review of Birds of Prey #23-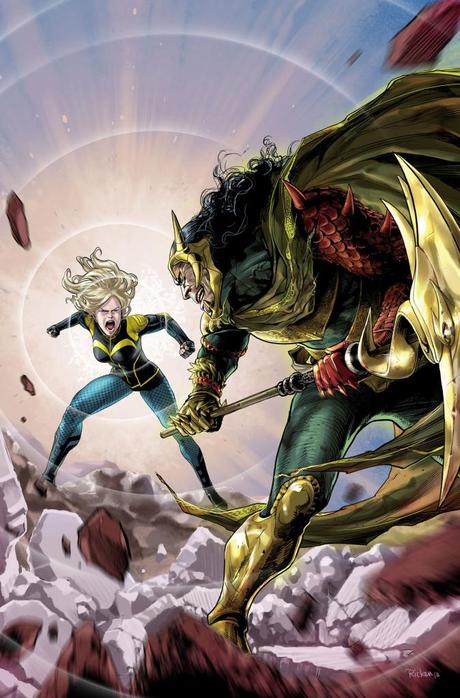 Birds of Prey is such a solid book. I don't understand why it seems to get less attention than some others that just aren't near its level. The characters are amazing. The team is fascinating and complex. Also BLACK CANARY! Do we need more in a comic book?
This storyline is great. It's pulling in so many loose ends and questions. Some that have been set up since the beginning of the reboot. Who is condor? Who is Stryx? What happened to Kurt? This issue began to reveal answers to all those questions is suh great and creative ways. I'm a sucker for flashbacks, and I loved the way they did them in this issue. The art was beautiful and the 'ideal' dream worlds they were creating have great insight into the characters. AND the ending!?! Wow.
This comic book is an example of how to write a team book that allows each character to feel totally fleshed out. It has focuses on a group of charters that tend to mostly be female without be hooky or shoving the girl power down your throat. The writing team treats this just like any other team book, only this team happens to be mostly females. Which is totally awesome. I hope this creative team stays on BoP for a long time. I love what they have done. The story arcs have been fantastic, and the characters they have included have been handled so well. I can't wait to see what happens next! So make sure to pick this one up this week it is worth it. If you haven't given it a shot yet I also recommend going and picking up the trade backs, as this title has been a solid book since the birth of the New 52.
You May Also Enjoy:
Birds of Prey #22 Review

Batman Incorporated 13 Review

Batgirl #23 Review

The Movement #4 Review

Batman '66 #1 Review

Trinity War Chapters 1,2 and 3 Review

Review: Superman Unchained #1 by Guest Blogger Chad

Comic Feature Thursday: Batwing #19 and World's Finest #11