If you are a skincare aficionado then you might be using a face mask or face pack regularly. Depending on your skin's needs you might be using an appropriate face mask. Another type of face masks which have been doing rounds in the Indian Market are Charcoal Face Masks or Charcoal Face Packs. Also there are different consistencies in the Charcoal Packs available like powder form, ready to use form and peel off form. Today we will be checking the powder form and ready to use charcoal masks. But first let us see how Charcoal Masks are beneficial for the skin.
Charcoal Masks have following benefits for the skin
help unclog pores
absorb environmental pollutants, oil, and dirt from the skin
help reduce excess oil
good for people with acne and blackheads, although all skin types can use them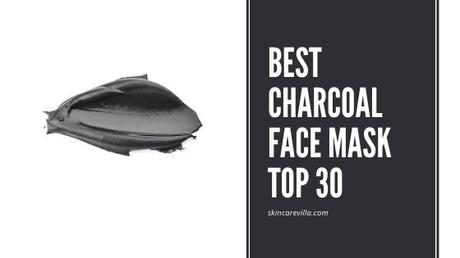 Best Charcoal Face Mask in India - Top 30
So let us begin with our list of Top 30 Best Charcoal Face Mask in India
Vilvah Charcoal Detox Mask
Vilvah Charcoal Detox Mask calms down the acne significantly, effectively fades away the dark spots and marks due to acne, reduces pigmentation. It is an ideal mask for acne prone skin. With Aloe Vera and Charcoal as star ingredients, this fights against the pesky spots and blackheads effectively.
Price - 550 INR for 100 gmsDeyga Charcoal Face Pack
Deyga Charcoal Face Pack is a good product if you would like to remove all the impurities from the skin. It's especially good to use for the pollution that is in the world.
Price - 420 INR for 200 gmsBubble Farm Detox Pack
Bubble Farm Detox Pack draws out toxins and removes excess sebum. It reduces blemishes and tones the skin. It helps in fighting acne, prevents and removes blackheads. It has Green Tea and Bentonite Clay too in addition to activated charcoal and other ingredients.
Price - 360 INR for 120 gmsIlana Organics Clarifying Face Mask Seaweed + Charcoal
With a blend of Seaweed and Activated Charcoal this is an intensely clarifying clay mask that offers superior hydration. It helps in drawing out impurities, removing Excess Oil, clearing Blackheads, unclogging pores & preventing breakouts.
Price - 650 INR for 30 gmsJeva Activated Charcoal Mask
Jeva Activated Charcoal Face Pack with Argan Oil is made from natural oil-absorbent clays, activated charcoal and Argan Oil which is rich in antioxidants to give skin a natural boost
Price - 449 INR for 100 gmsO3+ Plunge Natural Luminizing Black Mask
Packed with activated charcoal and bamboo, this mask instantly detoxifies, rejuvenates and brightens all types of skin. It also has a clarifying effect as it purifies skin.
Price - 650 INR for 50 gmsQurez Activated Charcoal Scrub Mask With Tea Tree Vitamin C & E
Qurez Activated Charcoal Scrub Mask is 3-in-1 face mask that works well as a scrub, mask and cleanser. The activated charcoal scrub mask is made with activated charcoal, chamomile extract, liquorice extract, tea tree oil, walnut shells, China clay, bentonite clay, kaolin clay, vitamin C and vitamin E. The product has a natural fragrance of tea tree oil and is suitable for all skin types.
Price - 650 INR for 50 gmsCARBON BAE Charcoal Herbal Face Masque
CARBON BAE Charcoal Herbal Face Masque has coconut shell steamed activated charcoal which helps to cleanse & exfoliate by adsorbing things you don't need.  This mask also contains saffron.
Price - 799 INR for 50 gmsSoapWorks India Detox Purifying Mask
Enriched with Real Dead Sea Mud this mask promotes radiant, healthy looking skin. Another significant ingredient is organic bamboo charcoal, potent pure clays draw out dirt and toxins like a magent.
Price- 675 INR for 100 gmsDot and Key Pore Decongesting + Detoxifying Charcoal Mousse Mask
With a mousse like texture, this mask has ultimate pore care and deep detoxifying enrichments. Made with the goodness of eucalyptus and clary sage oils, it detoxifies and unclogs pores, clearing blackheads and whiteheads leaving complexion feeling clean and balanced.
Price- 545 INR for 50 mlL'Oreal Paris Pure Clay Mask Detoxify
L'Oreal Paris Pure Clay Mask Detoxify is made with the power and benefits of Charcoal to detoxify and illuminate the skin.
Price- 750 INR for 50 mlThe Body Shop Himalayan Charcoal Purifying Glow Mask
This 100% Vegan Himalayan Charcoal Purifying Glow Mask is a beautifying mud-textured exfoliating mask. This mask works to clean clogged pores and removes impurities and toxins. It helps to reveal a healthy-looking, youthful glow.
Price- 750 INR for 50 ml
Matra Activated Charcoal Mask With Bentonite Powder And Aloe Vera
A gentle, creamy face mask which works in detoxifying, purifying the skin while rendering it cleansed, hydrated and glowing. Matra Activated Charcoal Mask is made with combination of Bentonite Powder And Aloe Vera along with other ingredients.
Price - 385 INR for 100 gmsMamaearth Charcoal mask
Mamaearth Charcoal mask is fortified with Charocal, Coffee and Clay and is often referred as C3 Face Mask. It gives a cooling effect to the skin while washing of. The product claims to be a combination of natural actives that cleanse, nourish and fortify.
Price - 599 INR for 100 mlLove Organically Oily Skin Organic Face Pack Dead Sea Mud + Bamboo Charcoal
Love Organically's all-natural face pack for oily skin is packed with the goodness of bamboo charcoal, dead sea mud and multani mitti. These ingredients will remove the harmful substances from your skin leaving you with stronger and healthier skin.
Price - 199 INR for 25 gmsSoulflower Herbal Charcoal Mud Mask
It is a 100% pure, natural, vegan, anti-acne and pore reducer mask. It is a hand-mixed combination of pure clays and ayurvedic powders. The powerful combination of clay, ancient medicinal herbs and charcoal reduces the pore size and deeply cleanses the face.
Price - 800 INR for 250 gmsAlanna Charcoal mask
Alanna Charcoal mask is made with components like Aloe Vera and Lavender essential oil and is effective in deeply cleansing the skin, reducing acne, tanning issues and heavy skin pigmentation
Price - 425 INR for 50 gmsPure Bubbles Soapery Black Out Face Mask
This mask is fortified with Activated Charcoal & Moroccan green clay. They have power to absorb the tiniest of oil and dirt particles that clog pores. The other notable ingredients of this mask are ea tree Hydrosol, Lavender Hydrosol, Geranium Essential oil, Extracts of Basil, Calendula and Chamomile.
Price - 415 INR for 50 gmsJuicy Chemistry Tea Tree, Charcoal & Bentonite Clay Organic Face Mask
I have personally used this mask and it is very effective in reducing acne as well as detoxifying the skin. You can also use it as a powder cleanse to wash your face or as a face mask. It works great both the ways. It is made with Oats, Rice powder, Almond meal and other notable ingredients.
Price - 450 INR for 25 gmsGreenie Mill Charcoal, Lavender and Rhassoul Clay Mask
I have used this mask previously and I have same thoughts as that of Juicy Chemistry one. This mask is a bit difficult to apply and can be used as a powder cleanser as well.
Price - 450 INR for 25 gmsNeemli Activated Charcoal Detox Face Mask
Neemli Naturals Activated Charcoal Detox Face Mask is a deep pore detoxifying face mask which cleanses and brightens the complexion. Apart from Charcoal this mask has detoxifying Bentonite Clay, Kaolin Clay and Multani Mitti.
Price - 725 INR for 75 gmsGood vibes Deep Cleansing Charcoal Mask
Good vibes Deep Cleansing Charcoal Mask gently removes impurities and prevents acne problems while promoting clear and glowing skin.
Price - 225 INR for 50 gmsStately Essentials Carbon Spark face mask
Stately Essentials Carbon Spark Charcoal Face Pack is developed to purify the skin by exfoliating dead skin cells. It is an anti pollution mask enriched with activated charcoal powder and essentials oils. It gently and efficiently remove pollution particles, impurities, dust and dead cells from the skin to keep your skin squeaky clean and clear.
Price - 699 INR for 100 gmsWOW Activated Charcoal Face Mask
WOW Skin Science Activated Charcoal Face Mask is an antipollution face mask enriched with the goodness of Activated Charcoal Powder, Liquorice Extract & Alteromonas Ferment Extract. It minimizes hyperpigmentation, dullness, acne, allergies, fine lines & rapid aging of the skin
Price - 699 INR for 200 mlLushveda Facial Treatment Pack - Anti Acne Activated Charcoal
Facial Treatment Pack- Anti Acne Activated Charcoal is purifying and re-texturing face mask that leaves the skin glowing and refreshed. Fortified with Ashwagandha, Neem, Lodhra, Brahmi, Liquorice, Vetiver this is truly an ayurvedic recipe.
Price - 385 INR for 50 gmsInatur Charcoal Face Mask
A deep cleansing mask that helps to detoxify and purify the skin, the Inatur Charcoal Mask Face Pack gently removes all the skin impurities and is especially beneficial for removal of tan from the skin.
Price - 450 INR for 125 gmsAroma Magic Activated Bamboo Charcoal Face Pack
Aroma Magic Activated Bamboo Charcoal Face Pack is made with bamboo charcoal powder along with extracts of aloe vera, black willow and sandalwood. It also has essential oils of juniper berry, lemon and frankincense and also Jojoba seed oil.
Price - 475 INR for 100 gmsVLCC Ultimo Blends Charcoal Face Pack
Powered by 100% pure activated Charcoal, Morracan Ghoussal Clay, Neem Oil, Tea Tree Oil, Sandalwood Oil, Chamomile Oil, Eucalyptus Oil, Orange Oi and Carrot Seed Powder Extract.
Price - 350 INR for 100 gmsNatural Vibes Ayurvedic Tea Tree With Activated Charcoal Face Pack
Natural Vibes Ayurvedic Tea Tree With Activated Charcoal Face Pack is fortified with Activated Charcoal, Tea Tree, Cedarwood, Lavender, Aloe Vera and Multani Mitti. It helps in removing the toxins and helps with clear acne.
Price - 449 INR for 50 gmsFabindia Charcoal Face Pack
Face pack containing Activated charcoal with its deep cleansing abilities that removes toxins from skin. Some notable ingredients are Kaolin, Papain Powder,Lactic Acid.
Price - 360 INR for 100 gms
We hope you find this post useful and we were able to cover the product which will fit oyur beauty budget. Leave your valuable comments below.