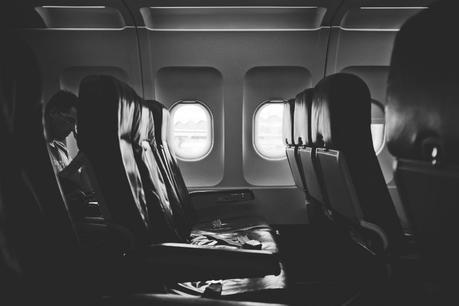 What really makes a business class so comfortable? You for sure will be right to mention wide lie-flat seats with a plenty of legroom and skilled flight attendants. However, there's something more that makes your flights unforgettable. Our attention will be focused on small yet important details – meal services, onboard lounges, and amenity kits. With the help of our friends from CheapFirstClass.com (who can also provide you with conveniently priced first and business class tickets to Europe and Asia), we have gathered information about the most luxurious business class supplies from all over the world.
Air France: La Première Amenity Kit
If you get one of those private suites on a new Boeing 777-300ER, you will also get a beautiful cosmetic bag created by Givenchy, one of the best-known French fashion brands. It includes an oshibori towel, face cream, and anti-fatigue treatment for eyes – the most exquisite examples of Biologique Recherche products. You will also get a comfy eye mask.
Air New Zealand: Business Premier
The latest amenity kit by Air New Zealand looks fantastic – a slim gray felt pouch. You will get Clarins HydraQuench lip balm and cream to hydrate your skin during the flight. It also holds cute striped socks and the eye mask with witty messages – from "Beware, I sleepwalk" to "Sleeping beauty". Isn't that adorable?
British Airways: Men's and Women's First
Britain knows how to amaze. British Airways amenity kits are separate for men and women. The steel-blue bags are created purposefully for men and include The Refinery cosmetics alongside with a razor blade and shave gel. Women will definitely find their dusty-rose cases with Aromatherapy Associates cosmetics convenient and good-looking.
EVA Air: Rimowa Amenity Kits in Royal Laurel Business Class
Depending on the route, you may get the Rimowa amenity kits in different colors! It has a hard shell to protect Thai-based Harnn's products – shi butter and rice oil creams. You will also find a matching silky eye mask and slipper socks. As you can see, Rimowa amenity kits are popular for a good reason.
KLM: Viktor & Rolf World Business Class Amenity Kits
These beautifully crafted amenity kits totally match KLM's recent interior redesigns. Viktor & Rolf now everything about style, therefore, passengers get blue and golden bags (for him and her respectively) with a set of matching-colored goods – toothbrushes, satin eye masks, socks etc. They look so good that if a woman takes it as a purse to a dinner party, no one would notice the difference.
Now let's look at some finest dinner services in business class cabins. We include only those airlines that manage to amaze with their dishes and shift their attention on national cuisines. No pre-packaged foods are allowed on this list!
Korean Air
The main attraction of Korean Air's meals services is their freshness and organic ingredients (due to their rule "from farm to fly). In fact, coach class dishes are as well great as business and first class meals. You have to try the dongchimi noodles and signature cold bibimbap with rice to know how tasteful onboard food can be.
Virgin America
American cuisine is not often thought to be exclusive or tasty. Virgin America does its best to bust this myth. A beef bulgogi bowl with julienned carrots is both nutritious and healthy while an arugula, beet, and orange salad with citrus mint vinaigrette can surprise even the most selective taste. Dean & DeLuca snack are ridiculously delightful!
Turkish Airlines
This Turkish carrier's services do not always match a high standard. However, their meals are truly amazing. Just think about it – more than 400 in-flight chefs are hired to ensure dishes' preparation and presentation. You should indeed try the scrambled eggs with fresh Turkish spinach pastry for breakfast.
Singapore Air
With Singapore Air, you are able to preorder your meal. It makes long-haul flights more comfortable if you require special diet menu. Nonetheless, a typical in-board menu can astonish with such dishes as grilled filet of beef with shallot tarragon sauce, French beans, and roasted pumpkin. Nobody can resist this beauty.
We promised to tell you about best lounges. Here are our choices:
Etihad Airways
Even though it's not a traditional onboard bar (you will not find a bartender there), this cozy place called "The Lobby" can help you relax while having your afternoon tea with exclusive deserts. It features a circular seating area with six seats to have a nice conversation.
Emirates
Emirates have used their onboard bar in their advertisements featuring Jennifer Aniston. If that's not enough for you, you should know that Emirate's bars are the liveliest of all. You can have a small talk with sassy flight attendants or other passengers while enjoying tasteful cocktails from a special menu.
**