New to little Indiana? Subscribe for free to my RSS feed. Thanks for stopping by!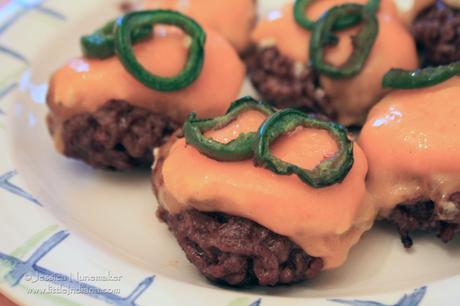 Best Burger Recipes
Grilling season is so here, even if it is a little early–so it's time for some of the best burger recipes ever!
I am a huge fan of jalapeno poppers and this burger recipe brings that flavor to a burger. It's the best of both worlds and not much more work than your typical burger, either.
These make a great presentation or, rather, they would if I hadn't of made hubs run it under the flame a smidgen longer. Oops. These are made small, slider-style. Is that fun or what? Leave off the toppings if kids are around–they will, however, appreciate the size!
Best Burger Recipes: Jalapeno Popper Hamburgers
Print Best Burger Recipes: Jalapeno Popper Hamburgers
Rating: 51
Prep Time: 10 minutes
Cook Time: 10 minutes
Total Time: 20 minutes
Yield: 12 Sliders
Serving Size: Minimum 2 per person!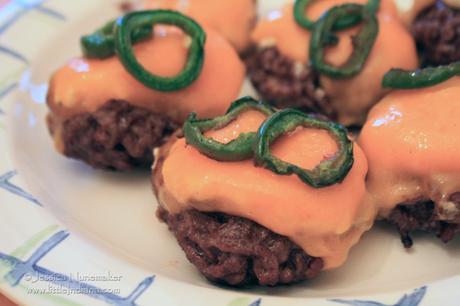 Personally, I like my burgers more well-done than this recipe made them. Keep your perfect level of cooked beef in mind as you begin. You may want to hold off on brushing with the cream cheese mixture and topping with cheese until your burgers are a bit farther along.
If you don't want the small, slider-style of hamburger, just make your burgers as normal, adjust cooking time for the larger size, and do the rest the same. The Cream Cheese mixture makes a lot--and would still work just fine for regular-sized burgers. Make sure you have the correct bun size, then!
This is from the June/July 2011 Everyday with Rachel Ray Magazine.
Ingredients
3 Jalapeno Peppers
8 Oz Cream Cheese, Softened
2 Tablespoons Onion, Grated
1 Garlic Clove, Grated or Minced
Cilantro, Finely Chopped
1/2 teaspoon Cumin
Salt and Pepper
2 lbs. Ground Beef
Sharp Yellow Cheddar Cheese or Smoked Yellow Cheddar Cheese
12 Slider Rolls or Dinner Rolls
Extra Virgin Olive Oil
Instructions
Preheat Grill to Medium-High Heat.
Cut off Jalapeno tops, scoop out seeds, and slice.
Heat Extra Virgin Olive Oil in skillet.
Add in Jalapeno peppers and toss until crisp-tender.
Combine Cream Cheese, Onion, Garlic, Cilantro, Cumin, plus Salt and Pepper (to taste) in small bowl.
Season ground beef with Salt and Pepper.
Make into 12 patties that are slightly thinner at the center.
Brush with Extra Virgin Olive Oil and grill for 2-3 minutes.
Turn over and top with a dab of the Cream Cheese mixture and Cheddar.
Grill, lid down, for 2-3 minutes or until done.
Notes
No grill? Use your griddle!
Schema/Recipe SEO Data Markup by ZipList Recipe Plugin2.0http://littleindiana.com/2012/04/best-burger-recipes-jalapeno-popper-hamburgers/Photos are the Property of little Indiana. Do Not Use Without Permission.
Don't miss a moment. Subscribe to little Indiana and receive instant updates to stay on top of everything "little."
little Indiana: Where to Stay, Play, and Eat in Small Towns in Indiana. Discovering Indiana's best small towns! Now get little Indiana on your Kindle.
Targeted. Relevant. Affordable! little Indiana advertising.