This post may include affiliate links, including Amazon Associate links. I may earn money if you click on one at no extra cost to you.
I've scoured the web for the best Black Friday deals on virtual and local travel and gear for hikers and outdoor lovers. Check it out.
I'm not a fan of buying more stuff just because it's cheap, or just for the sake of it. But if you're planning on buying something anyway, then I'm all for saving money. For example, I need to replace my badly worn out 5-year old hiking boots, so will likely buy a new pair today.
Free Virtual Experience
A deal doesn't get better than free. When you sign up for an online experience taking place on Tuesday, Dec 1st, Airbnb will give you up to $25 off the experience, so in many cases, as with my Fascinating World of Primates Online Experience, it's absolutely free.
It's also a fun way to travel and explore without leaving home and a great way to bond with family or friends from afar.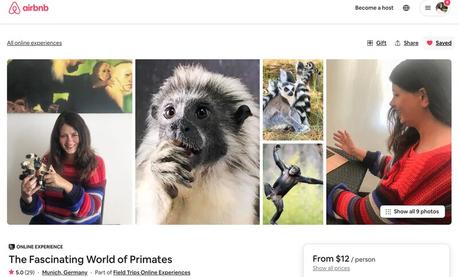 https://www.airbnb.com/associates/237751?s=67&c=.pi115.pk0_9&a4ptk=6071_0_9_237751&af=115
While I encourage you to sign up for my experience ;), here's where you can see all the online experiences taking place on December 1st.
To get your free experience, click on the experience and choose a time. Note it's only valid for experiences taking place on December 1st. Then enter the coupon code "HOLIDAYS2020" and your discount will be applied. You'll get to do the experience for free if it's $25 or less. If it's more, you'll get a $25 discount.
I've tried quite a few of the experiences and have enjoyed them all.
Save 10% On Local Travel
While we may not be able to travel far at the moment, it's a great chance to explore locally. I feel like I've seen more of Munich this past year than in the previous 9 years combined.
Check out day tours (many of which are now designed for locals) in your city on GetYourGuide and save 10% using the coupon code 'BLACKFRIDAY20'.
Hiking Gear on Amazon
You can see all the. Black Friday Deals on Amazon here.
Here are my favourite deals on Amazon on hiking gear. You can save 30% to 50% on selected items :

Hiking Gear Deals from Other Stores
I know that many of you would prefer to support businesses other than Amazon, so I've created a list of deals on hiking and outdoor gear from other businesses as well.

Which Black Friday deal are you most excited about?