At some point in your fishing career, you'll run across the great question for anglers who are looking to improve their performance – spinning reel or baitcasting reel. While spinning reels are great to learn on, sooner or later, you'll need a reel that can consistently keep up with your evolving skillset – which is where the baitcasting reel comes in.
Baitcasting reels, otherwise known as "baitcasters", are for those who want more control and precision with their casts, and those who have lots of previous experience perfecting their technique. Baitcasters are widely considered the best fishing reels over spinning reels for advanced or professional anglers because they have a higher gear ratio that gives you a faster retrieve. They can be used for larger crank baits, buzz baits, and more.
In this article, we will take a look at some of the best baitcasting reels today, highlighting their features, and some potential advantages and disadvantages of buying these reels.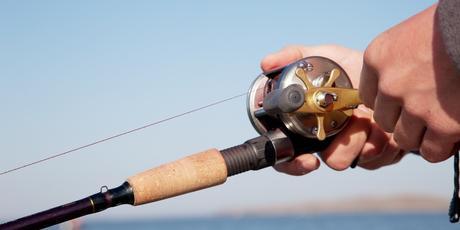 Choosing the Best Baitcasting Reel – Buying Guide
Before purchasing a baitcaster, there are a few differentiating factors that you should be aware of:
1. Brand
The brand or manufacturer of a baitcasting reel matters a lot when you want to select the reel of your choice. Each brand will produce reels with different features that you may need or not need, depending on your style of fishing.

Some brands have great perks like additional lifetime or multi-year warranties.
2. Brakes
A baitcasting reel with dependable braking system will result in easy casting. There are two types of breaks found in different reels – the magnetic system and the centrifugal system.
Magnetic system – This is the cheapest and easiest braking system to learn on, but is the least efficient in dealing with adjustments.

Centrifugal system – More of a manual system, this offers freedom to make adjustments you may need to make in strong winds or other factors.
4. Speed, Gearing and Gears
Choosing a reel with a good speed ratio will lower the torque in your reel and give better performance.

Standard gears are usually made from brass, but top of the line gears are made of metal. Metal gears will be more durable and dependable, but more costly. We recommend avoiding reels that have plastic gears, as they will fail quickly and give terrible performance.
5. Bearings
Bearings reduce friction between moving gears in the reel and improve the life of the product – using more bearings will give you a better cast. *However, a reel with 5 quality bearings will give a better performance than a reel with 15 poor bearings.

Bearings are graded from 1 (lowest) to 9 (highest) in terms of performance.
6. Frame
Aluminum frames are the most expensive, but will give the best performance.

Alloy or graphite frames are common, though they are weaker than aluminum. The frame acts as the reel's foundation, so you should ensure that it is one piece.
9 Best Baitcasting Reel Reviews for 2017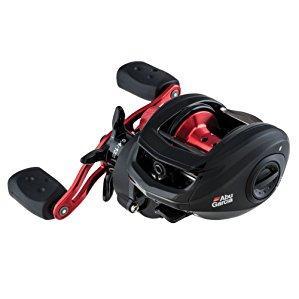 The Abu Garcia Black Max Low Profile baitcasting reel comes with interesting features that make it one of our top picks for those on a budget. Although this reel features plastic gears, it is very smooth and has a great finish. Disassembling this reel for lubricating took minimal effort, and routine cleaning is relatively easy.
Some of our favorite anglers have confirmed catching nice sized trout with this reel, thanks to its 40 pound braided line – perfect for both river and lake fishing. In addition, the braking system works very well once it has been adjusted for the bait or lure weight and size.
This baitcasting reel is simple and easy to use on the water, thanks to the smooth drag and retrieve system. The reel itself comfortably fits into your hands and it is very lightweight. It comes with a magtrax brake system that gives consistent brake pressure throughout the cast. It also features a Dura brass gear and power drag system, which extends the life of the gear and offers smooth drag performance, respectively.
The product comes with 4 stainless steel ball bearings plus one roller bearing that offers smooth operation. While the plastic gears and extremely low price may drive some people away from the Black Max, it is still a product we recommend having for backup.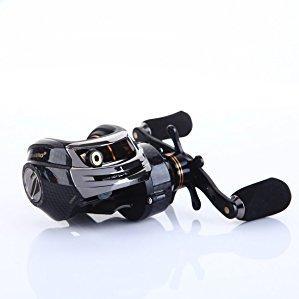 The SHISHAMO Ultra Smooth baitcasting reel is another good reel for the price. It comes with a patented drag system with senior drag material. The construction is super strong and the reel offers the user long-term use. It comes with a long-life gearing system, EVA Knob, Prolonged and ultralight aluminum handle. The reel features a fine tuned magnetic brake system, side plate, one way clutch system, and high strength nylon plus glass fiber material. It also features a CNC (Computer Numerical Control) Machined Aluminum Spool.
This reel is offered in right or left-handed options to reach a wider number of people. The carbon fiber drag system and the super silent high-speed precision gear structure provide high speed performance and low maintenance cost.
SHISHAMO's baitcaster offers both a reliable centrifugal and magnetic brake system which helps control fishing line better, especially when trying to land larger fish.
3. Lew's Fishing Tournament MB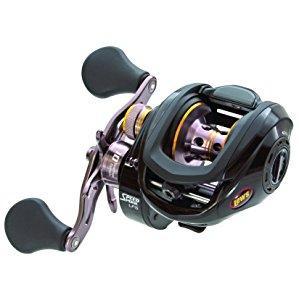 The Lew's Fishing Tournament MB is one of the better higher-end baitcasting reels we've tried out. The reel weighs only 6.7 ounces, courtesy of Lew's new reduced weight design and smaller profile.
What sets this reel apart is Lew's innovative dual-braking MSB (Multi-Setting Brake) system, which uses both centrifugal and magnetic braking for better cast control. Many fishing enthusiasts have shown their confidence in this reel, claiming that it offers top quality performance compared to its price.
However, with this reel, it is hard to snap the wrist because it comes with a firm sweeping cast that doesn't load up the rod tip with tension.
4. Shimano Curado E Reel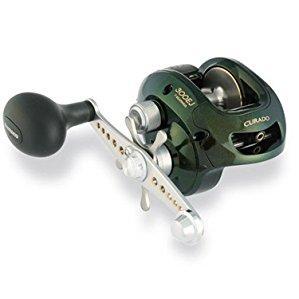 The Shimano Curado E Reel is considered one of the best baitcasting reels on the market due to its appealing design and stunning performance. This reel offers the comfort and ability to fish larger swim baits and plugs than you normally would with a low profile baitcaster.
The reel will offer you the power and performance of a larger reel, along with reasonable casting distance. In addition, the baitcast reel is available in 5.0:1 power version (right-handed only) or a 7.0:1 high-speed. The Curado 200E holds the same amount of line as the previous 200DHSV, but is smaller and more compact than its predecessor.
This baitcasting reel makes casting effortless, but still a fun challenge. It is spooled with approximately 190 yards of 30 pound green branded line – making it good for small fishing, while having enough line for large fishing action. We prefer this reel for river fishing king salmon specifically, although it can handle lots of variability in fishing climates.
5. Lew's BB1 Speed Spool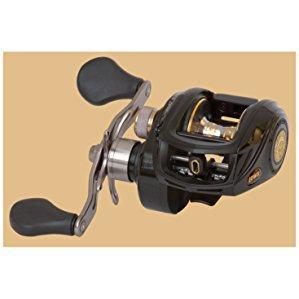 Lew's BB1 Speed Spool baitcasting reel offers time-tested features that meet the modern fishing needs. This series has been a fishermen's favorite for decades, and it's easy to see why.
While this has been a popular reel throughout the last few years, this specific reel has also been updated to meet the current modern fishing demands. Its quick release side plate mechanism provides easy access to centrifugal brake system. It features an oversized titanium line guide positioned further away from the spool to maximize casting performance and minimize line friction. It also comes with a bowed 95mm aluminum cranking handle with Lew's custom Soft Touch contoured paddle handle knob.
Other great features boasted by this baitcasting reel include: Positive on/off Smart Plus Six Pin centrifugal braking system, Premium 10-bearing system with double-shielded ball bearings and zero anti-reverse (BB1HZ, BB1SHZ, BB1HZL, and BB1SHZL models), Premium 10-bearing system with double-shielded ball bearings and multi-stop anti-reverse (BB1 and BB1L models only), Machined forged aluminum, double anodized, U-shaped large capacity spool, and 1 piece die-cast aluminum frame.
Lew's BB1 features carbon composite metal star drag system with 14 pounds. The reel includes 10-bearing system with double-shielded ball bearings and zero anti-reverse. Overall, we really enjoy casting with this rod, as it constantly challenges us to perform well in different conditions.
6. Abu Garcia REVO Rocket Low Profile Reel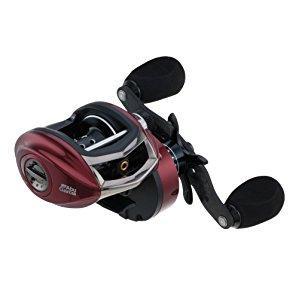 The Abu Garcia REVO Rocket Low Profile Reel is one of the best fishing reels on the market, offering smooth performance and great speed. Its coated line guide reduces friction and improves durability. This reel has large EVA knobs that provide improved grip.
It comes with an extended bent carbon handle for increased cranking power. It also has an infinite II spool design for extended castability and extreme loads. Infinite brake system allows almost limitless adjustments to handle any fishing situation. It comes with a D2 Gear Design that provides a more efficient gear system while improving gear durability. Its Carbon Matrix drag system provides smooth, consistent drag pressure across the entire drag range.
X-Crafted alloy frame and side plates for increased corrosion resistance. Rocket fast gear ratio of 9.0:1 provides super fast line retrieve of 37″ per turn, for picking up line quickly. It also features 10 stainless steel HPCR bearings + 1 roller bearing provides increased corrosion protection. This baitcast reel has a lightning-fast retrieve, but offers an extremely smooth performance. Overall, this is a great reel to have in any fisherman's selection.
7. Daiwa Tatula Baitcast Fishing Reels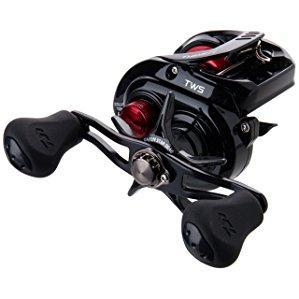 The Daiwa Tatula Baitcasting Reels are specially designed to meet both modern professional and amateur fishing needs. Tatula baitcast reels offer a rugged gear train, fully supported within rigid aluminum housing.
The ultra smooth feel of precision and quality in this reel is unmistakable. A unique, hybrid-design levelwind combines the durability of a standard levelwind with the casting performance of Daiwa's T-Wing aperture.
The reel comes with a rugged, lightweight aluminum frame and side plate. The product has new T-Wing System. It features Ultimate Tournament Carbon Drag (UTD) with 13.2 pounds Drag Max. It offers a rugged gear train, fully supported within rigid aluminum housing.
8. Shimano 200IHG Curado RH Baitcast Reel – Best Saltwater Baitcasting Reel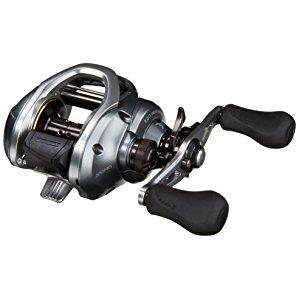 The Shimano 200IHG Curado RH Baitcast Reel is one of the best saltwater baitcasting reels available today.
One second in your hand, and you can immediately feel this baitcast reel is ultralight. Pair it with a good quality rod to give you an easy and rewarding fishing experience. Shimano's reel comes with a super free spool, an SVS Infinity Brake System, Precision Aluminum S3D Spool, Quick Fire II Clutch Bar Casting System, Shimano Super Free System, PV power handle grips and X Ship Gearing system.
9. Piscifun Thunder Baitcasting Reel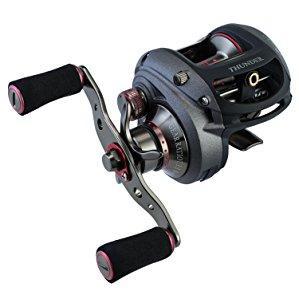 This baitcasting reel is ideal for use in saltwater. It features an EVA knob that provides greater comfort and durability and an extended bent handle for increased cranking power. The aircraft grade graphite side plates provide increased scratch resistance.
Carbon round drag system provides smooth, consistent drag pressure across the entire drag range. It comes with 2 piece stainless steel B/B on pinion gear, 2 piece stainless steel on worm shaft and 2 piece stainless steel B/B on gear shaft. Overall, the corrosion resistant high strength aluminum frame provides super durability. The premium carbon fiber drag washers deliver impressive power. It has a wider yet lighter line spool allows the Piscifun Thunder baitcast reel to hold more line and cast longer.
Conclusion
It takes time and patience in order to become an expert at choosing and using a baitcasting reel. Baitcasters should offer a smooth performance and feature a sturdy and durable construction. Overall, the best baitcasting reel for you should come at an affordable price and one that challenges you to improve you performance, making casting more enjoyable!