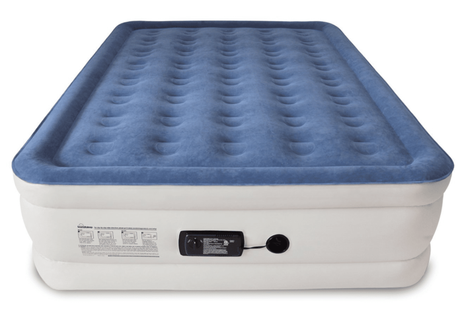 Recently, our blog has been focusing on plus-size guys. In this latest installment, we will be tackling the best air mattress for heavy people.
An air mattress (airbed or blow-up bed) is simply an inflatable mattress. And a majority are usually polyvinyl chloride (PVC) made though we now have some made of rubber and textile-reinforced urethane plastic.
Once deflated, you simply roll it up or fold to carry or store.
[table "24" not found /]

How to use your air mattress
Because you can carry it along with its carrier, inflatable mattresses are quite versatile. Commonly, you will find them being used as;
Camping Mattresses
These are so popular for camping trips. In fact, some have puncture resistant material meaning you can use them without worrying about loss of air while outdoors.
Temporary bedding (at home)
Whenever your relatives, friends and other guests are sleeping over, you don't have to panic. Just pull up and aerate your air mattress.
They will sleep like babies.
Full-time permanent use
You can also decide to replace your beddings permanently. These would still work as your main bed.
You Might Also Like: Outdoor Chairs for Big and Tall Guys
Air mattress for heavy people
Now, as a heavy man myself, I have realized that getting an ideal air mattress can be a hassle, regardless of whether is for camping or my guests.
Indeed, it's even a tougher call if you decide you want the very best air mattress for heavy people
So we thought that since we have some which are specifically created for us- big guys, why not share them with our readers?
So, for the remainder of this article, it will be showing you how to approach air mattresses for heavy people, and what to expect out there.
So, can we start?
Let's first mention how they can benefit you as an overweight person.
Benefits of the best air mattress for heavy people
As a heavy person, you will need firmer mattresses. Air mattresses allow you to decrease or increase the amount air in your mattress till you feel comfortable.
These mattresses are intentionally reinforced to server heavier guys so they are more durable when compared with normal mattresses
Since you can adjust the firmness, they are considered very good with back pain and related back problems.
Disadvantages
You may need to keep replacing the air pumps especially if it frequently deflates.
Some have noisy pumps which make it harder for you to sleep.
Tips on handling your air mattress for heavy people
For highest comfort, follow given instructions to the latter when inflating your mattress
Be aware that that mattress material may stretch a bit during your first few uses. We recommend that you inflate your mattress at least one hour prior to its use. Remember you may need more air to attain full firmness at this time.
Take all your mattress measurements from its center. For its height, measure from the center of its longest side starting from the ground towards its highest point.
Recommended Best air mattress for heavy people
While the market is flooded with many inflatable air mattresses, we feel that only a few really make the grade for giant people. We hunted them down for you and we reveal them next.
Insta-Bed Queen Raised Air Mattress with Sure Grip Bottom & Built-In Pump
Doctors recommend at least 8 hours of sleep for an adult. And the only way of achieving this is by investing in a good quality air mattress for heavy people.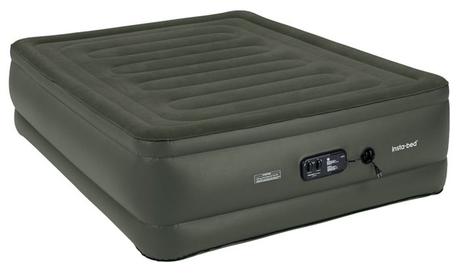 View Price and Buy from Amazon.com
This insta-bed queen size raised mattress lets you sleep like a king thanks to its superior dual-chamber construction which limits excess air movement inside your mattress making it firm and comfortable.
And its super-grip design ensures that it grips to the floor and protects you from sliding or falling.
It's, without doubt, one of the very best air mattress for heavy people
Features
Pros
Cons
A bit expensive
Your bed may not hold sheets well due to its raised design
SoundAsleep Dream Series Air Mattress with ComfortCoil Technology & Internal High Capacity Pump
This SoundAsleep Dream Series air mattress with ComfortCoil Technology is one of the most advanced air mattresses today.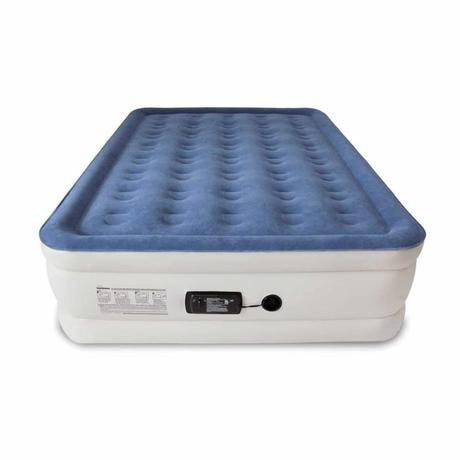 View Price and Buy from Amazon.com
Based on the unique comfortcoil technology, this strongest air bed is purpose-built to deliver the comfort of a top-class traditional mattress but with the flexibility associated with an air bed.
Indeed, you kind of enjoy the best of both worlds with this air mattress for big and tall.
We love that it inflates within 4 minutes or fewer thanks to its powerful, built-in pump and you can also sleep soundly knowing that it's puncture-resistant.
This means it will never embarrass you by losing its inflation in the middle of your sweet dream.
So, for your overnight guests or friends, this big and tall air mattress will make them feel right at home!
You Might Also Like: Best kayak for a heavy person
Features
ComfortCoil Technology
Extra-thick, water-proof top
Multilayer, puncture-resistant material (15 gauge)
Patented 1-click EZ pump
Built-in cord store
Sure-Grip" bottoms
Carry bag
"Double-height" air bed
Pros
Cons
The "ridge" at the center is fairly noticeable
Serta Air Mattress with NeverFlat Pump
Balloons do pop. And so can even an extra heavy duty air mattress. So you must always be careful of how you treat your mattress.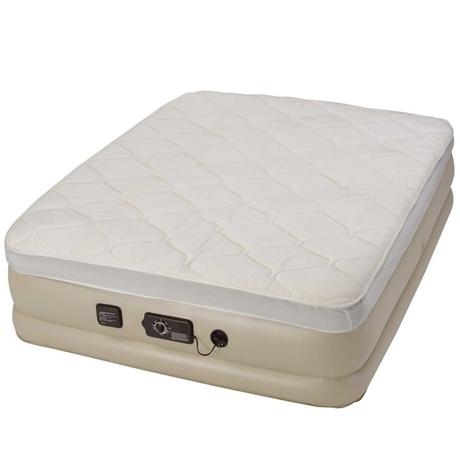 View Price and Buy from Amazon.com
But you can reduce your fears if you go for a resilient heavy duty inflatable mattress customized to resist blow ups.
This heavy duty air mattress has 2 pumps- the primary one inflates/deflates while the secondary monitors and maintains set pressure levels at set levels.
With this technology, aptly named NeverFlat, you will go for many moons without experiencing a deflation.
Then, considering that it has a total of 35 circular coils, their sleeping surface is comfortably placed to deliver luxurious sleep after a long tiring day.
In short, this potential life-changer is one of the most impressive heavy duty blow up mattress.
Features
Pros
The pump works very well
Perfect mattress height
very well constructed
Literally never goes flat
Very comfortable
Cons
In case of a puncture, repairing leaks takes time
What to look for when buying the best air mattress for heavy people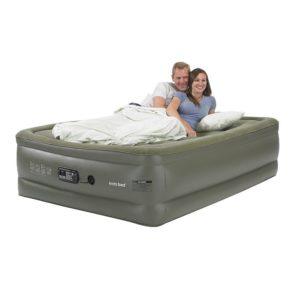 So, what should you look for when buying a queen heavy duty air matress?
While they could be a few other considerations like pricing, puncture-resistance, and water-proofing, your focus should mainly be on;
Does it have a built-in pump?
Heavy duty air beds with built-in pumps offer more convenience whenever you need to inflate them.
So, I am biased towards any air mattress heavy duty with a pump.
How high is your mattress from the ground? Mattresses which are too low are harder to get into/out of.
Air mattress weight limit
The weight limit for air mattress is an important indicator of its optimal capacity. We have some which support up to 500 lbs. while others will do well with 300 lbs.
It is therefore important to check out its maximum weight before buying.
Even if it's a Coleman, ask: "what is my coleman air mattress weight limit?"
It's for an overweight guy so it should be extra-thick otherwise it will crumble. And it should be comfortable, shouldn't it?
If you want peace of mind, go for a heavy duty queen size air mattress as they are made with the best materials and tailor-made to withstand bigger weights.
Such mattress also lasts longer.
Again, considering that it's to be used by an obese person, I need it to match my bigger frame. You have a number of size options- queen size, king size, and even twin size.
You Might Also Like: The Best Extra Large Camping Cots
Conclusion
As we bring this to a close, I hope you agree with me that the best air mattress for heavy people will certainly transform your sleep fortunes for the better.
And that your guests, relatives and friends will also be happy to sleepover and extend their stay.
Now, the strongest air mattress for heavy people should be thick and deep. It should also be comfortable, with proper height, size, capable to hold your weight just to mention but a few.
Yes, buying can be a bit confusing but if you focus on the aforementioned fundamentals, then you should be soon zooming off to dreamland!
Otherwise, if you want to continue reaping the numerous benefits of a healthy sleep, then you ought to take the best air mattress for heavy people decision seriously.