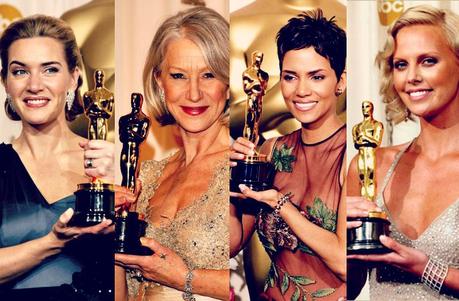 I'm not going to lie. I like watching the Oscars, and it is a must-see TV event every year, but what I'm most waiting for every year is the red carpet. The first glimpse of who is wearing who and the dazzling jewelry and shoes that make the gowns. I found this really interesting. MediaRunDigital have created an infographic on every single dress a Best Actress Oscar winner has worn on the night.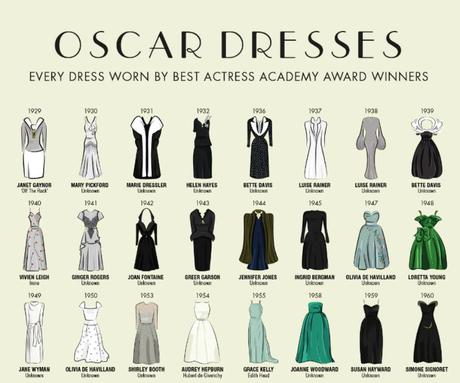 The very first Oscars in the 1930s were handed out but no ceremony was held. That probably explains the quite informal dresses Janet Gaynor and Mary Pickford wore. You see a definite change in the attention and importance on the Oscars from 1940 onwards. The Best Actress winners started to wear more elaborate and longer dresses. By the late 1950s it was full on glamour!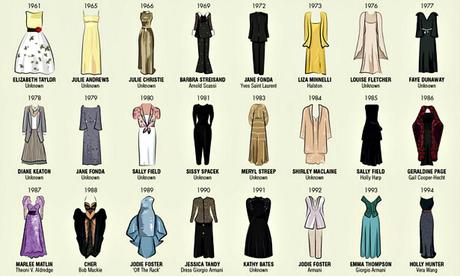 My two favorite Best Actress Oscar winner dresses are the ones worn by Gwyneth Paltrow in pink Ralph Lauren (1999)  and Nicole Kidman in dramatic black Jean Paul Gaultier (2003). This award season I have really been into what Cate Blancett has been wearing, I cannot wait to see what she has chosen for tomorrow!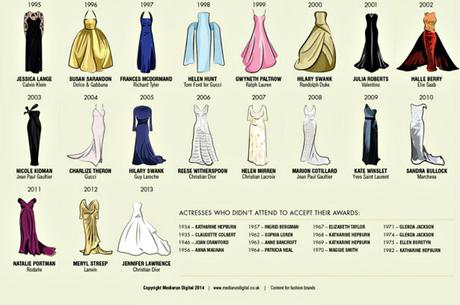 All images: Google, MediaRunDigital.