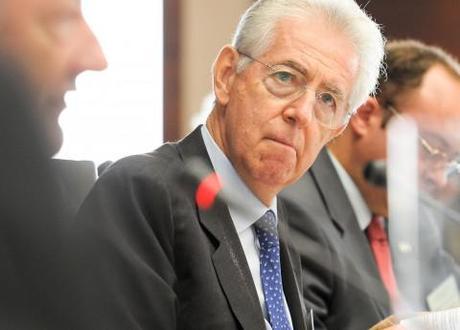 Mario Monti, Italy's new leader. Photo credit: Friends of Europe, http://www.flickr.com/photos/friendsofeurope/6244406141/
Silvio Berlusconi made good on his word and stepped down as Prime Minister on Saturday, after the Italian Parliament passed a raft of austerity measures aimed at steering it away from a full-fledged sovereign debt crisis. His leaving – by the side door, no less – was attended by crowds of angry Italians shouting "buffoon" and "shame" at the disgraced 75-year-old PM's car as it passed, by impromptu conga lines, choruses of "Hallelujah" and cheering, and by the happy approval of stock markets around the world.
Former European Commissioner Mario Monti has been tapped to replace the scandal-prone Berlusconi, a decision that cheered global markets already on the upswing at the end of last week – Asian stocks rose and European stocks opened high on Monday on the news. But nothing less than the fate of the euro rests on Monti's confident, technocrat shoulders; he claims he can avert disaster – observers are questioning and hoping in equal measure.
Meanwhile, after 17 years of his iron-like vice grip on Italian politics, of surviving corruption accusations and sex scandals and some pretty phenomenal diplomatic gaffes, is Berlusconi really gone?
Meet Italy's new Prime Minister

Who is Monti? For one thing, the slightly boring 68-year-old technocrat is the precise opposite of bombastic, bandana-wearing Berlusconi, TIME's Stephan Farris observed. "For many in Italy, Monti is just the man to clean up after what many in the country see as a couple of lost decades, years in which mismanagement of the economy caused public debt to climb even as growth slowed to a crawl," he wrote. Monti is "almost an anti-politician," an able economist who is willing to stand against political pressure and who earned the nickname "Super Mario" for taking on big business as European Commissioner.
Can he do it? He must. As Farris noted, to regain market confidence and save Italy from its massive debt and growing borrowing costs, Monti will have to force through legislation that will not make him very popular with the Italian electorate. Already, Farris reported, Berlusconi-friendly papers are casting Monti as the evil taxman, come to raid the wallets of innocent Italians. Monti, The Independent wrote in a leading editorial, also inherits the toxic legacy of Berlusconi's "disastrous handling of the nation's finances and the climate of corruption that he fostered during almost two decades in power". If Monti's resolve weakens or Italy appears to be backsliding in its application of austerity, markets may drive Italy's borrowing costs back up again. "In that case, alarm bells will be ringing all across Europe for the simple reason that, as has often been said, the Italian economy is too big to rescue. No financial firewall currently exists to guarantee debts as large as Italy's, so a default might then be unstoppable, inflicting such damage to those banks in neighbouring countries that are most exposed to Italian debt that the single currency could not survive the shock."
Why is Italy in such deep trouble? Mountainous debt, low productivity, governmental corruption and mismanagement, and regional failures, says Jordan Weissman at The Atlantic.
'Arrivederci, *sshole!' If Italians were glad to see the back of Berlsconi, so too were some in the international community: Max Read at gossip site Gawker eulogized, "Berlusconi was unquestionably one of the most loathsome people in global politics—a dishonest misogynist, a racist fool, an admirer of fascism whose enduring contribution to the world, besides a crippled Italian economy, a systemically corrupt federal government, and an even-worse global reputation for Italian politics and gender relations, is the word 'Bunga,' as in 'Bunga Bunga,' as in 'holy sh*t, Italian Prime Minister Silvio Berlusconi is throwing orgies and calling them 'bunga bunga parties.''" Still, Read noted, Berlusconi, "a fantastic character", was good for a story.
But is he really gone? Don't count Berlusconi out yet, warned some observers: The consummate political survivor with a populist heart, Berlusconi has bounced back in the past. Reported The Daily Telegraph's Nick Squires from Rome, "Mr Berlusconi's immense wealth, his virtual monopoly of commercial television, his ownership of AC Milan football club and the four criminal trials in which he is involved all guarantee that the 75-year-old will continue to loom large in Italian life for years to come. 'Il Cavaliere' – The Knight, as he is known to Italians – could even mount up, don his armor and ride again into the political arena, despite promising this week that he had no intention of standing as a candidate in elections that are expected within a year." John Hooper, The Guardian's reporter in Rome, explained that for a man with an ego the size of Berlusconi's, his leaving office to the sounds of a people very glad to see him go would be a challenge to re-enter the political fray. At the same time, Hooper added, it's becoming apparent that without him, Berlusconi's political party is disintegrating. If he does mount a comeback, he can also count on the support of his three pocket television stations and the fact that the new government will have to enact some very painful economic measures. Berlusconi is down, it appears, but by no means out.