Home   /  
3. Very Good  /  Aman Kapoor  /  Central and East Delhi/ Noida/ Ghaziabad  /  
Bengali Food Festival: The Leela Ambience Convention Hotel, Delhi
Bengali Food Festival: The Leela Ambience Convention Hotel, Delhi
Bengali Food Festival: The Leela Ambience Convention Hotel, Delhi
amankapoor April 1, 2017 0 comments 663 view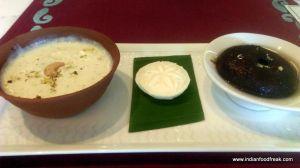 The Grand Trunk Road, as we all know is among Asia's oldest and longest road that has been the life line of trade and commerce for over two millennia. Over centuries, the travellers have enjoyed the rich and diverse culinary experiences available along this significant trade route.
In an attempt to provide the food lovers, The Leela Ambience Convention Hotel had initiated "The Grand Trunk Culinary Journey". Spilled over from last year, the journey that began from Amritsar has now reached Kolkata with earlier stop overs at Delhi and Banaras. The three out of four legs have been a great success and have been much appreciated. In its final chapter, the hotel attempts to serve authentic Bengali Cuisine and has created a mini Kolkata in an open courtyard to add to the whole experience.
The event asserts to indulge in tantalizing culinary fiesta by offering wide variety of food from the City of Joy. Set up in a buffet style, the spread includes diverse food range with host of variations. From the street food to Dastarkhwan (main course) to Madhurena Samapayet (sweet dish) there are over 75 dishes, both vegetarian and non-vegetarian options, to choose from. Also on the offering are Chai in Kulhar and famous Kolkata Pan.
We began our tasting with a combination of JhalMuri and GondhorajGhol. The JhalMuri was crisp and had that subtle pungent taste of mustard oil that differentiates it from its cousin BhelPuri. The GondhorajGholis a curd based preparation that has a tantalizing taste of lemon. Gondho – raj (king of aroma) infact is name of a particular variety of lemon grown in West Bengal. Must say, the Ghol was an amazing preparation which is not commonly available even in West Bengal.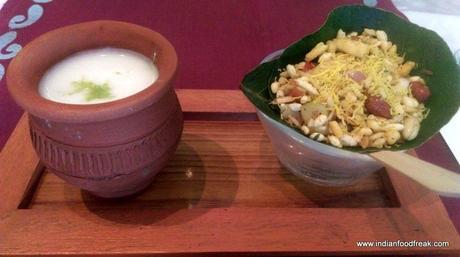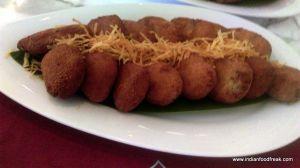 Living up to the predominance fried snacking of Bengali cuisine, we were served ChitolChingri Cutlet (Culet made from Prawns), Bata Fry (Labeo  Bata fish commonly known as Bata found primarily in Bengal) and Mutton Chopas non-vegetarian starters. The vegetarian starters included Aalo Chop, Vegetable Chop and Mochar Cutlet. Bata fry on one had was crisp and loaded with flavorsome spices, on the other hand the ChitolChingir Cutlet had perfect seasoning that only enhanced the taste of prawns.
In main course I tried Kosha Mangsho (Mutton), Bhetki Paturi (Asian Sea Bass fish baked inside a banana leaf), MacherJhol and MurgiJhol. The curries were accompanied with Bhat (rice with ghee) and Kolkata Biryani (options of Mutton or Potato). The KoshaMangsho stole the show even while the BhetkiPaturi was an excellent preparation. In vegetarian tried Begun Bhaja and AlooPosto (potatoes cooked with poppy seeds).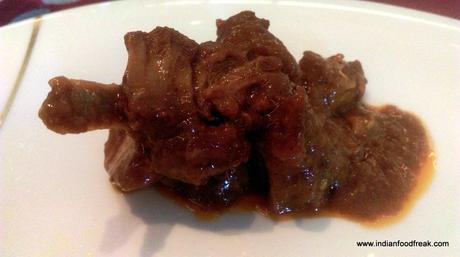 There were other accompaniments like Luchi, KorishutirKochuri (kachuri filled with peas) and MughlaiParantha (with a filling of mutton and quoting of eggs). Each one of these was good but I personally loved the MughlaiParantha with Keema filling. Options of mutton kassa, chicken kassa and chhanar as filling is available to choose from apart from options of using Duck or Hen eggs.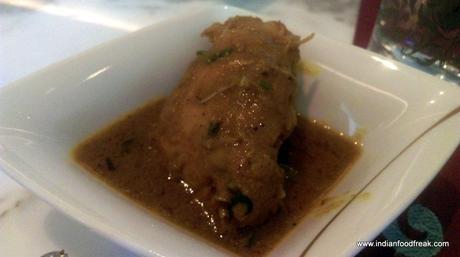 No Bengali meal can be complete without their luscious sweet dishes. Had Payesh (kind of kheer), Pantua (Bengali version of GulabJamun), Sondesh and MishtiDoi. Would agree that the taste of all these was as good as the ones available back in Kolkata.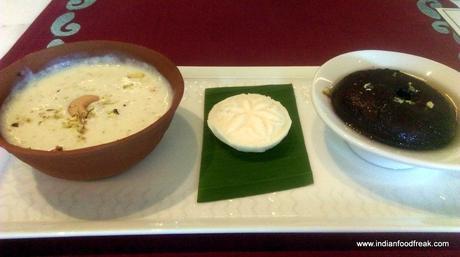 The festival that started on 31st Mar night will be on till 16th Apr and is open only for dinner.  A must go for all those who wish to try out the authentic Bengali cuisine in a pleasing setting.
Ratings (out of 5)
Food:4.5 | Drinks: NA | Ambience: 4.0 | Service: 4.0 | Overall: 4.0
Meal Cost: Rs.1,532 per person,inclusive of taxes(Without alcohol) | Credit Cards: Yes | Alcohol: Yes | Timings: 7.00 pm – 11.00 pm | Wheel Chair Friendly: Yes
Duration: 31 Mar 2017 until 16 Apr 2017 | Available only for dinner
Address: 1,CBD, Near Yamuna Sports Complex, Maharaja Surajmal Marg, Delhi, 110032| Telephone: 011-7172 1234
Disclaimer: This review was done on an invitation from the restaurant. Due judgment and care has been applied by the author to remain objective and unbiased in the review, but readers need to consider this review keeping this fact in mind.
















Tags Bengali Food Festival The Leela Ambience Convention Hotel
Facebook
Twitter
Google+
Linkedin