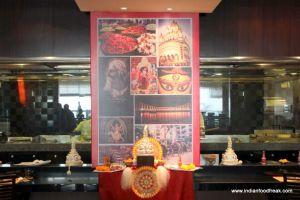 The entrance to Masala Bay
The first question I asked the chef as I sat down to sample the dishes at the ongoing Bengali food special    in Masala Bay at Taj Land's End was on his thought process behind a Bengali food festival when there is already an abundance of Bengali restaurants in Mumbai. The chef replied that though the city boasts of quite a few good Bengali restaurants, almost none of them serve the kind of food eaten by a normal middle class Bengali household on a daily basis.
This is the basic premise behind the curating of the Bengali menu at Masala Bay which boasts of homely dishes like Echorer Tarkari (Jackfruit based thick gravy – Rs. 875)  and Maccher Jhol (light sea bass based curry cooked with potatoes and cauliflower – Rs. 1,675) .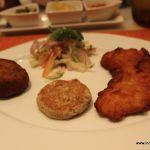 Prawn Cutlet, Narkal aar Posto boda, Bhetki fry
Requesting the chef to serve me a tasting portion of each of the dishes, I started off my lunch with a sampler of starters which consisted of a Chingri Maacher Cutlet (Prawn cutlet – Rs. 1,850), Bhekti Maacher Fry (Kolkata Bhetki – Rs. 1,750) and a popular starter in Bengali homes  Narkel Postor Boda (Coconut and poppy seed pakoras  – Rs. 875). I was told that the visiting chef from Kolkata's Taj Bengal flew in with his own ingredients and that even the sea bass is flown in from Kolkata to lend authenticity to the dishes.  This authenticity did reflect when I dug into the dumpling and was taken back to the odd Sunday afternoons when our family used to have get togethers and mom would make this dumpling with fish eggs. Here, the version was vegetarian but close to the taste I had grown up with.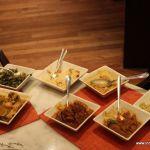 The entire spread.
The Sea Bass fry was another surprise as the thin, crispy coating was light and oil free and the fillet inside was moist and flaky with a hint of the sharp sour Bengali mustard, Kashundi. I could feel prawn pieces in each and every bite and the blend of spices did not overpower the sweetness of the crustacean. The lovely troika of starters had successfully achieved its purpose of taking me back to my childhood and remind me of some of the flavors which I so identify my childhood with.
Steering clear from the usual commercial dishes, my mains consisted of Aloo Poshto (Potato, green chillies and poppy seeds – Rs. 875), Palong Shaak er Chorchori (Mixed vegetables with spinach base and a Bengali spice mix called Paanch Foron  – Rs. 875), Narkel diye Cholaar Daal (Gram lentils cooked with coconut – Rs. 875) and the quintessential Kosha Mangsho (Bengali style mutton curry – Rs. 1,300).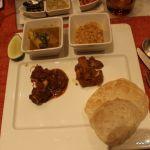 Fish curry, Daal, Kosha Mangsho, Echorer tarkari and Luchi
With each bite I kept traveling down nostalgia lane and wished I could relive those days again…..the days when Sunday meals often meant all cousins at home, mom and aunts whipping up an elaborate meal which consisted of many of the afore mentioned dishes and all of us sitting on the floor, lined up to eat our meal using just our hands, licking the plates clean and comparing to see whose plate was the cleanest.
The food at Masala Bay did bring back all those memories except that there was no licking of the plates, there was no company of cousins and nor was there the adda following the heavy meal‌.what was surely there, however, was honest, homely food far removed from the commercial, rich, heavy and oily fare one would get in many Bengali restaurants around the city and I was glad I had decided to come and give it a dekko.
The Bengali food festival will go on till the 31st of May at The Masala Bay in Taj Land's End – Mumbai.
Credit Card: Yes | Timings:  | Meal for Two: : Rs. 5,000| Alcohol: Yes | Wheelchair Friendly: Yes
Address: Byramji Jeejeebhoy Road, Near Band Stand, Bandra West, Mumbai, Maharashtra – 400050| Phone: 022 6668 1234
Disclaimer: This review was done on an invitation from the restaurant. Due judgement and care has been applied by the author to remain objective and unbiased in the review, but readers need to consider this review keeping this fact in mind.