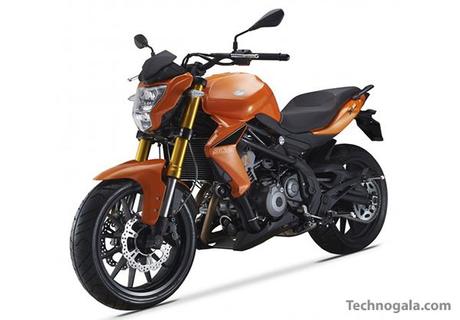 Biking is a passion for numerous people. The pleasure of riding a bike can only be felt after biking only. But numerous people find it quite difficult to learn and cope up with the handling and riding of bike. As a result many of them have to quit from it. But now this would not be the case anymore. The oldest Italian motorcycle manufacturer, Benelli has come up with a bike which will simply be great in learning and riding for the newcomers. This bike has been specifically targeted for beginners that are keen to learn biking. By rolling out its welcome mat for the new comers, Benelli released and unveiled its Benelli's BN 302 300 CC bike. BN 302 is a pure product of affordability, style, looks and unforgettably an Italian bike. BN 302 is unveiled but the launch and availability has some time. It is expected to be released in a period of two years after its new owner Qianjiang successfully reestablishes this historic brand.
BN 302 is specifically designed and developed focusing upon the youth and newcomer riders. The styling of BN 302 has been drawn from that of BN 600. The bike appears to be cool, muscular, strong and at the same time compact. The technicalities of this bike are that it is a 300 CC bike loaded with a parallel twin engine and two valves that operates by a fuel injection system. The maximum output of power is 37 HP at 11500 RPM while a maximum peak torque of 27.1 Nm at 9000 RPM. There is a chain final drive and six speed transmission in BN 302. The bike will be available in white and orange colors by the end of year 2015. Apart from the basic elements, Benelli's BN 302 also comprises of 17 inches aluminium alloy rims, 19 litres capacity fuel tank, steel frame, front and rear suspension, 41mm inverted hydraulic damping, front suspension, Front brake wherein the twin disc brake is of 260mm while the rear one is of 240mm. The shock absorbers are loaded with spring adjustments. Apart from these details, the Italian manufacture is yet to reveal about the dimensions and weight details. Benelli has claimed that its BN 302 is quite quick, alert, swift and receptive towards the congested city driving. BN 302 can face any city issues and give a smooth experience to the biker. The price of BN 302 is awaited to be revealed around the mid of May 2014. The Italian Manufacturer, Benelli has decided to initially launch its bike BN 302 in the European Markets. After this, Benelli will make its bike BN 302 available in every other country worldwide.
Currently, Benelli is targeting towards successfully launching and placing its bike BN 302 as it did for BN 600. Sources have revealed that Benelli is soon going to start working on its next bike which will be 1200 cc and 1800 cc bike which will be efficient enough to rule the sports bike segment for the new comers.