Due to age catching up and our hectic work lifestyle, it is very important to to build up the immune system and keep our body and mind healthy. Everything starts from having a good health and body wellness. Not to mention having proper diet in your daily meals and exercising regularly, having supplements will also greatly aid in boosting the immune system as well.  Recently I was down with a flu and typically my flu will take about 5 days (with daily medication) to fully recovered. During this period of time, I had drink 30mL (1oz) of Young Living NingXia Red supplement daily and my flu got better in just two days (took flu tablet once only) time.This gets me curious about the benefits of NingXia Red and I started researching more on the supplement drinks. In these days with people getting more educated, we are interested in the ingredients used in what we are feeding to our body and is it really that good as claim by manufacturer.
To me, I also feel it is important to to reduce the reliance of medication for recovery.
So what are the ingredients used in NingXia Red Supplement Drink?
NingXia Red is a super food that contains the benefits of wolfberry puree, aronia berry, plume juice, pomegranate juice, blueberry juice, sweet berry juice and therapeutic essential oils into a powerful anti oxidant support and nutritious drink. Wolfberries have been used for thousands of years to support immune system, promote longevity and naturally detox the body. Blueberry, plum, cherry aronia and pomegranate concentrates plus grape fruit seed extract. These fruits have powerful compounds phytonutrients, poly phenols, vitamins and minerals. It is the wolfberry or goji berry gives the drinks its rich signature crimson color.
What make NingXia Red different is the added  of four citrus essential oil  blend of orange, lemon, tangerine and Rare Yuzu that Support healthy digestion, promote a positive outlook,high antioxidant,support digestive system, maintain normal cellular regeneration, activates cell and fat burning effect and more. Serve up to delicious ounces daily to take advantage of NingXia Red's balanced ingredients. 1 ounce is equivalence to 30mL.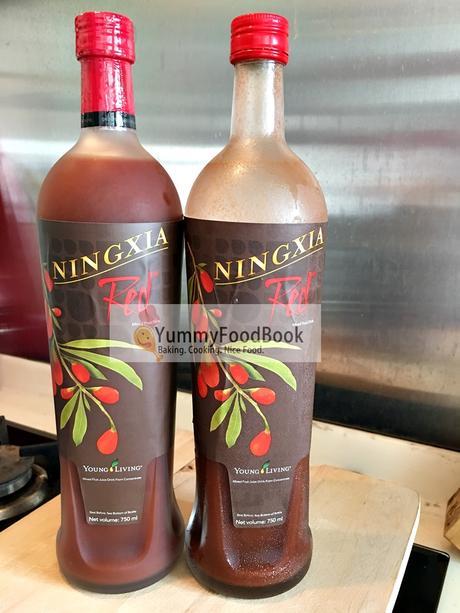 750mL each Bottle – NingXia Red 2, Pack Retail Price: SGD155.26 ; Member Price: SGD 118.00
Young Living NingXia Red is also featured on Singapore Lian He Wan Bao 联合晚报 on Friday 10 June!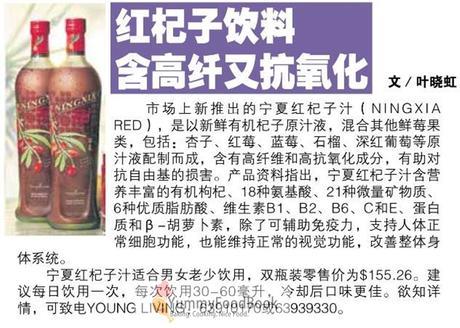 Click the video below to know more on Seed to Seal Story of NingXia Red Supplement Drink:
Seed to Seal Promise By Young Living     
Young Living promise the purity of their essential oil from SEED TO SEAL. Young Living have own eight farms on four continents and partner or co-op farm with many other farms around the world. The personal direct involvement in the growing process is what allow Young Living to ensure that product delivers the purity and efficacy. To guarantee consistent quality, Young living essential oils are tested in their own testing lab as well as in third party facilities to ensure the oils meet demanding specifications. Young Living never accepts diluted, cut or adulterated essential oils. Not only essential oil, Young Living do have other products like health supplements, kid scents, personal care, household cleaning products and diffusers as well.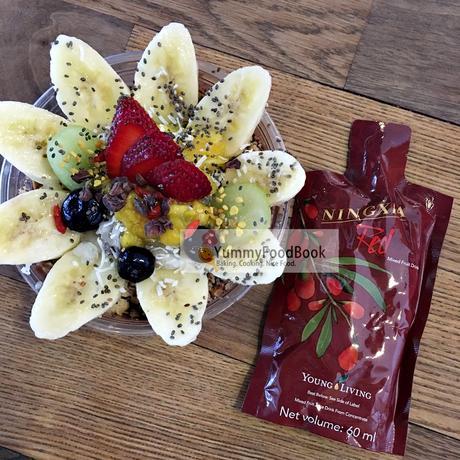 NingXia Red Sachet ( 30 sachets per box), Retail Price: SGD 185.53 ; Member Price: SGD 141.00
Now NingXia Red is also available in 60mL sachet where you can pop them into your bag and drink them whenever you are. You can drink NingXia Red after your exercise, during lunch break or during an outing. This is so convenient! A wholesome nutritious drink for your family member. All you need is one sachet of NingXia Red daily  to achieve optimal health and overall wellness.
If you and your family are interested to purchase and try out Young Living NingXia Red supplement drink, do drop me an email at [email protected] or facebook msg me at https://www.facebook.com/yummyfoodbook/
It is worthwhile to pay for something that will bring benefit to you and your family members.:)