Report: Roethlisberger's restructured deal clears $6 million of cap room for Steelers
Published 4 hours and 35 minutes ago Last updated 51 minutes and 51 seconds ago
Staff report Sporting News

The cap-strapped Pittsburgh Steelers have completed the restructuring of Ben Roethlisberger's contract and cleared $6 million in cap space for the 2013 season, the Pittsburgh Post-Gazette reported.
The Steelers also restructured the contract of inside linebacker Lawrence Timmons and wide receiver Antonio Brown this week. According to the report, the Steelers have now cleared about $14 million in cap space, which is the amount they were estimated to be over the cap a week ago.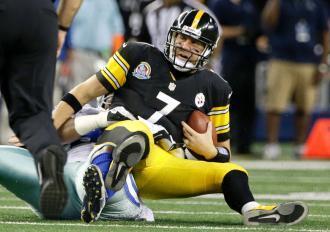 NFL teams have to be in compliance with the estimated $122 million cap by March 12.
Outside linebackers James Harrison and LaMarr Woodley also are candidates to have their contracts restructured. The Post-Gazette said the Steelers met with Harrison's agent at the Scouting Combine.
The Steelers are expected to have free-agent wide receiver Steve Breaston in for a visit this week. They have had to clear cap room in order to bid for him. Breaston was recently released by the Chiefs.