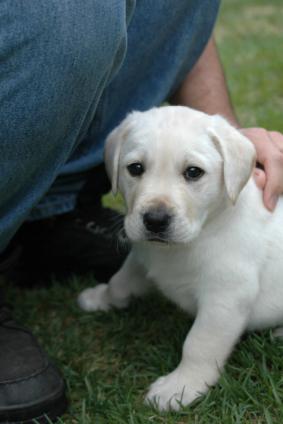 When my Labrador, Ben, was a puppy he always had a very curious nature. Unfortunately this often resulted in chewing of the thing he was curious about. As a result, we always kept him in the kitchen when we went out.
Our kitchen was fairly long and narrow with a really ugly linoleum floor. I can call it ugly because I didn't pick it. It was there when we moved in and we hadn't got around to changing it. It would happen sooner than I had hoped though.
I went into the kitchen one afternoon to be greeted by Ben's usual 'ecstatic to see you' act. I was used to this by now; galloping towards me with no consideration for how or when he may need to brake; tail wagging as if he's trying to shake it loose, the rest of his body wagging just as hard. As usual, he braked too late and collapsed at my feet. I gave him a good belly rub which he enjoyed as always but something caught my eye on the floor. He had somehow picked a small hole in the lino flooring.
Have you ever tried to give a puppy a row for something he doesn't remember doing? I read from dog training books that if you don't catch them in the act, you can't reprimand them later. So I put a heavy glass plant pot over the hole to protect the area while my wife and I went out shopping.
We were gone no more than an hour but when we returned, the scene in the kitchen was a total disaster. The glass plant pot was sitting on the ONLY intact piece of lino. The rest had been completely torn up exposing only the wooden floorboards. Looking back now, it was quite funny; the only part intact was the part I protected! But at the time I was not in a laughing mood.
Ben was all proud of the great job he had done destroying the ugly lino. I was very angry that he had ripped up the floor. So I shouted at him fairly loudly and told him how bad he was. This is when I learned my final lesson of the day. If you have a torn up floor and a dog who expects a reward for helping, don't scream at him. You just might have to clean up a puddle of pee as well, randomly distributed by a dog running away quickly as I had to!
The best thing to come out of this was that I was forced to lay a new floor which looked much nicer. Shortly after, Ben stopped chewing and we now have a great relationship. He's still cheeky but I wouldn't have it any other way.
To read more go to http://labradortraininginfo.com