It was indeed a great feat for a new actress who's just starting to carve a name for herself to have wrestled the limelight from other top stars who were easily deserving of everyone's attention. But Healthcote got full notice of celebrities, the Hollywood press, and everyone else who were in attendance at this most glamorous event held at the Beverly Hilton.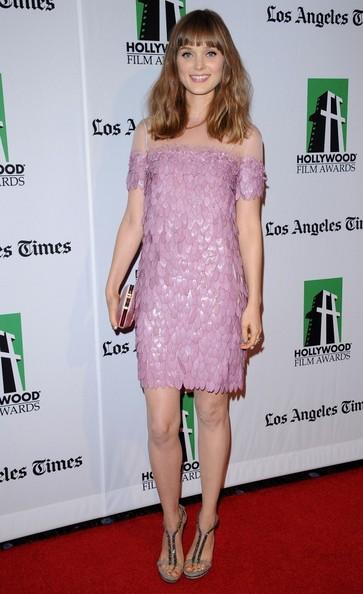 Gucci standout dress
Bella Heathcote was clearly the owner of the best dress of the evening. This stunner of a gown was a dusty pink-colored Gucci that's an off-the-shoulder petite cocktail sheath. Everything was made of violet-pink hued, circle-shaped paillettes. To come up with her beautiful look of the night, Heathcote work with top stylist to the stars Penny Lovell. She was the one responsible for dressing up fashion-forward star Rose Byrne in that controversial Elie Saab jumpsuit. 
Great taste in clothes
The best movies have been offered to her so far, and this been a testament to the trust that film makers such as Chase and Burton see in Bella Heathcote. This is precisely the reason why at this early stage in her career, she did receive the rising star award, the first ever from Hollywood Film Awards.
But judging from everyone's reaction upon encountering her dress at the event, it was clear that her Gucci ensemble is what truly set her apart from the rest. Indeed, she had a successful collaboration with Lovell, who happens to be the stylist of Ginnifer Goodwin as well.
Indeed, that Gucci pink petal dress delivered the killer look for Heathcote. The cocktail dress perfectly flattered her pale skin tone. It also made sure that she looked totally comfortable wearing it. Indeed, she delivered the best goods at the Hollywood Firm Awards Red Carpet.
Image Source: Paulidoodles