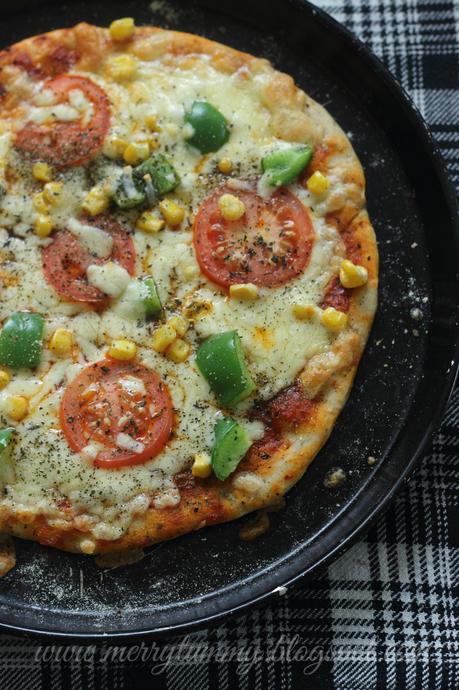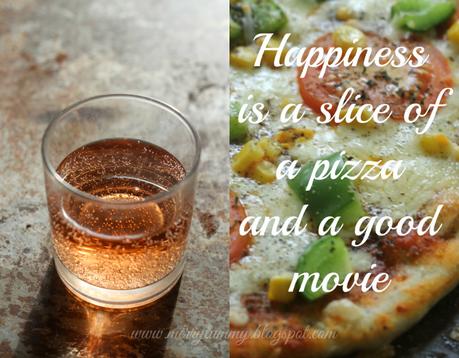 Pizza, popcorn, beer and movie- ah the best combination-ever!
Have you ever met someone who doesn't like pizza? Me neither. How about these interesting pizza facts then?
The average pizzeria uses roughly 55 pizza boxes per day.

36 percent of all pizza orders want their pizza topping pepperoni

94 percent of Americans eat pizza regularly.

Cheese wasn't added to pizza until the late 1800s.

The largest pizza in the world was made in 1990 at Norwood Hypermarket in South Africa. For the pizza, they used 500 kg of flour, 800 kg of cheese and 900 kg of tomato puree. The pizza was measured 37.4 meters, enough to secure an entrance in the Guinness Book of Records as the largest pizza ever.
And making pizza is so easy peasy if you have crust or base ready. Now do you remember two weeks back I posted this 100% whole wheat pizza dough recipe? I saved half of the dough in the freezer and this Sunday turned into quick thin crust pizza. Bell Peppers, Sweet Corn and Tomato Cheese Thin Crust Pizza is the best vegetarian pizza you will ever have. Ofcourse you need to be fond of thin crust, we both are huge suckers of thin crust pizza, I have also made thin crust New York 
Pizza
before. Honestly, thick crust or normal crust pizza tastes like cooked dough to us;-)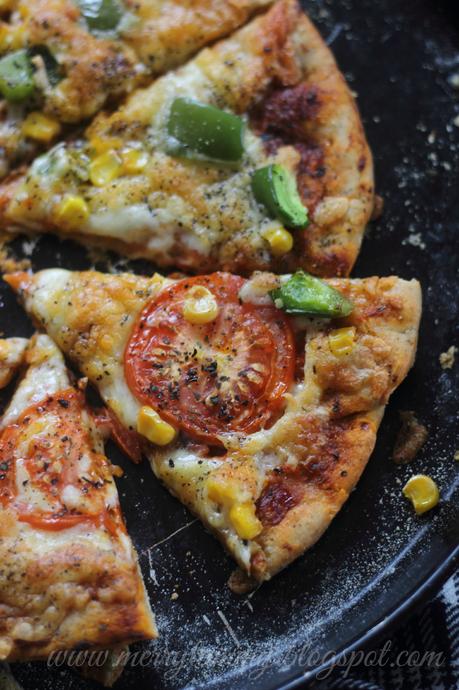 I used red chill pesto as pizza sauce but you can use roasted garlic bell peppers sauce, roasted tomato chutney or even ketchup. For toppings I threw in some chopped chunks of capsicum, frozen corn and roundels of tomatoes. You can use any other veggies like zucchini, aubergine, onions, olives, jalapeno, peppers or even green leaves like spinach, basil or arugula. I opted for mix of mozzarella cheese and cheddar cheese, but that again depends on your choice. You can choose blue cheese, feta cheese or even parmesan cheese. That's what I looove about pizza. You can add in anything that your mind and heart needs at that time.  Pizza doesn't ask silly questions, it just understands. Ingredients:1/2 of whole wheat pizza dough2 tablespoons red chilli pesto sauce1/4 cup chopped bell peppers4 tablespoons sweet corn (I used frozen)1 tomato chopped into rings1/4 cup mozzarella cheese1/4 cup cheddar cheese1 teaspoon oregano1/4 teaspoon black pepper powder1 tablespoon cornmeal (see notes)
Method:
Preheat the oven at 190C.
Sprinkle corn meal on the pizza pan or tray.
Roll out the dough into thin crust medium size. Transfer the rolled dough on the pan. Prick holes with fork.
Apply pizza sauce all over the base. I used chilli pesto sauce.
Arrange all the veggies on the base. Sprinkle salt, pepper and oregano.
Top the veggies with cheese. Pinch or fold the sides such that it looks like crust.
Bake for 8 minutes at 190C. Reduce the temperature to 180C and bake again for 2 minutes. The cheese must have melted and turn bubbly.
Slice and serve.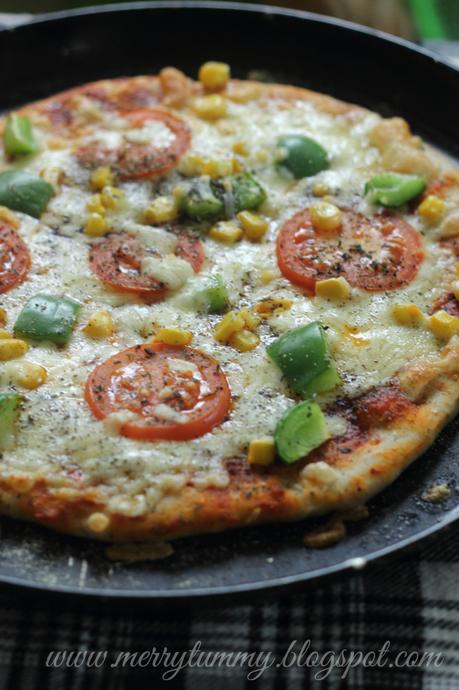 Notes:
You can make normal thick crust pizza too. Bake it at 180C for 10 minutes and then 170C for 5 minutes.
Cornmeal is optional, it helps to give nice crispy texture to pizza crust. You can grease the baking pan with little olive oil and bake instead.
Serving suggestions:
Serve pizza with any drinks. See drinks menu for ideas.
Make a whole platter. Serve pizza with baked sweet potato wedges on the side with kiwi yogurt dip.