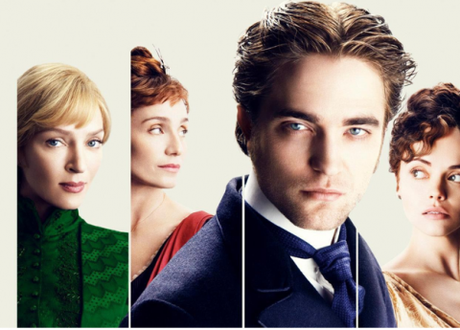 Film poster for Bel Ami.
Bel Ami, directed by Declan Donnellan and Nick Ormerod (founders of theater company Cheek by Jowl; this is their first film) is an adaptation of the 1885 novel by Guy de Maupassant, in which Georges Duroy (Robert Pattinson), a young, ambitious and good-looking soldier-turned-journalist, hops into bed with a number of society women, including Madeleine (Uma Thurman), Clotilde (Christina Ricci) and Mme Walters (Kristin Scott Thomas), who then gain him advancement with their husbands. However, it doesn't last long, naturally, and he soon faces up to his own demise. Critics are mostly concordant in their opinion that this is a pretty but empty bauble; one lone voice praises it.
Look at the grain exports to Algiers! Gosh, said Peter Bradshaw in The Guardian, but Pattinson does an "awful lot of hollow-eyed smouldering." He's a veritable "cross between Becky Sharp and Dorian Grey." Thurman, meanwhile, is "always rolling around perfumed boudoirs in her underwear, scanning state papers and declaiming things like 'Look at the grain exports to Algiers!'" There's even a scene where Pattinson appeare "vampirically" behind Scott Thomas. Boy is it all done "hammily."
RPatz naked! Pattinson, said Tim Robey in The Daily Telegraph, is "lunging and blunt, rather than brilliant or polished. He also strips." The surroundings don't "outclass him", either. It's a "game but severely limited feature debut." There's only one tone: the "strident note of sexual opportunism sounded over and over, with a briskly repetitive score."
Yellow canines! For some, the "cornucopia of cleavages and lingering close-ups of Robert Pattinson's trouser department" may be a "strong recommendation," said Kate Muir in The Times. Others may find it "unintentionally hilarious." Maupassant's "ironic wit and political spin are lost." All we have left is Pattinson's "yellow canines." As one of the ladies complains, " 'I had no conception of the depths of your emptiness."' Which, sighs Muir, "is also a fair summation of the film."
You're all wrong! All of you! Au contraire, said Nigel Andrews in the Financial Times. It's "sleekly spellbinding." Robert Pattinson has been cleverly cast – he's "weird, lucent-eyed, fixed of stare, sullenly magnetic." Though reading from Autocue in the beginning, he's later "all the more powerfully horrified and undone … when his ambitions start to play him." "The social protocol unravels and this belle époque, unmasked, turns out to be a hag in make-up. That is the moral here: be true and truthful, or be prepared for the cataclysm." The story has a "barbed conviction" and the women "act to the hilt."
Watch the trailer here!