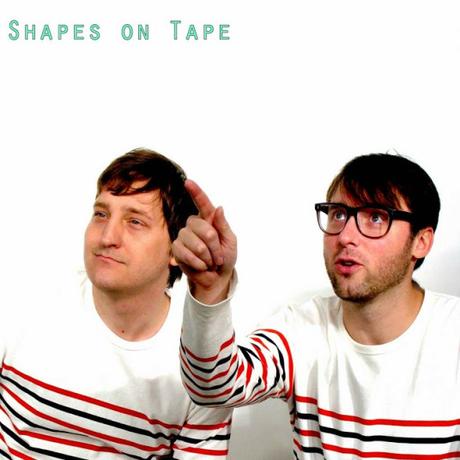 Shapes on Tape is a Brooklyn based musical project whose dynamic blend of rock and electronic instrumentation moves from dreamy, psychedelic ballads, through pulsing dance anthems, and into abrasive power pop.
Producer/multi-instrumentalist Adam Kruckenberg, formerly of Vibralux, and guitarist/songwriter Jason Matuskiewicz, of Lexington, KY band Candidate, began collaborating in 2014. With the assistance of Grammy nominated producer Justin Craig, they are now working on a series of songs to be released as a double EP entitled MOR/MOR.
Adam and Jason recently told us about the writing process and inspiration behind their newest single, "Fountain of Youth." Check out their explanations below.
From Adam:
Writing process:  This song, unlike a lot of our other songs, began its life on my Yamaha RM1x, rather than Jason's acoustic guitar. I was really interested in distilling a pure dance groove with a really limited set of parts, and after a couple of minutes, I had this great bassline flipping around a 4×4 kick. After I added a couple more drums and a lead synth, I knew this was going to be a lot of fun. We tried it out in a few incarnations with some placeholder lyrics until Jason realized what he wanted to say with the lyrics and melody, at which point we knew it was time to get into Justin's studio and drop something really nice.
Standout Moments:  The vocals for this song were going to be very different for a while, a more playful doubled falsetto, but Jason had a vision that he fought for, which I feel really completes the mood for the verses.
Favorite parts of the record: I just can't get enough of the way the first verse drops in with Justin's insane disco guitar part.
From Jason:
This is a song about the consequences of too much fun, and how good times so often turn into something else in the light of day. It took several months to come up with the lyrics of the song. The first line was always "I was searching for the Fountain of Youth," but then the rest of the song was about how fun it is to dance. I like to dance, preferably in private, naked and with an audience of one, but I digress. It felt trivial. I actually did not like the song that much, owing to how trite and underdeveloped the lyrics were, but when we were deciding which song to do next, Justin, our producer, specifically requested that we do this one, which I think we just had a musical demo track for at the time. I know better than to come between a genius and his muse, so I had to write something.
So, I decided to use the first throwaway line as a jumping off point. The verse then become a sort of surreal poetical journey. It is meant to represent a feeling and certain kinds of events, but it is not necessarily a coherent narrative. I think one good example of that is, "…til it started to fall, climbed up on the wall, made the ceiling my home and I watched you all." So, what does it mean to live up-side down on the ceiling and watch the world? It's not an allegorical song, but it is symbolic in a lot of ways. Obviously, this is meant to express a feeling of discomfort, of feeling out of place, of being not quite yourself. I also really like the line, "…didn't know it was just debris to the people in charge, after I'd gone so far, in the middle of the maze of the Minotaur." The Minotaur is, of course, half man and half beast, who exists deep inside a labyrinth, who is also conceived as a result of the punishment of a god. This is a pretty rich metaphor and I won't ruin it by offering my thoughts on it.
Musically, I love how the track turned out. It feels super fun, and I think that's totally appropriate for the subject matter. Most bad decisions are made to a good beat. Aesthetically, I feel that the song is pretty cohesive.
Filed under: Behind The Song Tagged: behind the song, fountain of youth, shapes on tape