Begun Pora/ Bengali Roasted Eggplan
t Mash
…
the first time I had this
…
ufff
!!
what a ruckus I had created..screaming
…"
kachha
??
kachha
??
Nahinnn
!!!!
"
...
and then, of course got hooked
…
IMO, still no match for the Punjabi Baingan Bharta which is 'cooked' the second time round as well
…
but a good option when you are feeling lazy – which you know by now, happens to me about 14 days a week
!!
J
…
oh
!!
Wait, almost forgot
…
you HAVE to love mustard oil to enjoy this
…
if you don't or have preconceived notions about using it (without even trying it), stay away
!!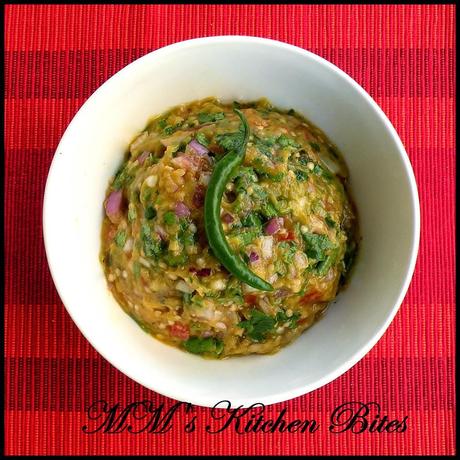 Begun Pora/ Bengali Roasted Eggplant
Ingredients:
Begun/Eggplant, 1 large (the fat round one) 

Onion, finely chopped, 1 medium 

Tomato, finely chopped, 1 medium

Green chilies, finely chopped, as much or as little you can handle 

Mustard Oil, 1 tsp + generous drizzle

Fresh Coriander leaves, coarsely chopped

Salt, to taste
Instructions:
Wash the eggplant and pat dry. Smear the skin with some salt and a teaspoon of mustard oil.
Roast the eggplant on an open gas flame till you have charred skin on all sides and it has sagged completely – you will have to keep on rotating the eggplant every few minutes. Or you could broil in the oven till charred –takes about 50 minutes to an hour depending on the size.
Let it cool completely and then discard the charred skin.
Mash the scooped out inside flesh well with back of a fork or with 'clean' hands.
Add in the chopped onions, chopped tomatoes, green chilies, coriander leaves, salt and mustard oil.
Mix well and let it rest for about 10-15 minutes.
Serve with hot rotis/chapattis. (I love mine spread on a hot toast)