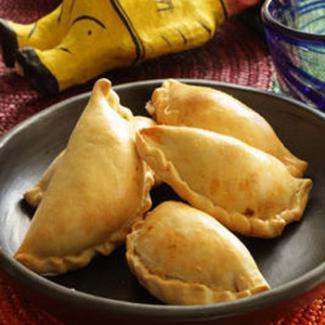 We've gone all South American this week in celebration of our fantastic Argentina project sale. Why not turn that Monday frown upside down with this classic form the region. Que Rico!
For the pastry:
450g/1lb plain flour
2 tsp baking powder
1 tsp salt
60g/2¼ butter
60g/2¼ lard or vegetable shortening
chilled water, enough to form dough
For the Filing:
2 tbsp olive oil
½ beef stock cube, crumbled
400g/14oz fillet or sirloin steak, finely chopped
1 onion, finely chopped
1 small green pepper, finely chopped
3 garlic cloves, crushed
3 tbsp red wine
½ tsp ground cumin
½ tsp paprika
½ tsp chilli powder
12 pimento stuffed green olives, sliced
1 tsp salt
½ tsp ground black pepper
1 beaten egg, for brushing pastry
Vamos! Vamos!
Preheat the oven to 180C/350F/Gas 4
For the pastry, combine the flour, baking powder and salt in a mixing bowl.
Cut the lard and butter into sugarcube sized chunks, add to the flour, and rub the fat into the flour until it forms fine crumbs. Add enough cold water to form a soft dough. Set aside in the fridge to rest for an hour.
For the empanada filling, heat one tbsp of oil in a large frypan, sprinkle the stock cube into the hot oil and fry for thirty seconds, stirring continuously. Add the beef and fry for about two minutes until brown. Set the meat and the juices to one side.
Heat the remaining tbsp of olive oil, add the onion and green pepper, fry until soft, about three minutes. Add the garlic, and fry for a further minute. Add the wine, cumin, paprika, chilli powder, olives and the salt and pepper. Fry for a further minute, stirring continuously. Return the meat and juices to the pan and mix well, set aside to go cold.
To fill the empanadas, take the pastry out of the fridge, and on a well-floured surface, roll out a thin sheet. Using a saucer as a template, cut out discs of pastry.
On one half of the pastry circle place a tbsp of the filling, brush the edge with egg, fold over, and crimp the edges together.
Brush with egg and place on a greased baking tray. Bake for ten minutes or until golden.