Hi everyone,
I always have a few staple beauty and relaxation products next to my bed to help get a better night's sleep as well as to repair while I sleep. Below are the products I've been reaching for for quite a while now as they just work really well and leave me feeling refreshed and nourished the next morning.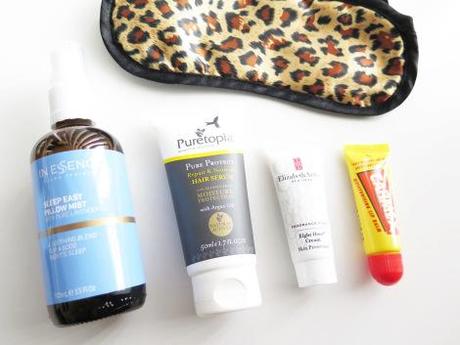 An Eye Mask - This is definitely not an everyday item I use but whenever I'm particularly tired and run down or just cant seem to fall asleep after restlessly tossing and turning, an eye mask is what I reach for! It works wonders to block out any sort of light, whether it be coming from between the blinds or from a charger you have plugged in and helps you switch off and fall asleep.
In Essence Sleep Easy Pillow Mist - I'd always heard about products like this to help you relax and fall asleep faster and I'm very impressed with this one from In Essence, which is the first product of its kind that I've tried. The Lavender, Chamomile Roman and Valerian essential oils really do help to calm and relax you, making it easier to fall asleep and stay asleep for longer.
Puretopia Pure Protect Repair & Nourish Hair Serum* - As I dont wash my hair daily, sometimes I can find that the ends of my hair can get a life of its own so I apply this light, leave in serum which contains argan oil and ylang ylang to ensure I wake up with tamed soft, smooth and beautiful smelling hair. The serum also doubles as a heat protectant.
Elizabeth Arden Eight Hour Cream - This product is such a cult favorite and I can see why – it's just so versatile and works so well. I use it as a hand cream, lip balm, to treat any dry patches on my face and body. A little goes a long way and the hydration it gives the skin is amazing.
Carmex Moisturising Lip Balm* - A lip balm application just before bed is an essential for me as I love waking up with soft, hydrated lips in the morning and I've been reaching for Carmex most of the time as it delivers on the hydration front! The convenience of the tube is great as it ensures easy application and the light tingle is refreshing.
What are your bedside beauty essentials?


| Bloglovin' | Facebook | Twitter | Instagram |
*Items marked with an asterisk were kindly provided. As with all my posts, it is 100% honest and of my own personal opinion. For more information, visit my Disclosure Policy.