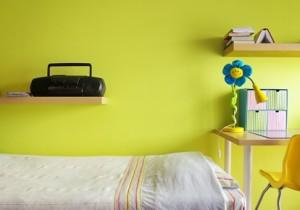 Sometimes a bedroom needs a makeover that doesn't break the bank. In fact, some people strive to do it often for under $50!
Thankfully, revamping a bedroom's decor does not have to be an expensive task. Superficial changes are often enough to give a bedroom an entirely new look that not only is aesthetically pleasing but cost-sensitive. Here are some inexpensive ways to spruce up your room.
Windows:
Window dressings should be functional as well as pleasing to the eye, and for the most part, it's easy to do on a budget. To change the look of a bedroom's windows completely:
Clean the panes and frames thoroughly.
Purchase new, decorative curtain rods and tie backs.
Choose curtains that set the tone for the room's color scheme.
Resources such as www.blinds.com offer a selection of blinds that offset the color the of the curtains.
Fix the Furniture:
Buying new furniture is costly, so look for ways to add used furniture that works with your mix. Used furniture can be spruced up for a fraction of the price of a new bedroom set. Give your furniture a new look in these easy ways.
Fix any broken drawers, doors and legs on the furniture. Check for DIY instructions for these projects on the Web.
Sand down any rough edges or scratches.
Buy new colorful handles for dressers – it brightens up the room.
Purchase updated hardware, such as drawer pulls and accents.
Paint the furniture so it all matches the room's new decor.
Bed Linens:
For a fresh look, update your bed linens. Look at discount retailers for sales on bed linens that can add color and light to your bedroom set. When choosing new bed linens:
Choose solid-color sheets and pillowcases that either complement or match accent pieces, such as curtains and throw pillows, in the room.
Find a printed comforter, but also look to complement both the sheets and the color scheme of the room.
Use solid or print throw pillows, but avoid color clashes with the sheets.
Organization:
Get your room organized! Place the furniture back in convenient areas and avoid clutter. Here are some organizational tips for room decorating:
Buy a stylish hamper that goes with the new decor.
Use shelving above dressers for extra space needs.
Spread framed photos throughout the room instead of putting them all in one place.
Extras:
The extras in a bedroom can give it a lot of its appeal. Little things can change a bedroom from a utilitarian space to a space with character.
Additions that spice up a bedroom:
Potted trees oxygenate the room and add color.
Throw rugs can make the floor more comfortable to walk on, prevent scratches and add more color.
New lighting fixtures or even just new lampshades can quite literally brighten up a bedroom.
Instead of repainting or papering the walls, add a paper or stencil trim that stands out.