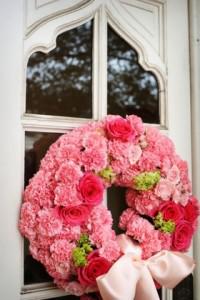 The Fall/Winter 2011 issue of The Knot Northern California magazine has an article that suggests 9 things brides can splurge on to make their weddings stand out.
Here are 3 that you might want to suggest to your brides, if they have the budget:
1) Lighting
A bride does not have to stay with the lighting that is offered in her ceremony or reception space. A good lighting designer can create different moods, add drama and camouflage bad areas.
Also, I'm sure you've seen monograms projected on dance floors and aisles at celebrity weddings, these are the work of lighting designers. Find someone in your area who can do this for y0ur brides.
2) Ceremony Decor
Don't forget that it's not just the reception venue that needs decoration, places of worship and other ceremony sites can be decorated to create and set the tone for the entire wedding day.
Read my blog post on door decor for ideas and information on how to make the entrance special.
3) Personalize the Entryway
The article said that wedding planners often overlook this area of the reception site!
Work with the florist to add flowers and trees, an event designer to decorate the escort card table or a printer to design special escort cards (read my posts about the Tori and Dean sTORIbook Weddings "Steampunk" and "Pug Chic" themed weddings to get ideas), the photographer to show photos of the couple taken for their engagement, or the caterer to have servers waiting to greet guests with the couple's signature cocktail.
Before sharing any of these ideas, make sure you know high quality, professional vendors whom you can work with to make these splurges really worth it for your brides.
You can read more ideas in local area editions of The Knot magazine.