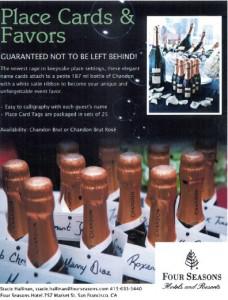 Today I'm continuing with wedding ideas from the San Francisco Wedding Fair.
The Chandon booth had some ideas you can share with champagne loving brides.
They used their petite 187 ml bottles of sparkling wine and attached elegant name cards to them with white satin ribbons. They are place card holders and wedding favors in one. (See photo above.)
The booth also showed how you can have a couple can use a magnum bottle of champagne in lieu of a guest book. Just provide gold-colored permanent link pens that can write on glass, you can find these at craft stores, and have guests sign the bottle. The bride and groom can drink from it on their honeymoon and on wedding anniversaries.
If your bride is looking for a colorful signature cocktail, the Chandon website has recipes using champagne along with ingredients such as fruit juices and nectars to give it color and different flavors.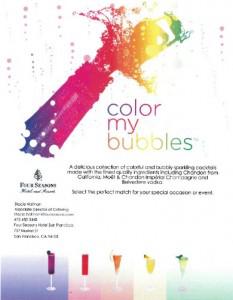 Keep your eyes open when you attend or exhibit in bridal shows and wedding fairs and you can get ideas for your business and your brides.