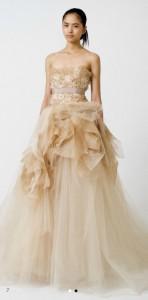 On last Sunday's episode of "My Fair Wedding," celebrity wedding planner, David Tutera, helped a fashionista bride who had pretty much spent her entire wedding budget on her Vera Wang wedding dress and Christian Louboutin shoes. Yikes! Good thing she had David's help to make her dream wedding come true.
(Tip – the wedding dress should be part of the wedding budget so if you are helping a bride with this, make sure she tells you how much she has spent or is planning to spend on it. And, she should not be selecting her dress until she has decided on her venue. Certain styles work better in large venues than small ones and there are some dresses that are too difficult to wear at an outdoor wedding.)
The bride had all sorts of ideas for her fashionista wedding. She talk about wanting it girly, prissy, full of pastel colors, and similar to Marie Antoinette. Her venue was an outdoor space with a beautiful view but it wasn't ideal because of unpredictable weather and because it had an indoor reception area that was too small.
David took her ideas and focused in on the heart of what the bride was all about – her dress, fashion and details.
(Tip – It's easy for a bride to have too many good ideas, it's your job as her wedding planner to help her get focused. Get to know her, look for the common thread running through her ideas and make that the focus, and don't forget to let her personality come through.)
David usually changes a bride's wedding dress but this time he let her keep it. The Vera Wang gown was edgy and fashion-forward and expressed the bride's personality. The photo above is from Vera Wang's website. The dress is from her Spring 2011 collection.
David did change out the Vera Wang midnight blue bridesmaids' dresses. He had three fashion students present ideas and chose the design by Masai Payan because it flattered different types of figures and was a beautiful color that blended with the bride's dress and the color theme of the reception. The photo below is fromMasai Payan's website where you will also see his original sketch of the dress.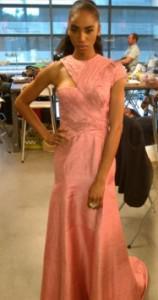 The venue David chose was not an ordinary wedding and event venue, it was glass-walled top floors of the AT&T Center on 1150 S. Olive in Los Angeles. This gave guests a 360 degree view of the city which made it unnecessary to fill the space with lots of decorations.  (The lower floor was for the reception. The top floor had space for the reception and the dance floor.)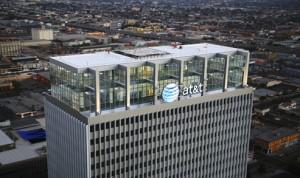 (Tip - don't think that wedding venues are only hotels, banquet halls, country clubs, and restaurants. Research unique venues that might have event space such as universities, museums, art galleries, historic homes and office space, such as this one that David found.)
For the tables at the reception, David chose two different designs, using wonderful chair covers and table cloths.
The chair covers were from Wildflowers Linens. If you haven't seen their designs before, check out their blog which shows many of their linens at celebrity weddings and Hollywood events.
David chose the Curly Willow, because it resembled the bride's dress.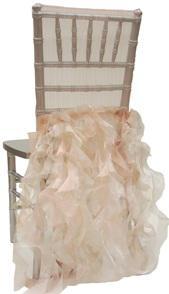 and the Lilybelle chair sleeve because if all the the chairs resembled the wedding dress, they would take focus away from the bride.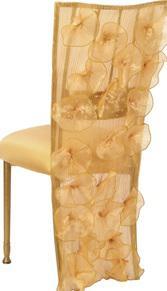 The table linens were also detailed and fashion forward. One had a swirl design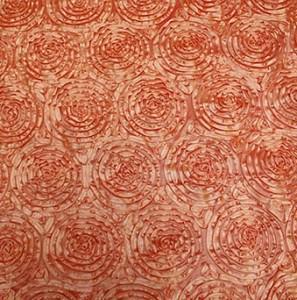 and the other floral, both were from Cloth Connection.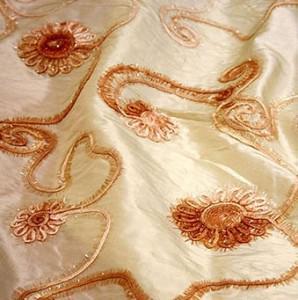 (Tip – all tables don't need to have the same design. Alternating makes it interesting and can save money if some of the tables can have lower-cost centerpieces. Just make sure everything blends together and suits the theme of the event. Florists and linen providers can help you and the bride with the selections.)
You can read the bride's thoughts on her experience with David and his team on the WeTV website.