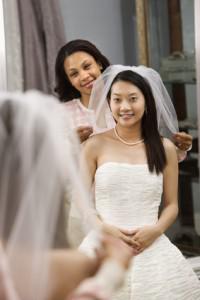 When you are a new wedding planner, you will be doing many things for the first time. In fact, even when you have years of experience, there will be many times a bride will ask you to provide services you haven't done in the past. It's part of the excitement and challenge of being a wedding planner.
But when you are new, and don't have a lot of experience, be cautious about what you agreed to do for a bride. If you can't deliver on your promises, you could ruin her big day.
Here are 3 questions you should ask yourself before you promise a bride you can carry out her vision:
1) What does the bride want and what details are important to her?
 A "small, simple wedding" could be 30 guests at home or 200 guests in a ballroom, depending on your bride's point of view. And there are many ways to interpret themes, colors and concepts. Ask questions and get detailed information so you know what you might need to do in order to carry out the bride's vision.
2) What are my strengths?
Be honest. Know if you have the knowledge and skills it would take to help your bride have the wedding she wants.
3) Who is in my vendor network?
You don't have to do everything alone. If you feel like you may not be able to do what the bride asks, but can manage and coordinate a team of people who can, make sure you have a network of high-quality, creative, wedding professionals to work with.
It can be very tempting to accept every bride who comes to you, no matter what she wants. But if you promise her you can carry out her dream, then can't deliver what she wants, you'll run the risk of ruining not only the bride's wedding day, but also your reputation and your business.