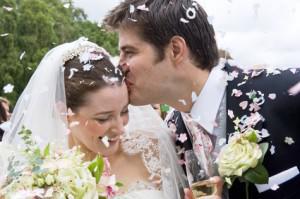 When you are starting to work as a wedding planner, you'll want to be ready to help brides plan their dream weddings. The February issue of Brides magazine published results of their survey in which they asked readers to give them a portrait of their dream weddings.
Here is where brides said they wanted to get married along with my tips on what you should know about the sites:
1) Gardens
A garden wedding can help a bride save money on her floral budget but you can also work with a florist to bring in additional tress and flowers to make the setting seem more opulent. There are public gardens available in most cities but also check private estates that rent out their homes for events. The ceremony can be held in the garden and the reception in the home.
2) Beaches
Not every wedding planner has the ability to plan a wedding at local a beach but if you do, scout locations that give the best views and are easily accessible for guests and, most importantly, make sure you have a Plan B. Wind, rain, and heat can pose challenges during any outdoor weddings but especially at a beach weddings where there may not be nearby shelters.
3) Tents
Once a tent meant a plain white structure. Today you can find everything from clear tents that make guests feel like they are outdoors to luxury tents that work for weddings with exotic themes and come complete with hanging chandeliers and matching furniture.
4) Wineries
Like a garden wedding, wineries can provide natural decor for the event. It's not just large wineries that offer event facilities, small private vineyards often open their property for events on a limited basis so do some research to find them.
5) Museums
Think beyond art museums and find ones that specialize such as auto, technology, maritime, and railroad museums. Even the Rock and Roll Hall of Fame and Museum can host weddings. So, think outside the box to give your brides their dream wedding locations.