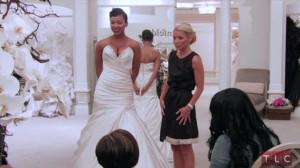 Talk show host Kelly Ripa was a celebrity guest bridal consultant at Kleinfeld's bridal salon in Friday's episode of TLC's, "Say Dress to the Dress." She thought it always looked like an interesting job and she wanted to try it out. Although she wasn't working as a wedding planner, she learned some lessons about working with brides that every new wedding planner should know.
Here are 5 of Kelly's "key learnings" that will help you as as a wedding planner:
1) You are dealing with a bride's dream so what you do really matters
Many dream of this day from childhood, you must take everything you do seriously.
2) You have to ask the right questions to learn what the bride really wants
Kelly correctly asked what the bride's budget was for a dress, but failed to ask if her bride had tried on any wedding dresses before this appointment. Just as it's important to know the experience a bride has had in trying on wedding gowns, you need to know if the bride has done any of her wedding planning before meeting you. You should also find out if she has already worked with a planner. If she has done these things you might have a better understanding of what she is looking for from you.
3) You need a tough skin to work with brides
Kelly's bride was very clear that she didn't like the selections Kelly brought to her. As a wedding planner, there will be times brides won't like your ideas. You have to remember that it isn't personal.
4) It takes a lot of experience to know what a bride wants
Kelly didn't have experience working with brides so she was not able to find the right wedding dress. She also didn't know anything about the inventory of dresses at Kleinfeld's so she was at a real disadvantage. In fact, she was "fired" and one of the experienced consultants came in and immediately found the perfect dress for the bride.
Experience also counts when it comes to planning weddings. The more experience you have, the better you will be able to give the bride what she wants.
5) The job isn't as easy as it looks
Kelly thought being a bridal consultant would be a lot of fun, but found that it was overwhelming and a lot of work.
Planning weddings can be overwhelming and a lot of work but it is also exciting, fun, creative and it gives you the opportunity to help brides realize their dreams.
I'm sure Kelly came away with real admiration for bridal consultants and the work they do with brides.
You can see a video clip of the show on the TLC website.