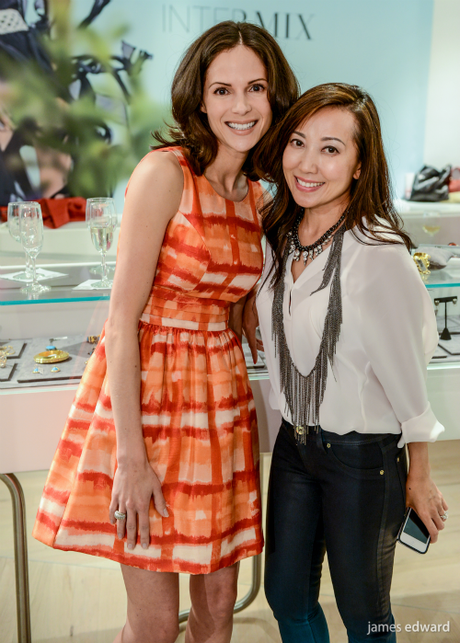 photo credit: james edward photography
Last week I got to chat one on one with BeautySnob.com's Tina Craig at Dallas Intermix's Fallon/Bag Snob Trunk Show. For you fashion fanatics, you might know her best as the BagSnob.com. And can you believe BeautySnob.com and BagSnob.com are only two of six spin offs?!? The other Snob blogs include CoutureSnob.com, JewelSnob.com, ShoeSnob.com, and TotSnob.com. (And yes, she's as amazing as you'd imagine a fashion/beauty blogging mogul would be!) Check out the cheeky Q&A below:
Crows' Feet, Cupcakes, and Cellulite: Ok, seriously….bagsnob.com, beautysnob.com, couturesnob.com, shoesnob.com, jewelsnob.com, totsnob.com — how do you find the time to cover it all??
Tina Craig: It's all the things we love and everything I've always obsessed about and once we started one blog it was very natural to just keep going.
CCC: What are your current beauty essentials or obsessions right now?
Tina Craig: Oh my gosh, I'm obsessed with Le Metier de Beauté Concealer! It has retinol in it so it's a treatment and a concealer and corrector, all in one. I'm also obsessed with Renee Rouleau Triple Berry Peel. People tell me I look like Hannibal Lecter when I wear it because it's all red and scary-looking. But it makes my skin look amazing!
CCC: Ok, if you had to pick between leaving the house wearing gorgeous, head-turning makeup and a mediocre handbag….or zero makeup and the most amazing handbag ever…which would you choose?
Tina Craig: [laughs] Zero makeup and an amazing handbag. Definitely!
CCC: What else is on the Snob horizon? Food Snob? Travel Snob?
Tina Craig: No, with our six current snobs, we're done. But we are launching a denim line with [premium denim maker] DL1961 this fall. [The concept] is seven essential jeans for seven days of the week.
To learn more about Bag Snob's upcoming denim line, you can get the complete details via WWD. And for your daily "Snob" fix (whether it be beauty, handbags, shoes, jewelry, or couture) go to BagSnob.com. 
Dallas Intermix's Manager (and my personal BFF), Denise Perez