Two weeks from now I'll be returning home from office with a huge smile on my face. Two weeks from now, my city will look its best all ready to welcome the Goddess Durga and her children home for five days. I don't know how many of you have been to Kolkata during the Durga Puja celebrations but if you haven't, do make it a point to come here at least once to witness the madness. Every woman wants to look her best during those five days and on top of every woman's To Do list before the Pujas is a trip to the salon or the 'parlour' to get her skin and hair in top condition. Thanks to Green Trends salon, my hair is at least taken care of.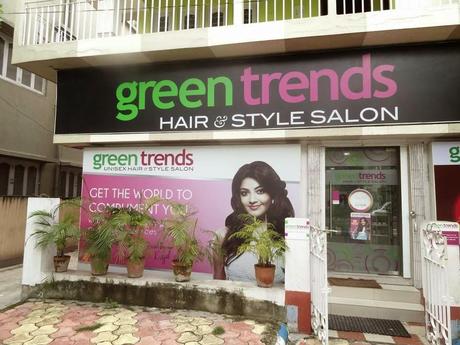 Green Trends Salon, Salt Lake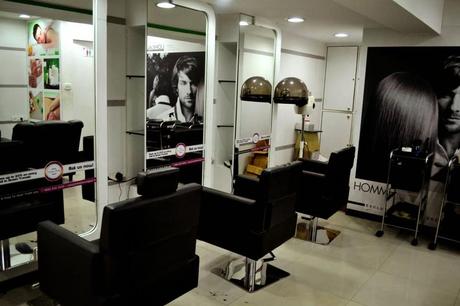 Last week, the lovely folks at Green Trends salon in Salt Lake, Kolkata invited a bunch of bloggers to talk about the beauty trends for Durga Puja and let us experience first hand what's on offer by the salon for the festive season. Green Trends is a Chennai based salon chain and they have around 200 salons across all cities. In Kolkata, they have three branches (Bangur Avenue, Salt lake and Golpark). We met with the brand trainer Saddique Alam who spoke about the five new facials in their skincare menu and shared that for the hair, emphasis is on color and cut. The two biggest trends this season is adding color blocks to the hair and curls. I have wavy hair that I find very hard to manage so asked Saddique if he could give me a cut which would make my hair look good and would not involve a lot of maintenance. Shikha of Sorelle Grapevine went for chunks of red in her hair, Poorna of Presented by P went in for a facial, Debiparna of FlySongBird colored the ends of her blue and Bidisha of Fashion with Bidisha got side bangs.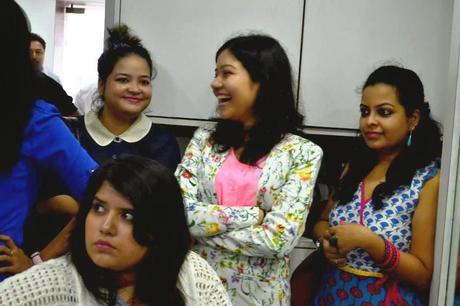 Merry Bunch of Bloggers!
Saddique is an ace stylist and he gave me a cut with lots of layers and said all that I need to do is scrunch up my hair when it is partly wet and leave it like that till it is dry. He also advised me not to brush but lightly comb to maintain the layers. The cut took about 15 mins but the part where I get cranky is when the styling takes place. It took nearly an hour to give me beautiful curls and while I was in love with the final product, I was more than eager to get off from the chair. You can truly judge whether a hair cut is good for you when it still looks great after a week. Mine does and I thank Saddique whole heartedly. If he is in town, you have to get a cut from him!
Here's what I look like with my new haircut. Loving the layers and it's zero maintenance. Just wash, scrunch and ready to go!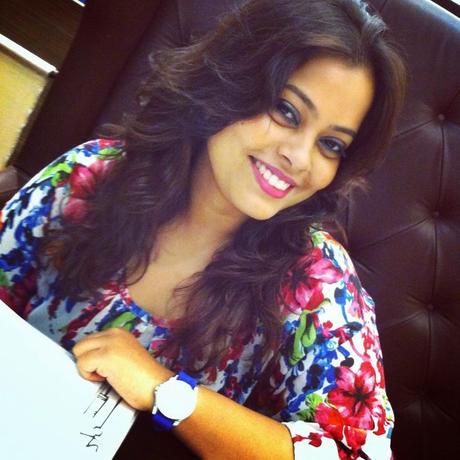 Details of the Fantastic Five Facials at Green Trends Salon :
The two Raaga Professional Facials from the house of CavinKare deliver fairer, blemish-free skin which magically removes tan.
Fair Bloom Facial:
A refreshing splash of strawberry, papaya, apple and licorice exfoliates skin and swipes away the tan, leaving the skin fairer and brighter. Price - Rs.1,100/-
Platinum Glow Facial:
Real platinum colloids help to renew and energize the skin cells, while papaya removes tan and brightens the skin. Price - Rs.1,500/-
The three Christine Valmy facials from the internationally renowned skin care services and products company - Christine Valmy, deliver brighter, glowing and younger looking skin.
Bright n Shine Facial:
Experience nine stages of relaxing indulgence known to rejuvenate the skin, leaving it soft and glowing. Price - Rs.1,200/-
White Sparkle Facial:
Enjoy a luxurious facial with a special whitening mousse that makes the skin radiant. Price - Rs.1,250/-
Glowing Radiance Facial:
An exotic facial made of natural ingredients known to lighten spots and pigmentation, leave the skin beautiful and glowing throughout. Price - Rs.1,300/-
These comforting services are available across all outlets and for further information, please call toll free number 1800 4 20 20 20