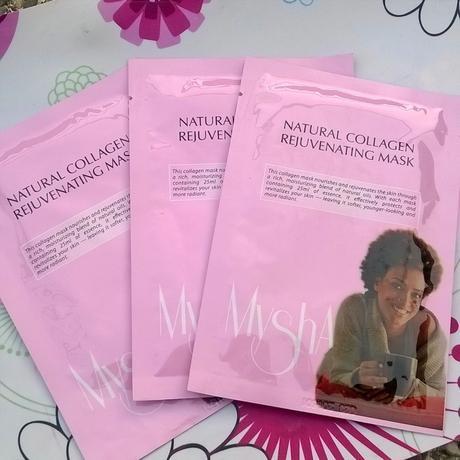 Hydrolyzed Collagen and #Wheat Germ Oil are two products I think about when I think #anti-oxidant and anti-aging. Which is what I've been thinking about a lot as I advance in my twenties and as if in line with my thoughts Mysha Natural Collagen Rejuvenating Mask was delivered to my address. My mini facial home spa session has become more interesting......If you don't know, I am devoted to masking. So, I was excited to try Mysha Natural Collagen Rejuvenating Mask.How I Use Mysha Natural Collagen Rejuvenating Mask1. First, I cleanse my face thoroughly2. I open a pack and unfold the white saturated mask.3. I apply the mask on my face and smooth it down with my fingertips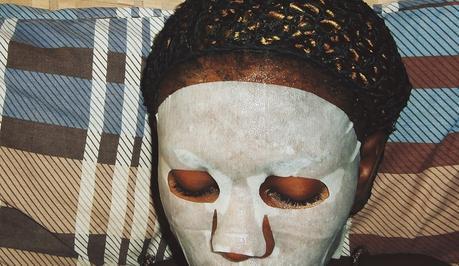 4. I leave the mask on for 15-20 minutes. I actually lie down and take a mini nap or do a little meditation since I do this last thing at night it gives a very lulling feeling. 5. Then, I remove the mask gently and wipe off any remaining moisture6. I dispose of the used mask and have a beautiful rest.What I love about Mysha Natural Collagen Rejuvenating Mask1. The two main ingredients that I love in the mask are Hydrolyzed Collagen and Wheat Germ Oil. Collagen is a protein that is naturally produced by the body to keep our skin supple and elastic, but collagen production slows down as we age, leaving us with wrinkles and sagging skin. Hydrolyzed collagen as contained in Mysha Natural Collagen Rejuvenating Mask is a more easily absorb-able form.Wheat Germ Oil is gaining a lot of popularity in skin care and hair care because of it's universal benefits. Wheat Germ Oil has anti-oxidant and anti-aging properties. Regular use helps preserve the texture of your skin and reduces fine lines and wrinkles because it's an emollient which keeps the skin super moisturized. It also prevents scarring and skin problems like psoriasis, eczema and dry skin.2. The mask causes my body temperature to warm up. This opens up my pores and helps the ingredients to penetrate and detoxify my pores.3.  After I take the mask out of the pack some of the essence still remains in the pack. My virgin-haired friend likes to apply the remnant essence on her hair and she swears it keeps her hair moisturized and manageable for the day.4. The ingredients list: Aqua. Betaine. Carbomer. Glycerin. Sodium PCA (Natural Moisturizing Factor). Platinum Powder/Butylene Glycol/Hydrolyzed Collagen/Sodium Bicarbonate/Cellulose Gum. Allantoin. Wheat Germ Oil. Triethanolamine. Phenoxyethanol/Iodopropynyl Butylcarbamate. Fragrance. FDA Yellow No.5. Methyisothiazolinone
Most of the ingredients are naturally occurring; organic components suitable for balancing skin's pH and reducing fine lines and wrinkles caused by dryness of skin which is brought on by aging. The ingredients that sound like chemicals, for example: butylene glycol, have been approved and deemed safe for use in cosmetics and even organic products in certain percentages by the Food and Drug Administration (FDA), World Health Organization (WHO), Cosmetic Ingredient Review (CIR) or Cosmetic, Toiletry and Fragrance Association (CFTA) 5. It's easy to apply and each individual pack is easy to carry along when traveling.6. The mask base is cotton so it's biodegradable. This equals environmentally friendly and that's a very good thing.What I don't Like About Mysha Natural Collagen Rejuvenating Mask.The mask packs a punch in Natural Organic ingredients geared towards achieving a youthful skin, but I think there are better substitutes for some of the other chemical ingredients in the list. 
 

I received products for review for this post, but all opinions expressed are my own and honest.