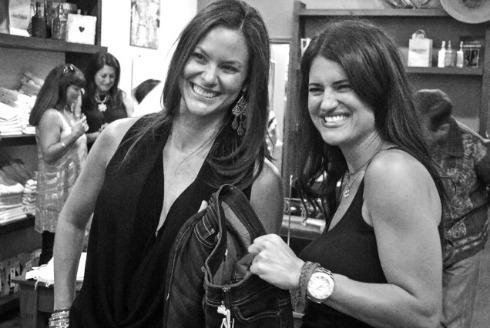 Dallas fashion designers and Hip Chix denim creators Aimee (left) and Megan (right)
I recently got the chance to catch up with Dallas fashion designer and Hip Chix denim creator, Aimee Miller,  and chat beauty as well as her recent 'Women Just Like You' contest win. (Out of more than 2,200 entries from across the country, Aimee and four other contest winners were chosen for their amazing day-to-day accomplishments and featured in PEOPLE Magazine!) From her contest win to a bevy of beauty topics, here's the beauty-licious dish:
CCC: Who is Your Beauty icon?
Aimee: Kate Middleton — so classy and chic!
CCC: What is your current beauty regimen?
Aimee: Cleanse face first, toner next, SPF, then make up.  (and I have flossed and brushed my teeth before anything).
CCC: If we opened your beauty cabinet, what would we find?
Aimee: Chanel makeup, Jurlique products, Revision Intellishade SPF 45 moisturizer, dental floss (I am obsessed), Nars and Chanel lip gloss.
CCC: If you were stuck on a deserted island, what is one beauty product you couldn't live without?
Aimee: Dental floss (is that a beauty product??) — then my tinted SPF 45 moisturizer and lip gloss.
CCC: What is your favorite beauty indulgence?
Aimee: Photofacials and chemical peels — I had my first one about a week ago.  I peeled so bad that I looked really scary for the first couple of days and I was thinking, was this worth it? But afterwards, my skin looked amazing…very fresh, my freckles were gone, and my skin was silky and smooth…totally worth the peeling!
CCC: What is the Women Just Like You Contest all about?
Aimee:  The 'Women Just Like You' contest was launched in the celebration of the 10 year anniversary of BOTOX® Cosmetic to recognize real women who are making unique contributions for their home and family, in their community and for themselves. I first learned about the search for Women Just Like You through the Brilliant Distinctions program (a loyalty program for BOTOX Cosmetic patients) and was so inspired by this celebration of women. I entered the contest because my denim line, Hip Chixs, also celebrates women and was inspired by the needs of everyday women in Dallas for a light, comfortable and flattering denim option to be worn year-round. I was so surprised and happy to learn I was one of five women who were selected from more than 2,200 entries. This summer we flew to New York and received star treatment from fashion designer Lela Rose, got our hair and makeup done professionally, and participated in a photo shoot with celebrity photographer Dorian Caster. Our photos and stories were featured in a recent issue of PEOPLE Magazine.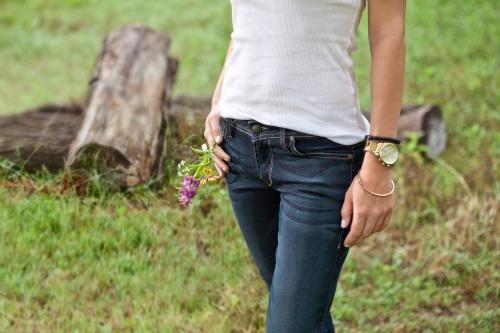 Photo provided by Hip Chix jeans